Below are a couple of trees which catch my eye in all seasons, but especially in winter when their branches are bare, and the sun sets behind them in colours that only this season can offer. Both photos were taken in November.
This one is along the park path where I do most of my wandering. Behind it is a busy parkway.
This beauty can be found in Frank's neck of the woods, about as close to his home as my tree is to mine.
Once again, I've been slacking off where my blog visits are concerned. It's been a pleasantly busy holiday season and I've simply not been around to very many blogs in the past couple of weeks. As a result, the POTW tends to suffer because when I'm not visiting, I'm not collecting posts to share with the rest of you. I hope to pick up the pace a little over the next week or two, but until then, I'll share the very few POTW that I've collected so far.
And now, without further delay, here are the Posts of the Week. The icon below is yours for the taking if if your blog post is named as a POTW.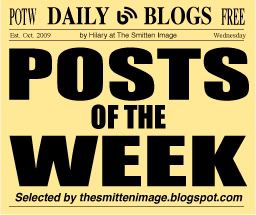 HELP REQUIRED
Help Find Haley
by Travis
at One Word, One Rung, One Day
*** Update*** Haley has now been found. This quote from Travis' page:
"I have good news to share. My friend Ray, the father who made the video in the last post has found his daughter after police in Carlsbad, California pulled her over. As I type this he is en route in his flight to go out and talk to her. Thanks to all of you who helped spread the word and I hope they are able to have a productive talk and come away with a healthy resolve for their entire family.
GOOD IDEA
My Slippers Do the Old Folks Shuffle
by CiCi
at Liquid Mind, Sanguine Soul
VIDEO
Ben's Story
by Nancy
at Life in the Second Half
READERS' CHOICE
Recommended by: TexWisGirl
Hello
by Nancy
at A Rural Journal
Also recommended by: TexWisGirl
Suburbia
by Bon Bon
at Phantom Kitty
Please drop by their blogs for a visit and leave a kind comment if you have the time. Also, please feel free to add your own choices (for any blog except
this
one) for a specific blog post in the comments section below, where others can see them.