Yesterday, we were hit with the season's first snow-rain-snow storm. High winds and wet conditions kept me from taking my camera along for an outing but the day before that was dry. I decided to head up to a park which is about a 15 to 20 minutes walk from home. To my utter shock and horror, I came upon a crime scene, and it wasn't pretty. Come join me as I retrace my steps.
It started off just fine. A cold but pleasant enough day. I filled my pockets with peanuts, grabbed a camera for each shoulder and headed out along the path.
My local pond was partially covered with a thin layer of ice, allowing these ducks to walk on water.
(please click to enlarge)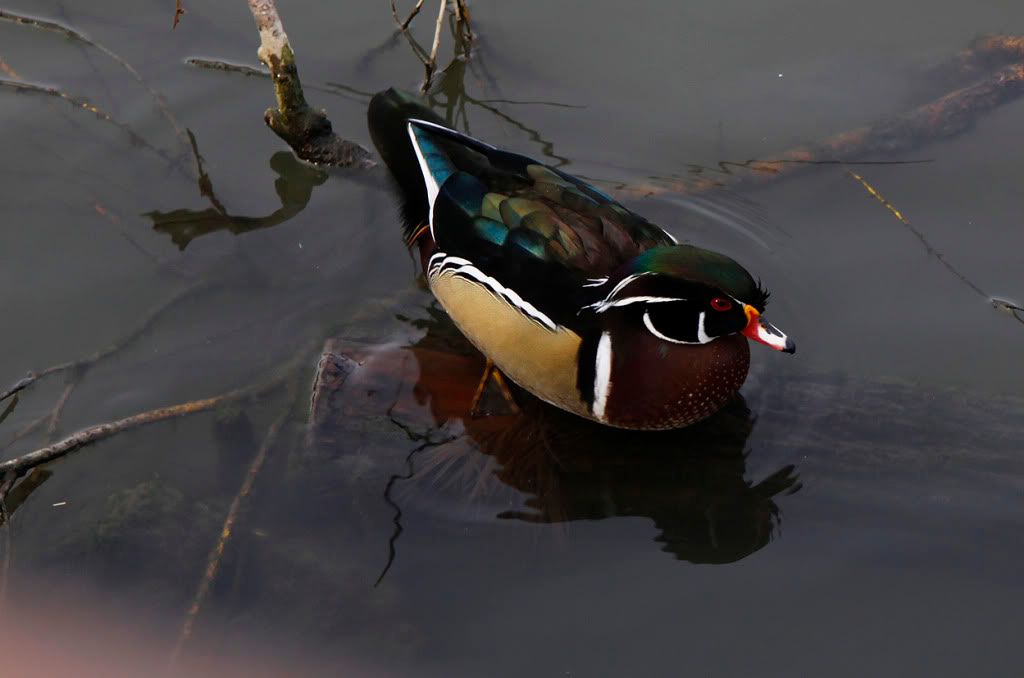 Different in appearance and attitude from the Mallards, this Wood Duck opted to find the open water. Doesn't he have such beautiful colours? All still seemed peaceful on this morning. Nobody could know the carnage which lurked ahead...
(please click to enlarge)
I arrived at my destination, happy to photograph some of the bare bones of the foliage which remained.
(please click to enlarge)
The dock, with its welcoming benches is usually bustling in summer. Folks sit, bird-watch, fish and simply enjoy the day. Today, the cold air made these benches much less inviting, and I moved on.
(please click to enlarge)
I liked how these dead, leafy stalks dipped elegantly toward the water. The day still felt so innocent and tranquil at this time...
(please click to enlarge)
I continued along and noticed this tiny leaf clinging tenuously to these burrs.
(please click to enlarge)
As I rounded a curve in the path, I realized how populated this park was compared to the one closer to home. Squirrels began approaching me from every direction. Either they were very used to folks feeding them in this location or they could smell the peanuts in my pocket. In any event, they were quite bold. I offered nuts to a few eager cuties and they fearlessly took them directly from my hand. As I continued along, a man called to me from behind, suggesting that I turn around. Apparently the little guy pictured above never got his peanut and had begun following me, remaining close to my heels with each step I took. I turned and rewarded him for his efforts. As I bent to give him his peanut and snap a photo, another squirrel began climbing my leg, intent upon finding the stash in my pocket. Did I mention that they were bold?
I moved along tossing peanuts to demanding critters as I went.
(please click to enlarge)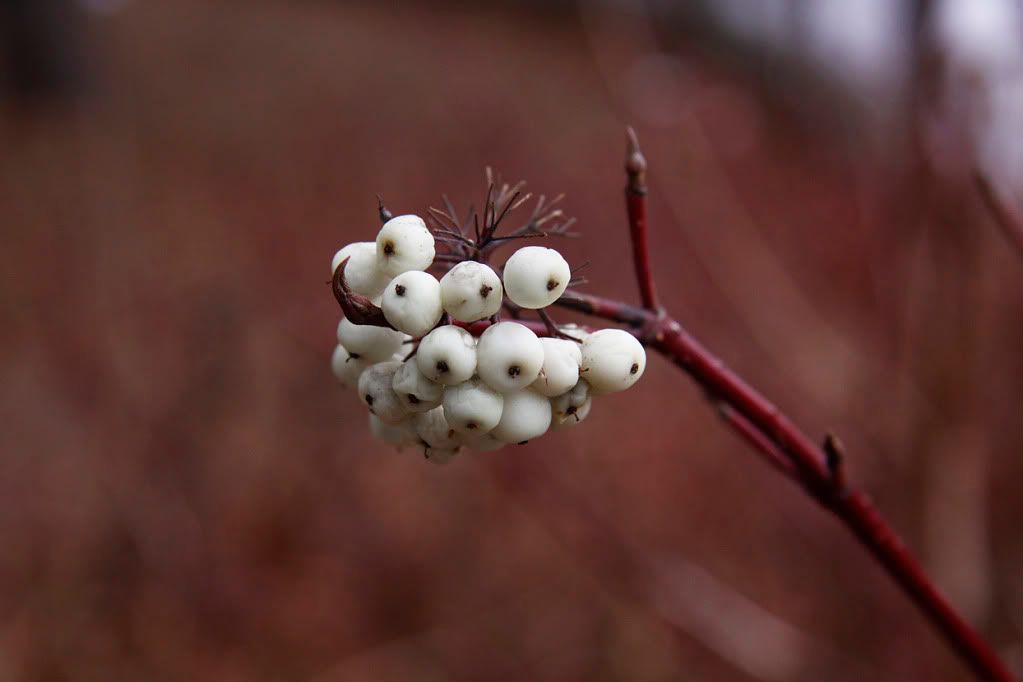 These "dolls' eyes" caught my own eye. They're quite bright and inviting against their russet background but don't be fooled by them. They're highly toxic for living creatures to ingest - but not as toxic as the scene I was about to happen upon....
(please click to enlarge)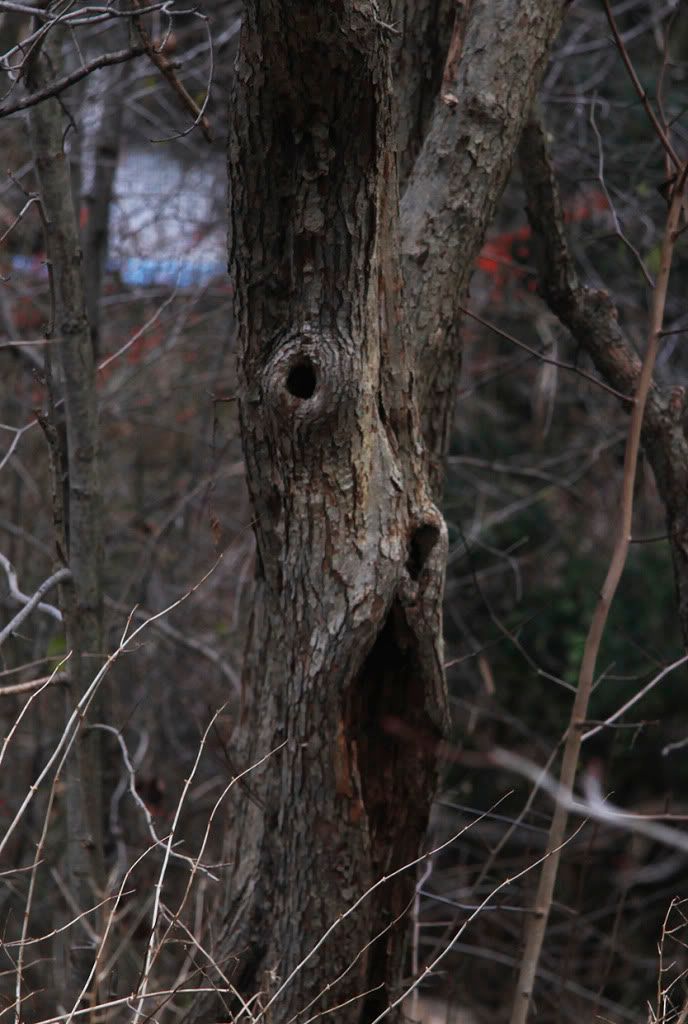 My first hint of trouble ahead was the look of extreme terror on this craggy face

*

. He was completely frozen with fear. I wrestled with myself as to whether I should turn to look or just run. I followed his fixed and frightened stare, and saw the scene which will haunt me forever.
(please click to enlarge)
If you have small children in the room with you, please send them away before you scroll down lest the image traumatize and scar them for life.
Please steel yourself for the image you are about to see.
It's heartbreaking.
Particularly at this time of year.
I warn you, it's ugly.
If you're ready though, hold on to a loved one's hand and scroll down to see this shocker...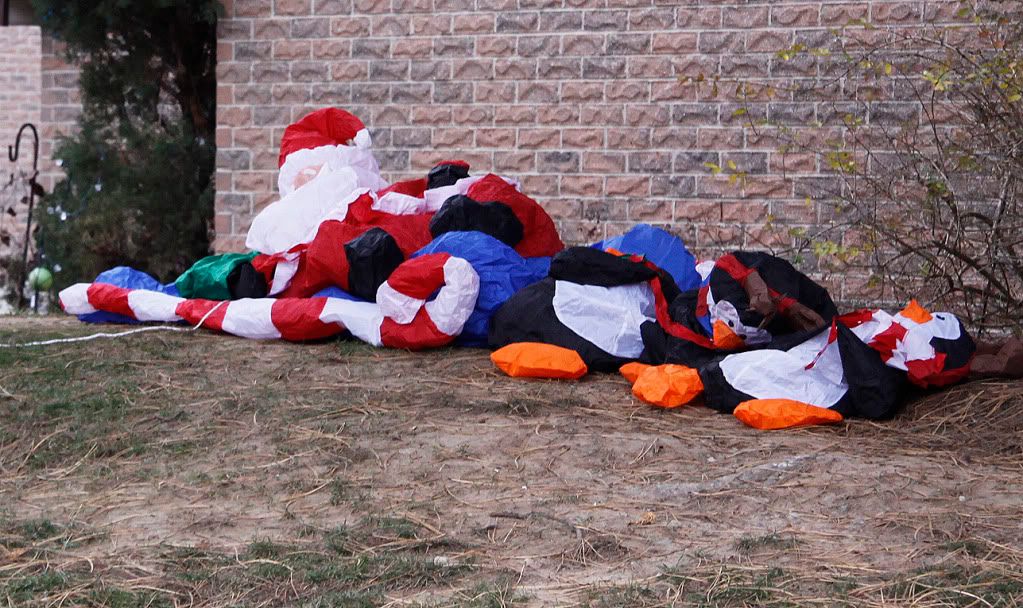 THEY'VE KILLED SANTA! And his little penguin elves too.
(please click to enlarge)
If anyone has any information that might help us learn who would do such a thing, please call your local police department where you might also be able to obtain information to help you to break this sad news to your children. Oh the humanity.
When you raise the next glass of eggnog to your lips, please remember our dear, chubby friend and say a silent "ho ho ho" for him.
May the holiday cheer be with you.
*

A nod to Rain whose blog often shows us some wonderful tree faces. She's a master at finding them. And Frank whose recent post is full of wonderful tree photos, including one of my favourites.