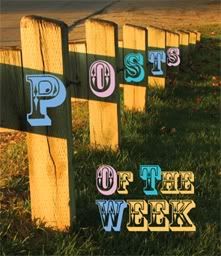 In the spirit of keeping it light for the holiday season, here is a mini Posts of the Week.

The icon/award to the left here is yours for the taking if your blog post has been named as a Post of the Week - either as top post or as a runner up, today or in past weeks.
This week's top Post of the Week goes to :
Zombies in the Attic
by Fragrant Liar
at Fragrant Liar
Children of Children
by Tabor
at One Day At A Time
Who Were the Beatles
by John
at Accidental Mysteries
Miscellaneous Monday #1
by Saz
at Fat, Frumpy & Fifty
Bear and Out of Place
by KCINNOVA
at Kcinnova's World
Winter Solstice
by TSannie
at The Tombstone Chronicler
Rob Roy
by Cabo
at Hey Cabo
Please drop by their blogs for a visit and leave a kind comment if you have the time. Also, please feel free to add your own choices (for any blog except this one) for a specific blog post in the comments section below, where others can see them. Thank you.