Tuesday was sunny and warm, and it beckoned me to grab my cameras and take a walk. My destination was a park about fifteen minutes away. I've photographed the area before. You may have seen an early blog post showing
children playing
at the splash pad. My
seagull
and
cormorant
dramas unfolded there too.
I arrived at the dock and took a seat, hoping to see something worth recording. I snapped a few shots of the gulls in flight.
(please click to enlarge)

They were hoping to steal a morsel of bread being fed to the ducks - right beneath this sign.
I see that happen all the time.
An attractive, older couple sat watching me from the next bench. As I got up to move along, and around the lake, the man stopped me to ask about my camera. He had a warm smile and twinkling eyes. He asked about the zoom on my cameras and how far I could be from my subject and still get a clear shot. He told me that he used to be interested in photography but had to give it up when someone used his camera to take a picture of him. He saw how wrinkled he appeared and concluded that the camera must be too old!
We continued chatting comfortably. And every now and then he'd punctuate his humourous remarks with a gentle nudge to the woman's elbow, or with a wink in her direction. She didn't say very much. She let him do the talking as she smiled quite adoringly at him. They touched one another often. A squeeze to her hand. A pat to his arm. An embrace with their eyes.
I moved along to continue my walk. When I made my way to the opposite shore, I could see that they were still seated on the bench. They were busy chatting and pointing things out to one another. I wondered if they could see me hold the camera to my eye and take their photo from across the small expanse of water.
(please click to enlarge)

It only takes about a quarter of an hour to walk around the lake, and I figured that if they were still on the dock after I'd completed the tour, I'd show them the photograph.
As it turned out, I met them part way. They were ambling along, deep in conversation, hand in hand like two teenagers in love. He greeted me like we were old friends, and I showed them the picture of the two of them. They were amazed and amused that I managed the shot without their knowledge from across the pond. He commented on how beautiful his partner was and asked about how my camera lens coped with his own mug. He teased that she looked great for a woman of 112. I laughed and told them that I thought they were a great-looking couple, and I asked how long they'd been together. He looked at her for confirmation as he estimated about a year and a half. Again, I thought he was joking, but he quickly explained that they'd met at the nearby retirement home where they both live.
Over the course of the conversation, I learned that she was a lifelong resident of Ontario. He was born in Italy but immigrated to Canada when he was 18. I smiled at him and exclaimed "Oh so you've been here for about 30 years now!" He told me that he appreciated my math skills. He revealed that his partner was a very young lady of 90, and that he was 81. I teased them about how she robbed the cradle. And he replied with "Yes she did, and she really rocks my cradle!"
We chatted for a short while longer and then she nudged him and suggested that they continue their walk around the pond. He told me that they had already walked that path earlier that morning, and now she wanted to complete another tour. He suggested that she was trying to tire him out so that he wouldn't get frisky later on. She laughed and told him that it was just the opposite - she was trying to give his circulation a kick-start.
I went home feeling great. I'd met the happiest couple on earth, and their spirit was contagious. What a lovely gift they are to each other - and to those they encounter.
Below are a few random photos taken over the last month. Please remember to click to enlarge.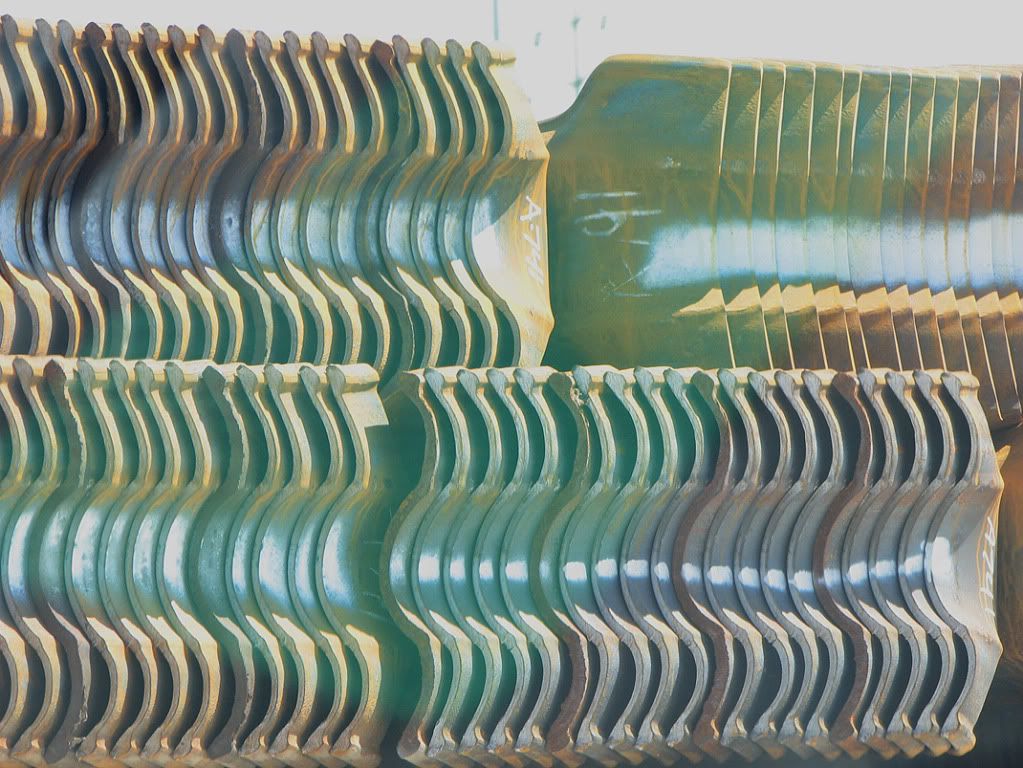 I saw this interesting pattern on the highway on the road in front of us. It was taken through the windshield which is why you can see the glassy reflection. (please click to enlarge)

I have no clue what they were. Any ideas? (please click to enlarge)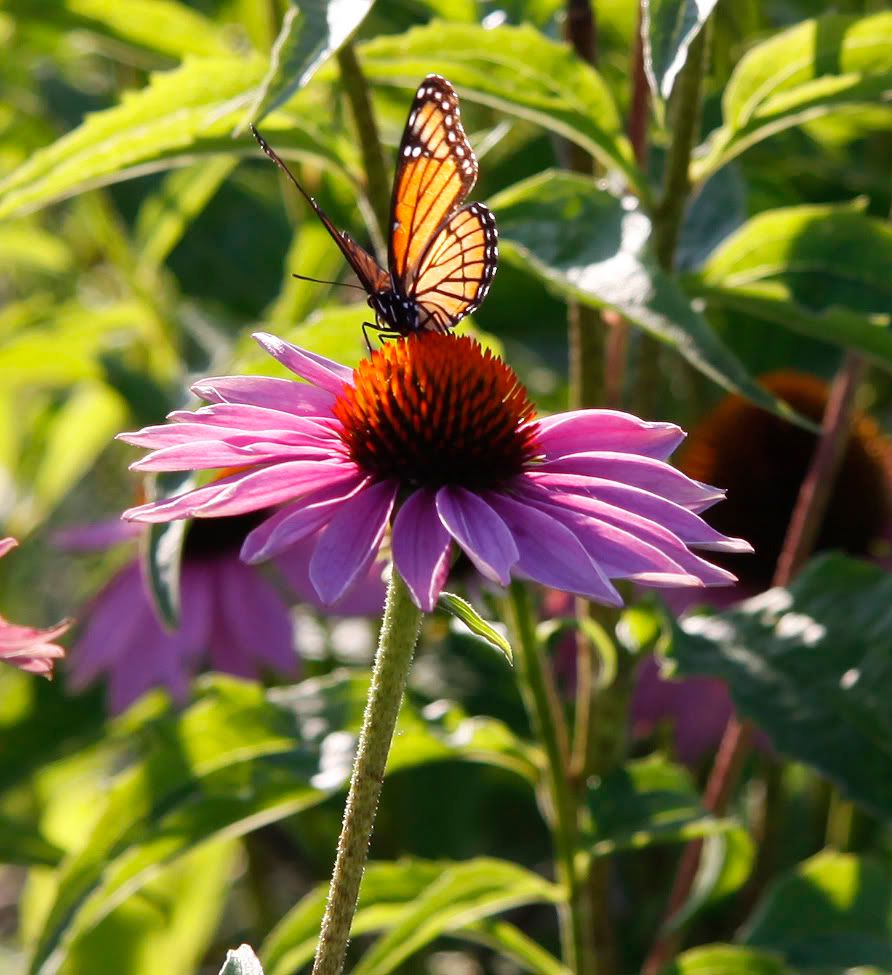 A lovely Monarch lights upon a beautiful Coneflower. (please click to enlarge)

Children splashing and wading through the creek. They weren't alone - Mom was just upstream. (please click to enlarge)

Benny also loves his regular creek swim. He happily fetches as many sticks as we'll throw. (please click to enlarge)

An early eveing shadow cast in golden sunlight. This was taken from Frank's back deck. (please click to enlarge)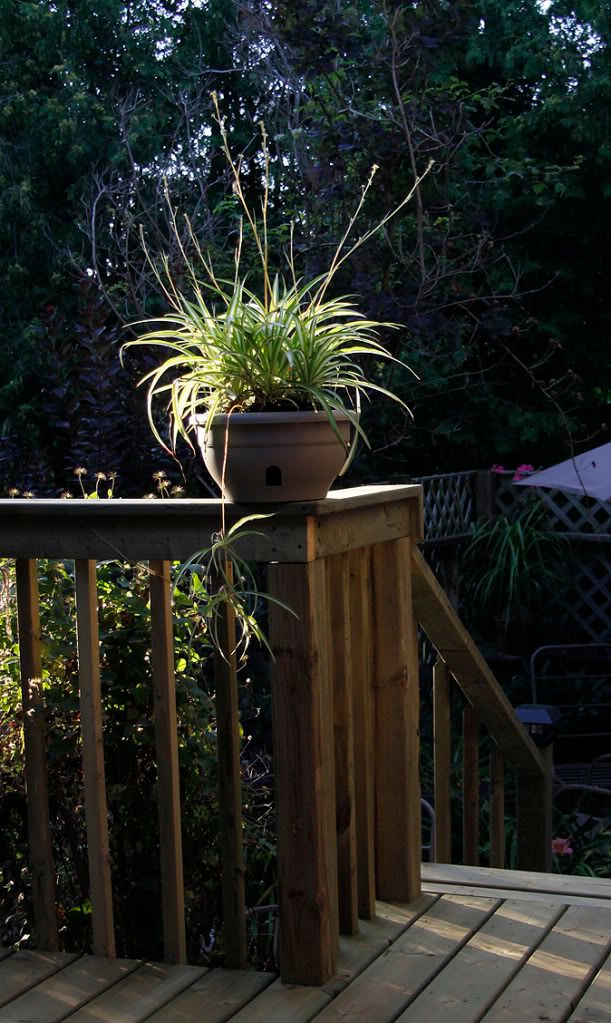 And here's the plant that the sun kissed to create that shadow. (please click to enlarge)

Nighttime in park. (please click to enlarge)

See you in a few days with more.