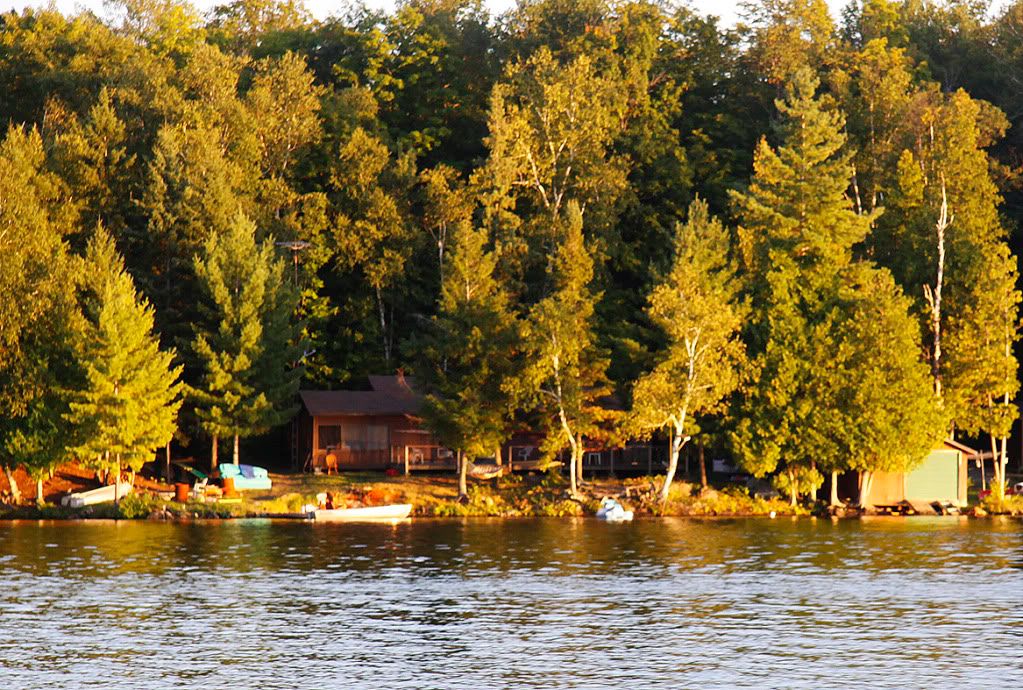 I hear lake water lapping with low sounds by the shore…
I hear it in the deep heart's core.

W. B. Yeats
Earlier this month, when we planned for a few days up at the cottage, Environment Canada was being a big party pooper. Their long-range forecast warned of cool, rainy weather for the full time we hoped to be there, beginning with the three-hour drive up on the Tuesday. Thoughts of rainy fishing days and wet, empty hammocks prevailed. Gone was the hope of a campfire each evening and long walks devoid of pesky mosquitoes. We packed for all kinds of weather and card games, and went anyway.
Upon arrival, we were greeted with only stray gray wisps of cloud in an otherwise blue sky. Also greeting us were Frank's sister, her husband and their brother in law. We spent the afternoon sitting and chatting on the dock where the grand total of four raindrops touched my skin. The rest of our visit was met with mostly sunny skies, warm days and comfortable nights. I love it when meteorologists are wrong like that.
Theresa's usual menagerie accompanied her. Her kittens (found abandoned within a day or two after their birth - umbilical cords still attached) Luca and Sambuca are now a few months old and are at that incredibly cute stage where they have to play with everything - all night long. The critters, having been separated from their mother at such an early age, still have a strong sucking and kneading urge.
When Luca is tired, he climbs up onto his blanket, then kneads and sucks it until he falls asleep. Similarly, Sambuca settles in and grabs his own tail to suck on. They're incredibly cute.
Her big, beautiful sheep dog, Duncan was there. And so were 6 baby squirrels which Theresa is raising to maturity. Add Benny to that mix and we had quite the activity level at times.
By the following afternoon, Frank, Benny and I were alone at the cottage. Being the incurable romantic that Frank is, it wasn't long before he had that irresistible gleam in his eye. He sidled closer to me, cupped my chin in his hand and looked deeply into my eyes so that there was no mistaking what he wanted me to do next. "Sweetie, the worms are on the lower shelf of the back room fridge. Grab them for me, willya?" Yeah, he's hot when he's got fishin' on his mind.
Between the two of us, we grabbed the worms, rods, tackle boxes, vests, PFDs, hats, sunglasses, sunscreen, the cooler should we get lucky (by now you'll have figured out that means "if we should catch something") and various other paraphernalia which might come in handy at some point. We grabbed Benny and put him in the cottage and then headed out for a couple of hours of fishing.
The eagles' nest was empty more often than not, that week, but we did see them flying around at various times of the day.




One drive-by with the boat proved worthwhile when we saw one of the adults perched proudly atop its nest.
Another time we noticed him on a branch which topped a tree within clear, but distant view of the cottage.
Our fishing luck was pretty much in keeping with the rest of the summer - poor. About mid-week, one of our trips out in the boat resulted in two catches.




This bass was one of them. It was released back into the lake immediately after the photo was taken.




That same day, I also caught this walleye which became our lunch the next afternoon. Yum!
Some afternoons were too clear and breeze-free for fishing, so we each got some reading done out on that dock.



Benny was happy to just lounge around nearby, but kept a watchful eye to to be sure we didn't make moves to get into the boat.



Occasionally, he'd wander over to the edge of the dock to check out that twin JRT in the water. And yes, he fell in once or twice while going after it.

Nighttime comes sooner at this time of year, and shortly after securing the boat and returning worms to the fridge, Frank would build a fire.



He's been referred to as the Fish Whisperer, Dog Whisperer, Tree Whisperer and probably more, but after three or four nights of perfect campfires, he is also most definitely the Flame Whisperer.


A last glance or two out on the water just before all colour disappeared from the sky. Weakening ripples gently lapped the shore.

The small photo at the top, is of the cottage as seen from the boat on the way back from an afternoon of fishing. Please click on it to enlarge.