Zentonym

©

:

[zen-tuh-nim]

noun:

Something which disturbs the Zen-like quality of ones surroundings, by emitting a loud noise or attitude, or by displaying a cool, unfriendly demeanor. ~

The Smitten Image's Suburban Dictionary.



There are a few areas around and about my place and Frank's where we like to walk. As you know by the many photos I've shared, they're picturesque areas - all of which include a body of water of some sort. It's impossible to wander through these paths and shorelines and not be struck with the beauty of our surroundings. Every season brings a splendour of its own.
Generally, we encounter other walkers, many of whom have one or more dogs with them. Benny is a friendly pup and would like nothing more than to sniff and be sniffed by another canine. There's a bonus in it for him if the pet-owner also shows him some affection. Most people find it impossible to resist a happy, bouncy little dog running at top speed to greet them. Many of them know Benny by name, and will also oblige Frank and me with a bit of passing conversation when we catch up to Benny.
Recently, at one of our usual locations, two youngish women have begun taking daily walks along the path. We usually meet them head-on at the beginning of their quick-paced walk, their heads tilted downward, yet toward one another in loud, steady, animated conversation. The unusual, and somewhat off-putting nature of their activity, is that they don't look up. Ever. They do not appear to notice their surroundings, nature's activity or other people on the paths. They seem totally oblivious to the beauty of their environs, and they're missing out on a lot.
One lovely morning, before this wintry cold settled in, Frank was alone with Benny as they strolled down the path between a pond and the creek. Similar to the day when this photo was taken, the wonderful Great Blue Heron graced these women with its presence, as it ambled majestically across the path directly in front of them. The women never broke stride, never looked up and never knew what an incredible gift of nature they had just ignored. How important can your daily non-stop conversation be, not to notice such a beautiful creature walk right in front of you?
Between Frank and me, these women have encountered one or the both of us and Benny with some degree of regularity. Their eyes flicker upward only briefly - enough to avoid bumping into us. Benny does his usual "look how cute I am!" scamper and hop as he runs up to them and... nothing. It's as if a dead leaf blew past them. One morning, I decided to greet them despite the lack of eye contact. "Good morning!" In unison, they responded with a "gmng." Their eyes never left the pavement and their conversation scarcely skipped a beat. I thought I should try harder next time.
Last week, our paths were covered with a few centimeters of snow. It was the first accumulation this year and Frank and I trudged along trying to maintain our upright status, while Benny was all charged up and raring to go. He ran off ahead of us stopping only to bury his nose occasionally, eat some snow and run back toward us to encourage us along. The women were finishing their walk and approached us as we began our own. I didn't wait for eye-contact, which I knew by now was not forthcoming. This time I simply said "Good morning" and when I got my "gmng" in return, I pressed on with "It sure is a beautiful one, eh?" Again, I saw one set of eyes glance not even toward me, but upward, as if noticing the weather for the first time. One of them grunted with a mild, feigned enthusiasm "yeah." And that was it. The other one pressed the resume button on their mechanical conversation, and they tuned out the rest of the world once again.
T
he very next morning
, I stopped briefly, but often to take some shots s
ince the snow-covered trees looked quite lovely
. This time we could hear them approaching loudly from behind. You'd think by now they'd acknowledge the people they encounter daily, but their steady conversation - important and busy, cut through the tranquility of the day like an approaching siren. They were quite far behind me, and I stood with my back to them, camera poised to take a shot of the cedar-lined path - the breeze creating a mini snowfall in front of me.

Through the years, I can't guess how many times I've stopped or changed my route slightly to allow a photographer to get the shot he or she is after. I'd say there were at least as many times when others have extended that same courtesy to me. I'm not suggesting that these women intentionally ignored my attempt to get a shot. I doubt they would be that rude

if

they had noticed, but they didn't. Without so much as a pause,

or

a "good morning" they walked right around me, and into the shot. To add to our growing distaste for the pair, Benny gleefully trotted alongside them for a greeting. One of them must have twitched her eye slightly because she saw him approach with his usual excited, tail-wagging bounce. This is when we heard her utter her first voluntary words to anyone other than her walking partner. "Get Down!"
Frank dislikes their presence because they mess with the quiet, Zen-like surroundings which are otherwise so soothing and relaxing. We are calmed by the incredible species of birds we see each day, and by the sound of the water which trips and bubbles over rocks as it makes its way out to the lake. Throughout summer there are numerous flowers which add brilliant colours to the the sunny fields, and the trees in the nearby cedar groves share their undeniable magic - whether dotted by emerging ferns, accented by the hues of autumn or covered in a blanket of snow. A living being can not walk these paths and off-paths without feeling the wonder which surrounds them. I have to question why this is all invisible to these women. What makes them adhere to the paved path, unable to look outward from the tiny space of their own conversation? Why can't they feel some sense of harmony with nature - the air, water and land to which we're all connected?
I do realize that despite my feeble attempts, I can't change how others behave, so I know that I am simply going to have to refuse to allow it to bother me. It's truly their loss. They're young. Maybe someday, they'll open their eyes and have a good look around them. Perhaps they just need a camera or a dog, or a walk off-path, into the magic of the cedars.

Below are some photos which were taken on our walks last week.


You know it's winter when apples no longer float on the pond, but sit upon its frozen surface.

(please click once, and then again to enlarge photo.)
The entrance to the pathway which we take on our morning walks is lined with cedars. The trees offer shade in summer and protection from the cold winds of winter.
(
please click once, and then again to enlarge photo.
)
The breeze stirs the freshly fallen snow, and creates a mini flurry of snowflakes - best seen at a larger image size.
(
please click once, and then again to enlarge photo.
)
Leaving the paved path behind, we broke through fresh snow to follow the creek.
(please click to enlarge photo)
Last winter, Frank spread birdseed at various points during our morning walks. As he cleared the snow from specific logs and rocks, Benny would transform into manic mode, biting and eating the freshly-swept snow. With this new dusting, it was evident that he hadn't forgotten that routine. Here he is, with his snow-covered face, waiting for Frank to clear the snow. Maybe next time, Benny.
(
please click once, and then again to enlarge photo.
)
The sun filters through a patch of snow-laden brush. A tree log might be home to a few small, woodland animals.
(
please click once, and then again to enlarge photo.
)
A small cluster of snow-covered red berries stands out among the otherwise barren branches.
(
please click once, and then again to enlarge photo.
)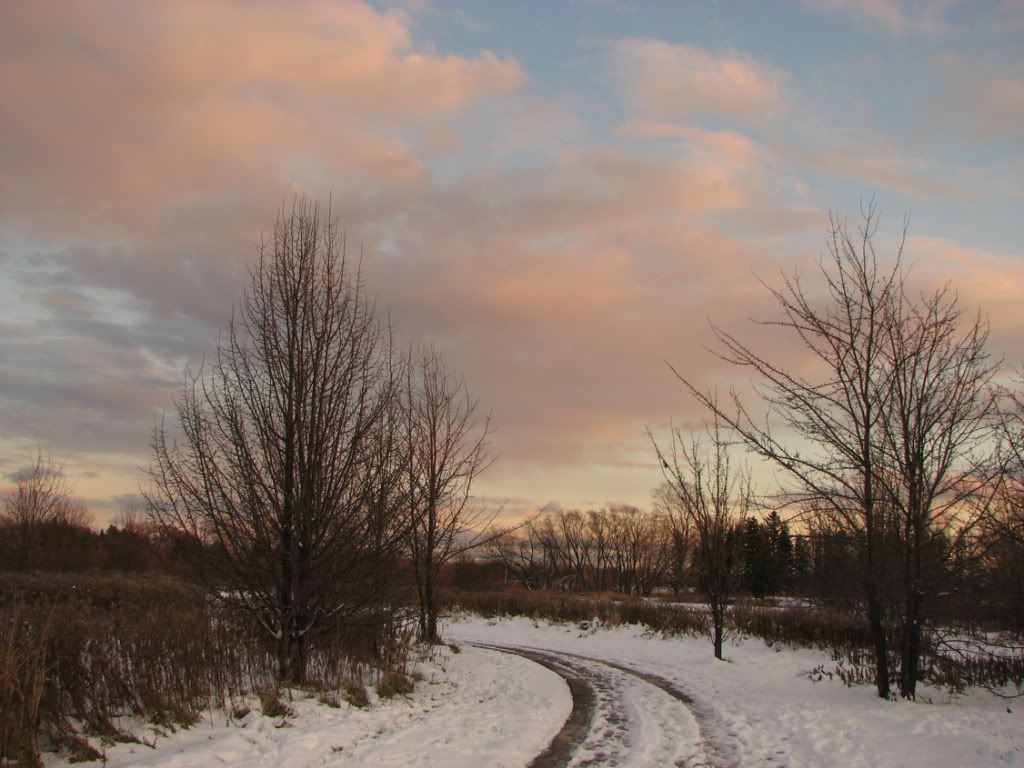 Just before dusk, our afternoon walk takes us to another part of the field, where the south cedar grove awaits us.
(
please click once, and then again to enlarge photo.
)
The sky beyond the creek reflects the vibrant hues of the setting sun behind us.
(
please click once, and then again to enlarge photo.
)
Inside the grove, this cedar balances the fiery sun in the crook of her elbow.
(
please click once, and then again to enlarge photo.
)
Exiting the grove, a beautiful sunset guides our way home.
(
please click once, and then again to enlarge photo.
)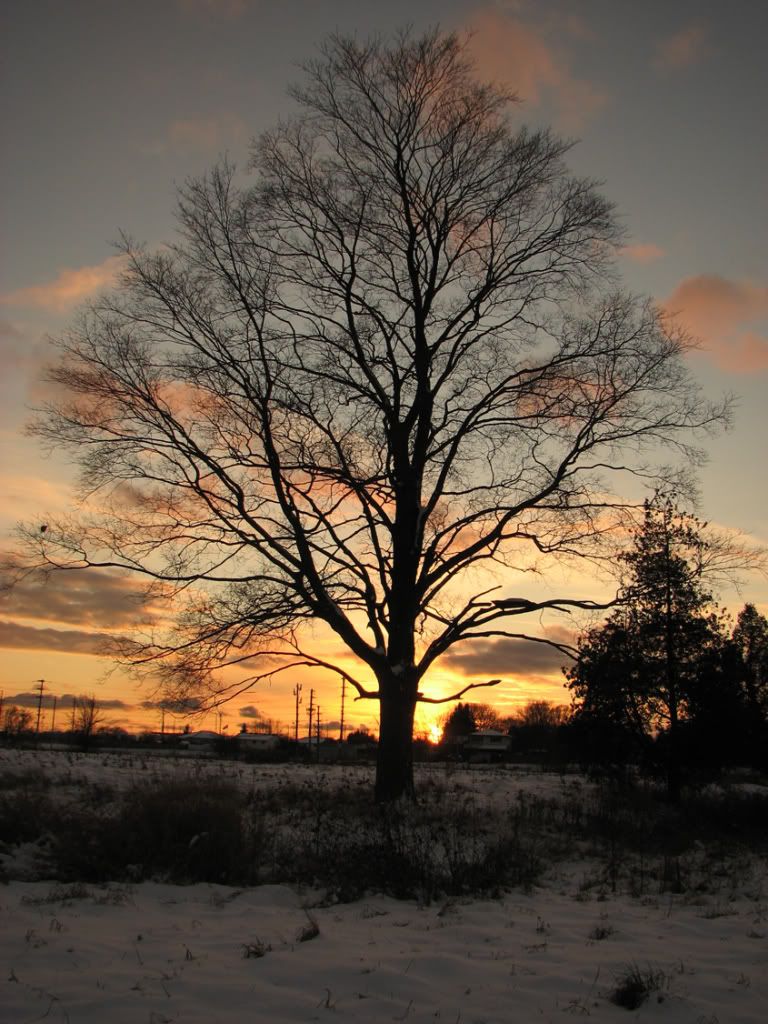 How can the beauty of this day not touch even those in their state of Zentonym©?
(
please click once, and then again to enlarge photo.
)