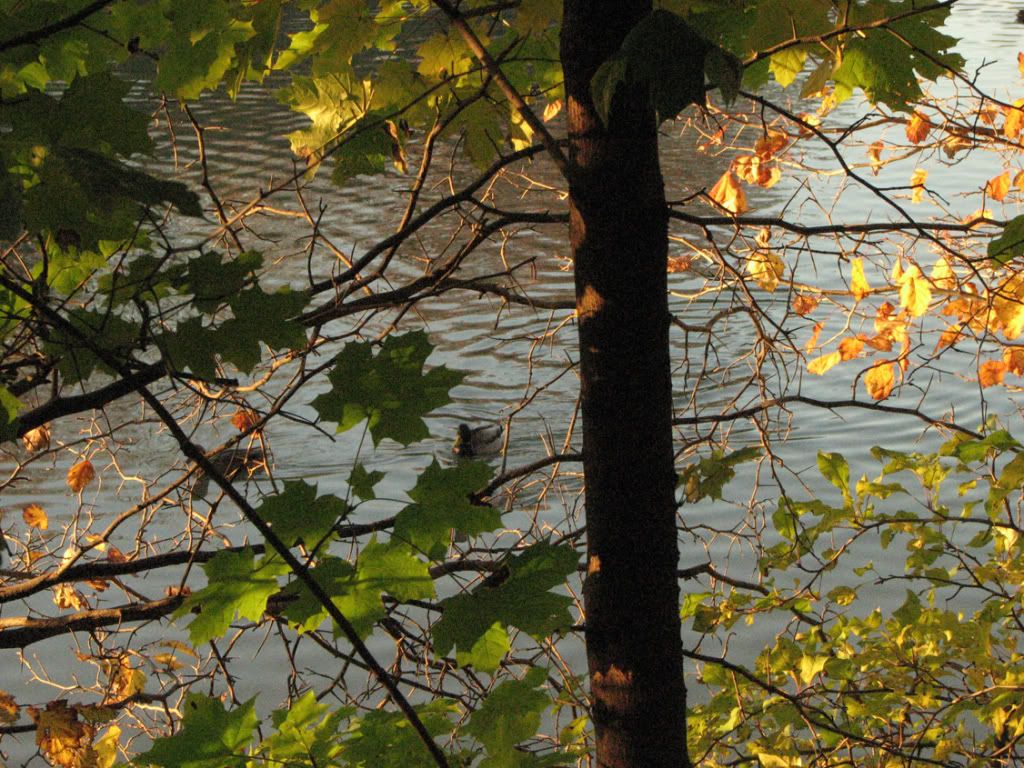 The other morning as my son Alex was getting ready for work, and the cats were loudly demanding their breakfast, I stumbled downstairs to feed the felines and make a lunch for my boy. The first order of business was to give the critters fresh water. I stepped into the kitchen, barefoot as usual, and found that their water bowl was in the middle of the floor rather than against the usual corner of the room. There was also a small tidal pool of water surrounding the bowl, which has two little arches on opposite sides to ease lifting it from the floor. The cats watched me expectantly as I scolded them for making such a mess of their water bowl. I had to wonder what made them so rambunctious as to move it so far from the corner in the first place. Seconds later, I had my answer.


I lifted the bowl to empty it, and refill it with fresh water when I saw a small, wet figure in its place - standing stock still. I remembered the fluffy, grey toy mouse that we've had for years. My cats show occasional interest in it but tend to lose it behind a sofa or desk. It shows up again when I do a decent house-cleaning. My house must be quite overdue as I've not seen the fake rodent for many months. I figured that Alex had found it, and knowing that I'd be the one to tend to the cats in the morning, he'd hid it under the water bowl to jump-start my morning. I was about to curse him under my breath, when the tail moved. This mouse was real.


I'm an animal lover and have always felt uncomfortable with the notion of mouse traps. The one time I was aware of a wee rodent in my attic, I engaged a live trap and left cheese and peanut butter treats for the unwanted guest. He quickly obliged by feasting on his high-protein meal and I was able to release that mouse safely into the park. This was different. I had no trap. I didn't have anything close at hand with which to scoop him up. The poor, little thing was frightened and wet. It looked quite pathetic. I put my hand down on the floor in front of him, hoping he might decide to hop on for a ride. No such luck. He turned around and hesitantly scampered in the opposite direction, toward my floor-length venetian blinds, which he then tried to climb. While he was semi-vertical, I scooped my fingers around his mid-section and placed him into the palm of my hand, cupping my other hand over it to secure him. Alex opened the front door for me, and I walked across my deck and set him down on the front lawn. He stood there motionless. I gave him a small nudge from behind and he burrowed into the fallen leaves, and hopefully to safety. My cats, so preoccupied with anticipation of their morning meal, never even noticed what was happening, though they must have been aware of the mouse during the night - hence the relocation of the water bowl.


It was only after the mouse was gone and my hands were scrubbed, that I began to realize that I'd missed a decent photo opportunity. I suppose that there was no guarantee that he would have stayed still for a macro shot, or that he wouldn't have panicked as my camera zoomed in for a closer look. In retrospect, I would have been reluctant to risk losing sight of the mouse in my house, while I would have to find and set my camera up. I concluded that I would just have to place this non-photo alongside some of the other mental snapshots that I've taken over the last year or two - because of a forgotten camera, dead batteries or this slow-moving photographer.
I'd set this mental photograph aside with the one of the little, bright yellow bird which landed on a perfect magenta flower, the majestic Great Blue Heron lifting off in flight, the squirrel which had Velcroed itself to a tree because its body and tail were so covered in burrs, and the leaves which glistened from a steady rainfall, and exploded in colour when a small burst of golden sunlight escaped the heavy band of gray clouds. That little mouse should be quite at home in that environment.


With each incident of unpreparedness, I've become more resolved to have my camera with me, no matter where I'm headed. I'll never get the missed shots back, but keeping them in my private, metal album is not so bad either. At least there, along with all good memories, they're always in sharp focus and perfectly framed.
Below are a few shots that I didn't miss. Most of the autumn colours have diminished now, but the last couple of weeks still offered up some vivid hues. As I'm usually a few weeks behind in posting what I capture, the photos below have retained some of the season's gold. Please remember to click on each image to see it enlarged.
Golden sunlight filters though a semi-bare branch to reflect in the water below.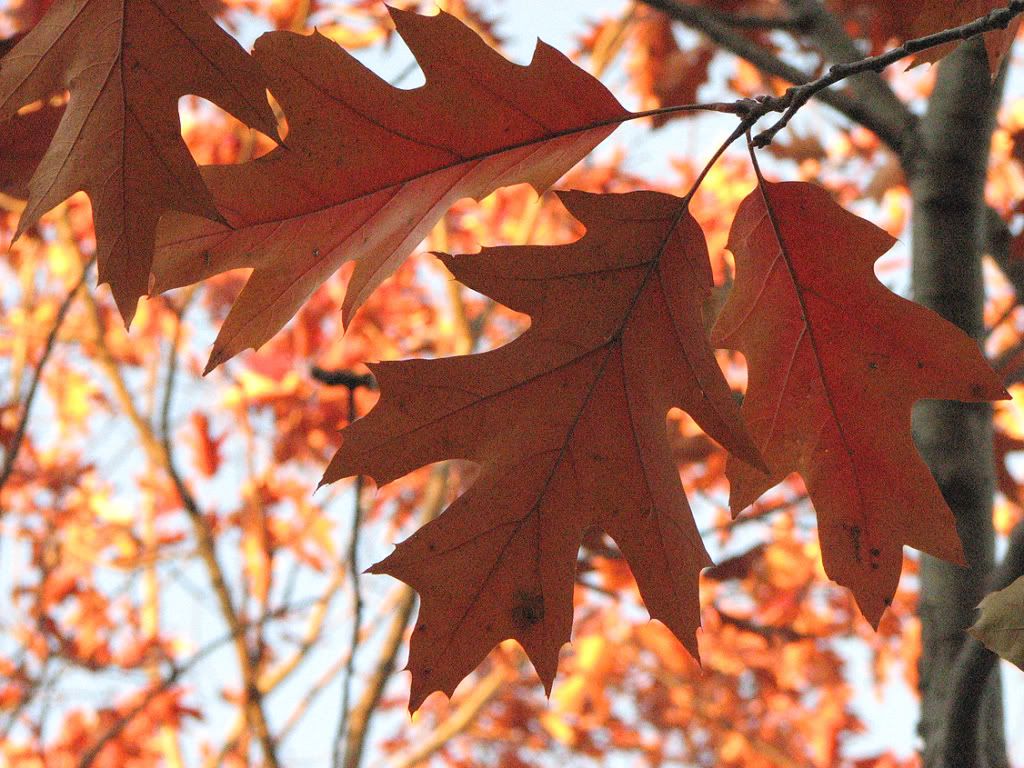 Red oak leaves are not ready to fall just yet. They seem to desperately cling to their youth. I can relate!
Brilliant yellow, orange and red maple leaves begin to blanket the ground beneath them.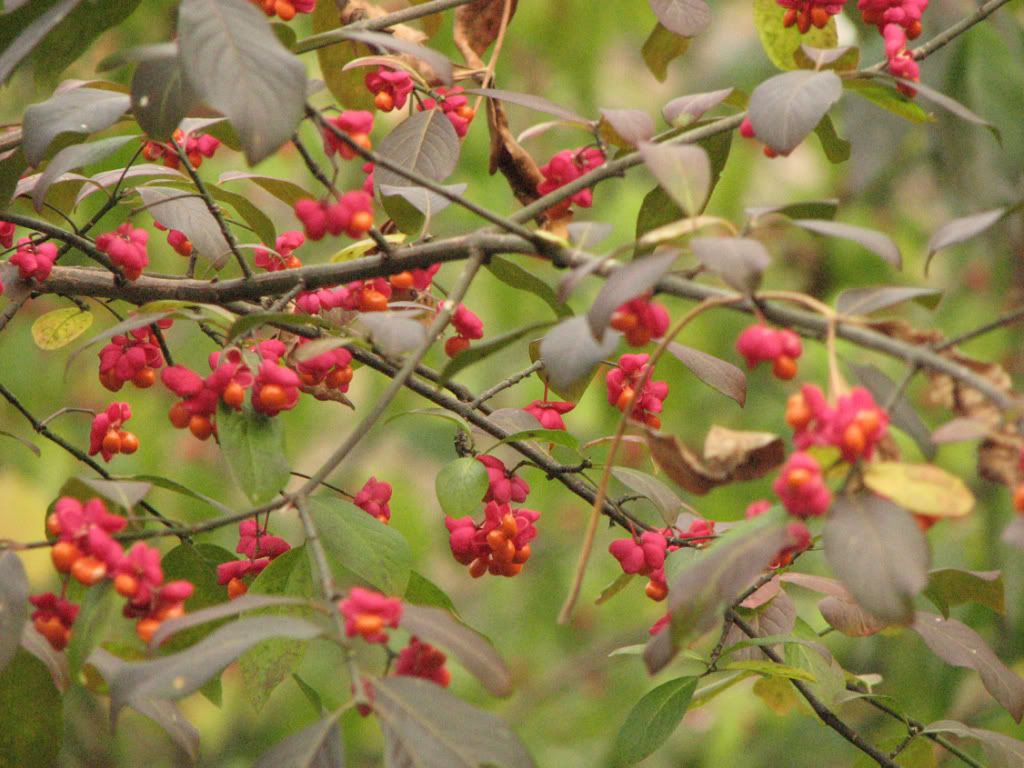 These colourful berries belong to the Spindle Tree. The tree is quite ordinary throughout the summer but in autumn the bright pink pods burst open to reveal orange seeds. When more of the surrounding trees have lost their bright leaves, the Spindle fruit stands out like a summer flower.
Walking around my neighbourhood park one day, I paused on these stone steps to capture this image of disheveled oak leaves and stem. The textures appealed to me.
Taken from a bridge, this creek which carries salmon and trout upstream during their respective spawning seasons, flows out to Lake Ontario.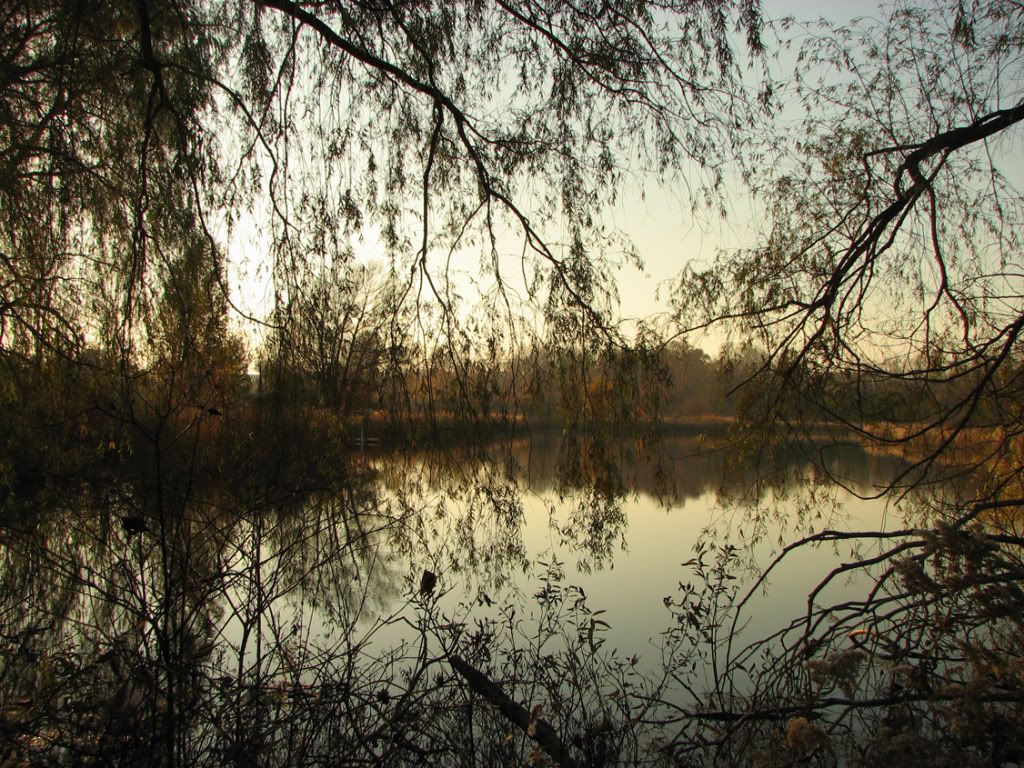 This lovely pond sits out behind the house on the farm that Frank's in-laws have owned for many years. The late afternoon sun appeared though the otherwise-overcast day to cast a golden hue upon the water.
The sun's reflection peeks out from behind this beautiful, weathered old tree.
On our way home, we stopped a couple of times to have a look around. As the sun continued to set, it created interesting shadows, colour and angles on this simple wood fence.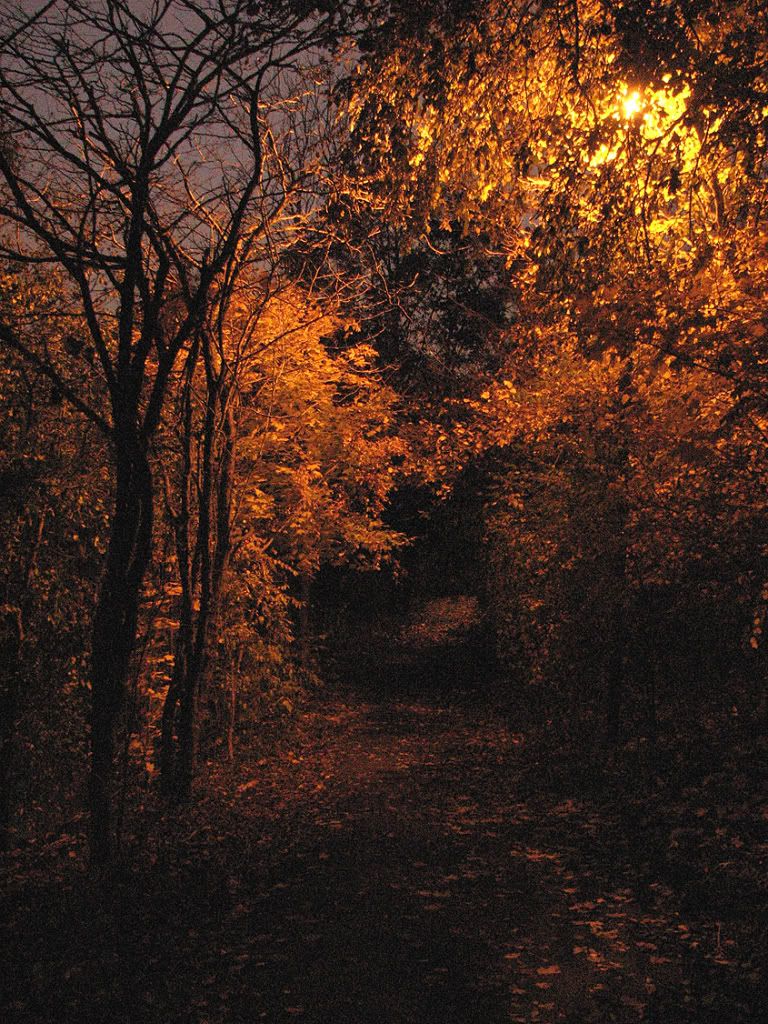 The amber lamps which light up our park paths at night lend their warm hues to the autumn leaves. There's magic to be seen at night.