Just a quick word to some Google+ bloggers in general, and specifically to a new reader.
Hi Marie! You leave such lovely comments when you "flutterby" and I very much want to return the favour when I stop by to visit your fine blog. But alas, Google+ will not permit me to leave a comment unless I switch over to a Google+ profile, and as long as I can avoid maintaining two profiles, I will not be acquiring a Google+ profile anytime soon.

I follow quite a few bloggers who use Google+ but whose blogs do allow me to add my comments. But every now and then, there's one or two who prompt me to create the Google+ account in order to comment. And I don't. I'm guessing that there is something in the settings which will either allow or disallow regular Blogger profiles to make a comment. Perhaps it's just a small tweak to your settings?

I have tried to find some contact information on your page but was unable to come up with an email address so that I could let you know my dilemma. If you could please email me at thesmittenimage at gmail dot com, I could perhaps share my comments with you in email, if you prefer to keep your blog open to Google+ comments only. I'm just not at all anxious to create a second account to appease the Google+ gods.

If anyone who has a Google+ account, and who allows Blogger profiles to comment can tell me how that's done, I'd sure appreciate it.

Thanks.
Now on with the blog post...

Oh and for those who asked about my last post - if I thought the search and rescue which I documented might have been a training exercise.. possibly. But I don't think it was. It took place on a holiday Monday. Though it wasn't a national holiday, I think the Canadian Forces might keep their Search and Rescue team available for what was a very busy weekend in our neck of the woods. Still, I can't know for sure.

Okay, NOW on with the blog post...
May it be a light to you in dark places, when all other lights go out.
The full moons around here are beautiful. They defy description so I won't even try. Just sit back and listen to
sounds of the loons
, and enjoy this moonrise from early September.
See you soon. And I'll have more photos, of course.
And now, without further delay, here are the
Posts of the Week
. The icon below is yours for the taking if your blog post is named as a POTW.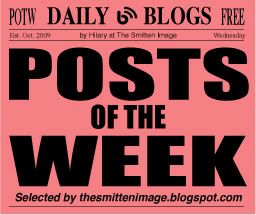 ***
A GOOD READ
Making Sense of That Which Makes No Sense


by Carmi
at Written Inc.



The Ebola Crisis


by Joe
at Cranky Old Man



Autumn Winds


by Pauline
at Writing Down the Words



Bar Fly


by Amy
at She Writes



Giving Back


by Rick
at Life 101



The Day After


by Jennifer
at Cottage Country Reflections
***
YOU'LL SAY "AWWW"
Sock Kitten Cam


by Sharon
at Sharon's Paws Create
***
PHINE PHOTOGRAPHY
Virginia Farmland


by Kerri
at A Little Piece of Me
***
JUST PLAIN ALL AROUND GOOD
Offerings


by Kerry
at Ed and Reub



In Which I See a FOX


by Cloudia
at Comfort Spiral
The Ones We Lose
by Kamana
at Capturing Joy Everyday
***
CREATVE AND FUN
Meet Jack O'Garden
by Crafty Gardener
at Craftygardener.ca
***
Please drop by their blogs for a visit and leave a kind comment if you have the time. Also, please feel free to add your own choices (for any blog except this one) for a specific blog post in the comments section below, where others can see them.

Thank you