And all your future lies beneath your hat.
~ John Oldham
"It doesn't matter whether or not you have a head, you must wear the right sort of hat" ~ Kazantzakis
There were a lot of hat-wearers in the crowd at the South Side Shuffle - a blues and jazz festival which is held every year in Mississauga. Members of the band D'mar and Gill were also sporting head-toppers and so was the "dawg" logo.
The whole shadow of Man is only as big as his hat.
~ Elizabeth Bishop
Shabby gentility has nothing so characteristic as its hat.
~ Oliver Wendell Holmes
This lady seemed to enjoy steppin' out in her turquoise hat.
A hat should be taken off when you greet a lady and left off for the rest of your life. Nothing looks more stupid than a hat.
~ P. J. O'Rourke
We may say that many, if not all, of the personality traits which we have called masculine or feminine are as lightly linked to sex as are the clothing, the manners, and the form of headdress that a society at a given period assigns to either sex. ~ Margaret Mead
Time for a tip of my virtual hat with the POTWs.
And now, without further delay, here are the
Posts of the Week
. The icon below is yours for the taking if if your blog post is named as a POTW.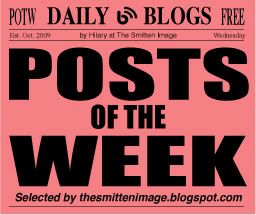 ***
HEROES
Hero


by Rae
at Grams Cracker Crumbs



Hero Cat


by Jim
at Suldog
PHINE PHOTOGRAPHY
Puffin (and Blowing)


by Bob
at Birds and Nature in the Forest of Dean



Morning in the West Country


by Leah
at The Goat's Lunch Pail



Early Morning Cottage Photos


by Anvilcloud
at The AC is on



Fearless

(This blog auto-plays music.. adjust speakers accordingly)
by Lisa
at Red Willow



The Deep Green Sea


by Kerry
at Ed and Reub



Milford Sound, New Zealand


by Karen
at What Karen Sees



Watery Depths of Granville Island


by Lynne
Glimpses

***
A GOOD READ
Lifetime Friend


by Cloudia
at Comfort Spiral



Transformation


by DS
at Third-Storey Window



An Open Letter to a Rapist


by Dhara
at My Cactus Dress



A Home for the Swifts


by Stephen
at The Chubby Chatterbox
***
YOU'LL LAUGH
Wrong Number....Again


by Chicken
at The Chicken's Consigliere
***
Please drop by their blogs for a visit and leave a kind comment if you have the time. Also, please feel free to add your own choices (for any blog except this one) for a specific blog post in the comments section below, where others can see them.

Thank you