This somewhat unusual photo has a bit of an interesting story behind it. I'll reveal that story to you soon along with some more photos. In the meantime, I'd like to hear your take on what you believe this image might be about. I suspect you'll probably be correct or at least close because you're smart like that. Or you can make it funny, if you prefer - a caption - a quote - anything you like. It's up to you.
I'll be employing comment moderation just for this purpose but I'll publish all comments before the next post. If you don't feel like coming up with what you believe is the story behind this image, that's also fine, of course. I'll be back before you know it with more photos and an explanation of what's happening here.
And now, without further delay, here are the
Posts of the Week
. The icon below is yours for the taking if if your blog post is named as a POTW.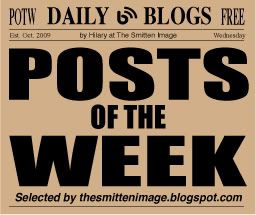 ***
A GOOD READ



A Moment Here


by Pauline
at Writing Down the Words
***
JUST PLAIN GOOD
Stop the Spit-Flying Xenophobia. Now.


by Leah
at The Goat's Lunch Pail



Corkscrew Swamp Sanctuary


by Rosemary
at Creative Journal
***
IT'LL MAKE YOU LAUGH
0 for 8


by Fragrant Liar
at Fragrant Liar
***
PHINE PHOTOGRAPHY
***
Please drop by their blogs for a visit and leave a kind comment if you have the time. Also, please feel free to add your own choices (for any blog except this one) for a specific blog post in the comments section below, where others can see them.

Thank you