Last week, Frank's wonderful family got together to reunite with some longtime family friends who were visiting from England. It was a lovely day, and I took some photos which I still have to sort through for family members and friends, but I also snapped a few with my bloggie people in mind.
Knowing that there are quite a few animal lovers among you, I thought should share this little sweetie with you. She's a tiny, purry thing under all that fur. Picking her up, she felt like a kitten in my arms but according to her people, she hasn't been a kitten for 21 years! That's a lot of fine, feline living.
This little princess shares her living space with two cats. Callie has been up at the cottage with Benny before. and she tolerates him - for a few moments at a time. She's a sweet, gentle little pooch who very much enjoyed basking in the afternoon sunlight.
Another bright spot for my camera was this interesting floor lamp. I couldn't resist photographing its spiral pattern. I stared at it without a problem for a while until I got the photo that I wanted, but now that I'm looking at the image, I find it makes me dizzy. Or I might just be tired.

And now, without further delay, here are the
Posts of the Week
. The icon below is yours for the taking if if your blog post is named as a POTW.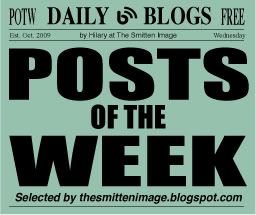 A GOOD READ
First Love, True Love
by EthelMae Potter
at The Adventures of Fred and Ethel

Pussywillows....
by Oma Linda
at Ye Olde Crone's Gazette

The Best
by Nezzy
at Cow Patty Surprise

SO CUTE

Meet Quigley
by Glo
at Porcelain Rose


JUST PLAIN GOOD

Time to Spring Forward
by Shammickite
at Rook's Nest

Royalty
by Tabor
at Room Without Walls

YOU'LL LAUGH


Splat!
by Linda
at To Behold the Beauty

Only $1.49 to Kick Zen's Ass
by Fragrant Liar
at Fragrant Liar

PHINE PHOTOGRAPHY

Connected
by Kerri
at A Little Piece of Me

Golden Glow
by Fiona
at Lady Fi


Please drop by their blogs for a visit and leave a kind comment if you have the time. Also, please feel free to add your own choices (for any blog except
this
one) for a specific blog post in the comments section below, where others can see them.
Thank you.