A couple of weeks ago, I took Benny for a morning walk. The temperatures had dropped below freezing overnight and into the day, causing puddles to begin to freeze over.
This particular one caught my eye. I liked the swirls and breaks, and the more I looked at it, the more I thought it looked like a couple of different animals. Taking in the fuller picture, I thought I could see a dolphin.

Moving in a little closer though, I could see the face of a blue jay. Can you see it?
How about now?
I don't have too many Posts of the Week this week as we've all been pretty busy with the holidays, but few are better than none so I decided to post this small collection rather than skip it until next time.

And now, without further delay, here are the Posts of the Week. The icon below is yours for the taking if if your blog post is named as a POTW.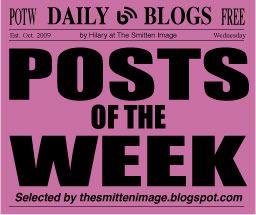 WRY
My Christmas Eve Peeve
by Dianne
at Forks off the Moment

JUST PLAIN GOOD

Colorful Dream
by Laura
at Shine the Divine

GOOD PHOTOGRAPHY

No Turkey for Christmas
by Hilary
at Crazy as a Loom


CUTE

An Everyday Occurrence
by Mami
at Unknown Mami




A TENDER TALE
I'll Never See Them Again but...
by Pearl
at Pearl, Why You Little..
READERS' CHOICE
Recommended by: Grayquill
Making Christmas Brighter
at Stories From Real Life
Please drop by their blogs for a visit and leave a kind comment if you have the time. Also, please feel free to add your own choices (for any blog except
this
one) for a specific blog post in the comments section below, where others can see them.