Today is day two of the Jewish festival of lights. Wishing those of us who celebrate, a very Chappy Chanukkah and many, many menorah.
;)

And now, without further delay, here are the Posts of the Week. The icon below is yours for the taking if if your blog post is named as a POTW.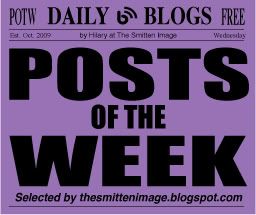 GOOD AND FUNNY
All is Calm, All is Bright.. Or IS IT?
by Susan
at Wild Life in the Woods
A GOOD READ
Where You Put Your Hands
by Brian
at WayStationOne

The Gift
by Jim
at Suldog

Two Coats
by Cricket
at Cricket and Porcupine

How to be Right, While Dead Wrong
by Cloudia
at Comfort Spiral
GOOD PHOTOGRAPHY
Getting the Bird...
by Reena
at Missing Moments


JUST PLAIN GOOD
'Tis the Season
by DJan
at DJan-ity

Christmas Story
by Lisa
at Where Peaceful Moments Flow

Silent Saturday
by SueAnn
at SueAnn's Journey



GOOD VIDEOS
Thanks for Di for pointing out this very clever video. Women will probably appreciate it more than the men.
Thank you Mage for sharing this Canuckian high school kid's unique rendition of a Christmas classic.
Thank you to Dianne for pointing out this fun Hanukkah tune by the Yeshiva Boys Choir
Thank you to Lime for sharing this very funny, and hopefully only mildly offensive video.


Thank you to Beth
for sharing this fun video.
Patsy and Mickey are back in a Sucker Bet
by Daryl's Ray
at Out and About in New York City


READERS' CHOICE

Recommended by: Suldog
The Running of the Grunions
by Stephen
at The Chubby Chatterbox
Please drop by their blogs for a visit and leave a kind comment if you have the time. Also, please feel free to add your own choices (for any blog except
this
one) for a specific blog post in the comments section below, where others can see them.