Have an

E

G

G

ceptional Easter.. Passover.. Spring!
And now, without further delay, here are the Posts of the Week. The icon below is yours for the taking if if your blog post is named as a Post of the Week - either as
top post or as a runner up.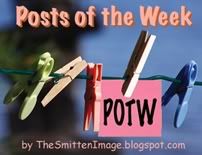 This week's POTW is a simple but delightful photograph which illustrates the power of both nature and nurture across generations.

More wonderful posts are categorized below (they may well fit into more than one category but I'm only selecting one for each):
Anticipating Zoey
by EthelMaePotter
at The Adventures of Fred and Ethel
Distances
by Betty
at Bossy Betty

Installing Spring
by Reb
at Sibu Pegasus Power
And Yet She Looks Perfectly Normal
by Pearl
at Pearl, Why You Little...

In the Mist
by Lisa
at Red Willow Photography
Sipping from the Cup of Sunlight
by Lady Fi
at Lady Fi
Sunny
by Daryl
at Through My Eyes
What If...
by Dawn
at Puzzle Pieces
Manatees
by The Retired One
at The Retirement Chronicles


Side Effects
by Daryl's Ray
at Out and About in New York


The Rendezvous
by Debbie
at Words on Wheels

Recommended by:
Lailani
Please drop by their blogs for a visit and leave a kind comment if you have the time. Also, please feel free to add your own choices (for any blog except
this
one) for a specific blog post in the comments section below, where others can see them.