The answers to Sunday's Wacky Wordies can be found below. The comments are now published and can be read at the previous post.



Wacky Words - Solutions:




1) Dark circles under his eyes
2) No one's perfect
3) A gross injustice
4) A parting of the ways
5) Enlighting
6) Feeling under the weather
7) A foot in the door
8) The start of something big
9) See-through blouse
10) Safety in numbers
11) Step-daughter
12) No end in sight
Congrats to Glo for pretty much getting all of them correct!
And now, without further delay, here are the Posts of the week.
The icon below is yours for the taking if if your blog post is named as a Post of the Week - either as top post or as a runner up.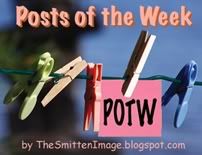 This week's top two posts go to:
Other wonderful posts are categorized below (they may well fit into more than one category but I'm only selecting one for each):





OK, So I'm Cracked
by Jinksy
at Napple Notes


HUSH
by Mami
at Unknown Mami



"Girls," Should You Act Your Age?
by Cloudia
at Comfort Spiral



Puddled Paths
by Dawn
at Puzzle Pieces

Spring Hoarfrost
by The Retired One
at The Retirement Chronicles

Quiet, Joyful Noise
by Deb
at Talk at the Table


Slam the Door, Please
by Steviewren
at A Little Birdie Told Me So

Happy Easter From the Yellow-rumped Warbler
by Glo
at Porcelain Rose

O
by Sue
at Photowannabe

Please drop by their blogs for a visit and leave a kind comment if you have the time. Also, please feel free to add your own choices (for any blog except
this
one) for a specific blog post in the comments section below, where others can see them.