With all of the attention that the ducks got in the last post, I felt that I should have focused on the geese a bit. After all, they inhabit the same pond as their Millie and the gang. The photo of this beauty was actually taken sometime last year but I thought I'd share it anyway.
And now, without further delay, here are the Posts of the Week
.
The icon below is yours for the taking if if your blog post is named as a Post of the Week - either as top post or as a runner up.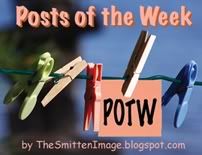 This week's POTW goes to..


More wonderful posts are categorized below (they may well fit into more than one category but I'm only selecting one for each):

Do Over!
by Tattytiara
at Tattytiara
Cat vs. Chipmunk vs. Mom
by Nota
at Not A Supermom
Shopping With the Vengeful Teacher, Betty
by Betty
at Bossy Betty

Reflecting on the Sacred-Ordinary
by LauraX
at Shine the Divine

Figuring It Out
by Pauline
at Writing Down the Words



More Snow
by Steve
at Take a Look Around

Seeing a Difference
by Deb
at Talk at the Table





Running of the Brides
by Dianne
at Forks Off the Moment

Upside Down and Backwards
by Robin
Madder in Mada


Talking to Wildlife
by Barb
at Live and Learn

Recommended by:
Lady Fi
Please drop by their blogs for a visit and leave a kind comment if you have the time. Also, please feel free to add your own choices (for any blog except
this
one) for a specific blog post in the comments section below, where others can see them.