These two chairs sit on the balcony outside my bedroom. It's a comfy place to sit, some summer evenings but lately these seats have just been hanging around collecting snow.



If the mood strikes you, why not come up with a caption for these pot bellied chairs?

And now, without further delay, here are the Posts of the week.
The icon below is yours for the taking if if your blog post is named as a Post of the Week - either as top post or as a runner up.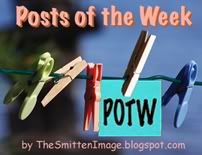 This week's POTW goes to:



More wonderful posts are categorized below (they may well fit into more than one category but I'm only selecting one for each):
Game? What Game?
By EthelMaePotter
at The Adventures of Fred and Ethel
Punky Georges Sees His Shadow
by Gary
at Gary's Third Pottery Blog
All or Nothing
by Moannie
at The View From This End

Maddie and Me
by Betty
at Bossy Betty


Fun Things to Do in Egypt
by Leah
at The Goat's Lunch Pail

Fashionista Winter
by Sandra
at Add Humor and Faith

Head Freeze
by Dawn
at Puzzle Pieces

The Chase
by AC
at Anvilcloud


Please drop by their blogs for a visit and leave a kind comment if you have the time. Also, please feel free to add your own choices (for any blog except
this
one) for a specific blog post in the comments section below, where others can see them.