Just for fun, I thought I'd include a couple of
my favourite viral videos. They're kind of related to one another as they both depict individuals who have just had dental work done and are still flying high on feel-good meds.

The first is a little guy, and his dad is filming his medicated observations. It's been around for a long time now and no doubt most of you have already seen it but for those of you who haven't, it's a treat.

The second one is a teen and her mother is taping her happy moments in the recovery room following dental surgery. Enjoy!
Without further delay, here are this week's Posts of the Week: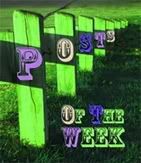 The icon to the left here is yours for the taking if your blog post has been named as a Post of the Week - either as top post or as a runner up, today or in past weeks. I've decided to start mixing up the colours each week. Take whichever one appeals to you. You'll find others in past posts.

This week's top post goes to:
Other wonderful posts in no particular order are:
Please drop by their blogs for a visit and leave a kind comment if you have the time. Also, please feel free to add your own choices (for any blog except
this
one) for a specific blog post in the comments section below, where others can see them.