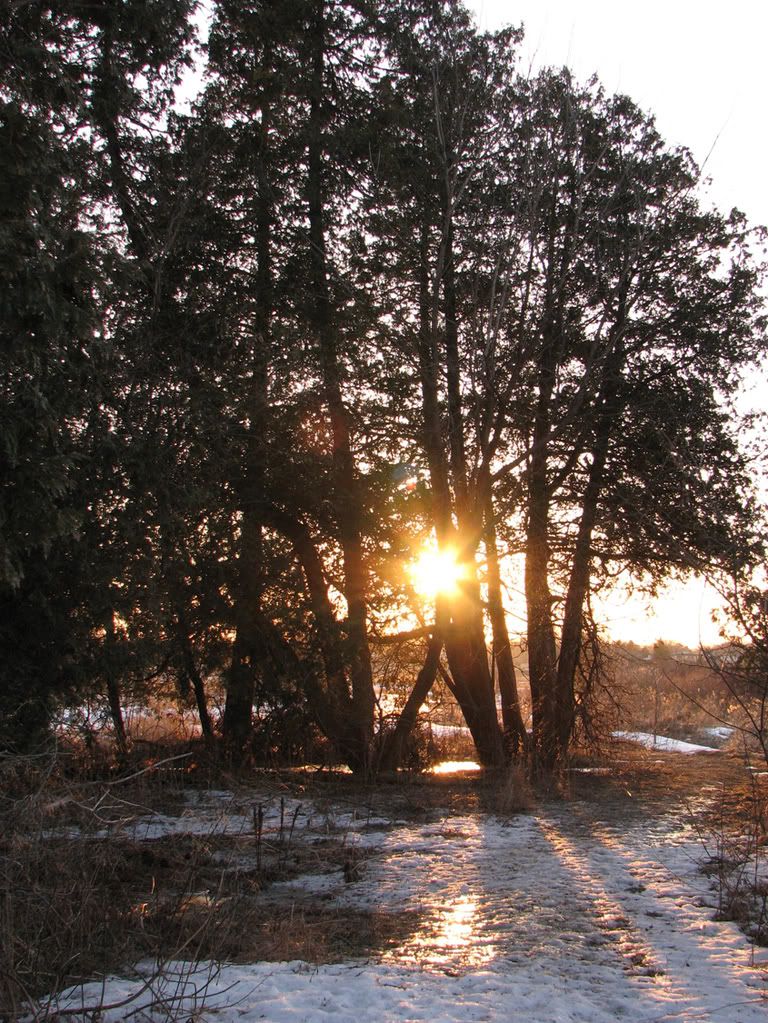 It's almost spring in Southern Ontario. This means that in the past week we've had temperatures ranging from -20C (-4F) up to a lovely high of 16C (61F) on Friday. We've experienced rain, snow, quick thaws, floods and glorious, golden sunshine. We've also welcomed a revisit from Daylight Saving Time.

Before too long, the snow and ice will be completely gone and signs of new growth will be apparent. Despite a return to colder temperatures this week, it's encouraging to be on this precipice between winter and spring.

Last week, I took one of my semi-regular trips to visit Frank at his neck of the woods. It takes me three hours by bus and train, but it's a relaxing trip as long as I have a good book to read, and I usually do. My camera is typically on my lap throughout the trip, just in case something catches my eye.
Not far from my departure point, the tracks cross the Credit River. In summer, its waters are dotted with boats and wind surfers, but throughout the winter, its icy surface takes on many patterns, whether snow-covered or in semi-thaw conditions.

(please click to enlarge)
As we pull out of Toronto's Union Station, a peek through the window across the aisle allows me to capture a shot of the St. Lawrence Market.
(please click to enlarge)
The tracks hug the shoreline of Lake Ontario for much of the trip.
(please click to enlarge)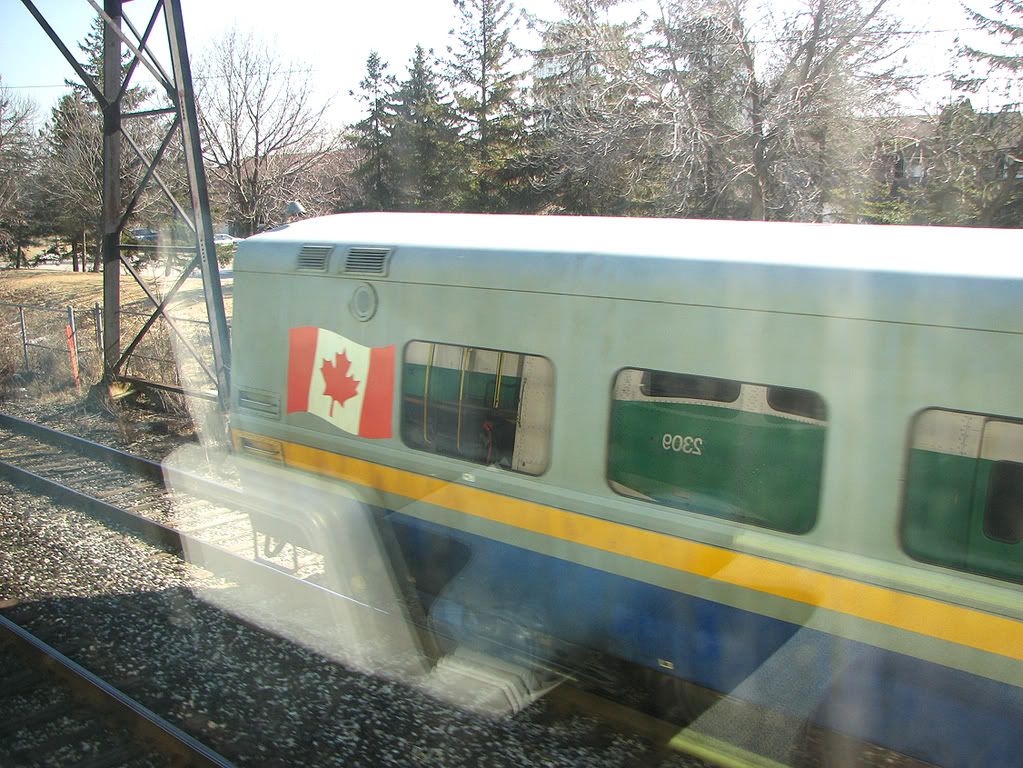 The railroad tracks are shared by both commuter trains and cross-country railroads. The green GO Transit car where I sit, is reflected in the window of the VIA Rail train as it zooms by.
(please click to enlarge)
Once I've settled in at Frank's place, the excitement begins. We'll usually grab some lunch, get a bit of shopping done, play a game of cribbage and before you know it, Frank is ready for a nap. Oh yes, I just exhaust him! Once he awakens, Benny is ready for his late afternoon walk. It's my favourite time of day, this time of year because the sunlight offers beautiful visuals like this gateway to the magical south cedar grove.
(please click to enlarge)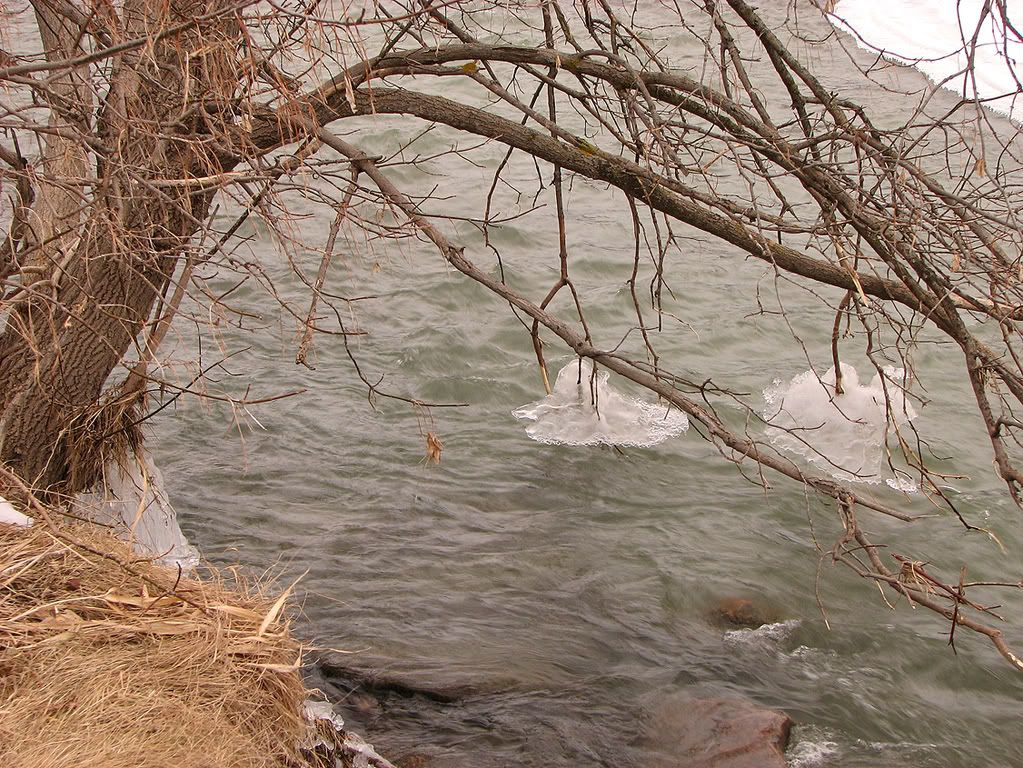 At this bend in the creek, a beautiful tree bows to meet the rushing, swirling waters below. The frigid air weaves lacy patches of ice close to the water's surface.
(please click to enlarge)
A closer look at the ice-covered twigs.
(please click to enlarge)
This tree has a tiny wooden ledge nailed into it. It's one of the many spots where Frank leaves a peanut for the squirrels throughout the winter. One day, finding himself without a supply of peanuts, he added a nickel instead. This of course was left unappreciated and untouched by the woodland critters. Sometime after that, just for fun, I added a dime to his coin but it disappeared shortly afterward. The snow has recently thawed considerably, and as we approached the tree, I asked Frank if he'd ever found the dime on the ground nearby. As I asked, I looked down and saw it shining back up at me. It's now repositioned on the ledge beside the nickel.
(please click to enlarge)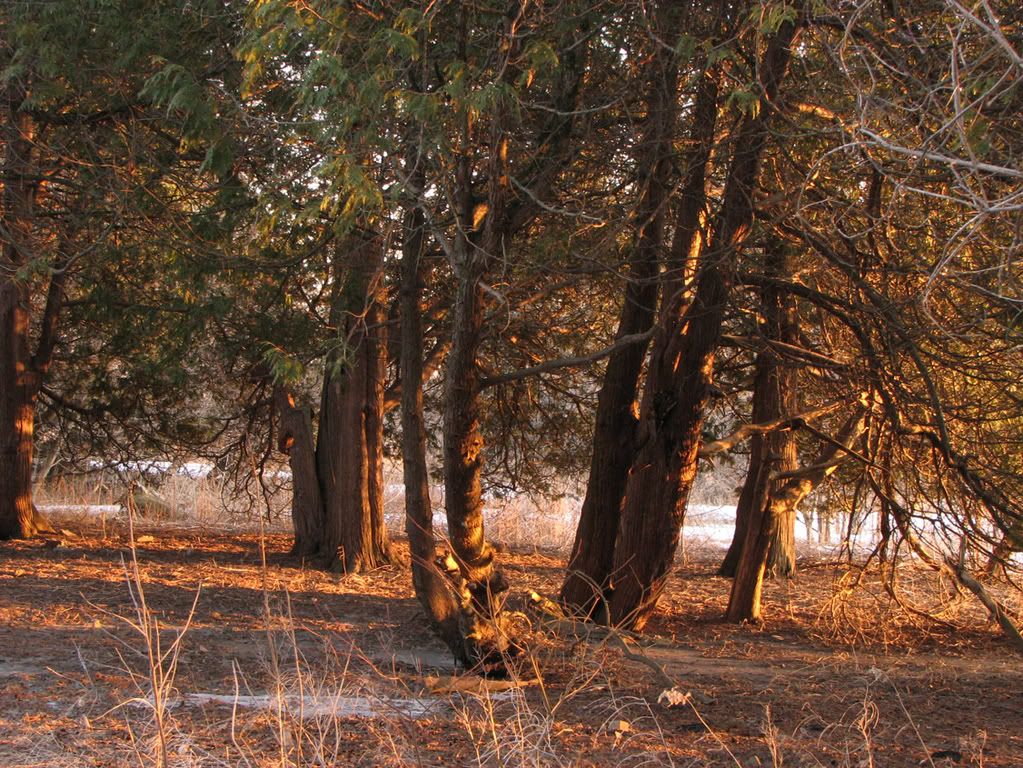 I've photographed this grove of cedars before, but I find it irresistible when the golden sunlight hits it just so.
(please click to enlarge)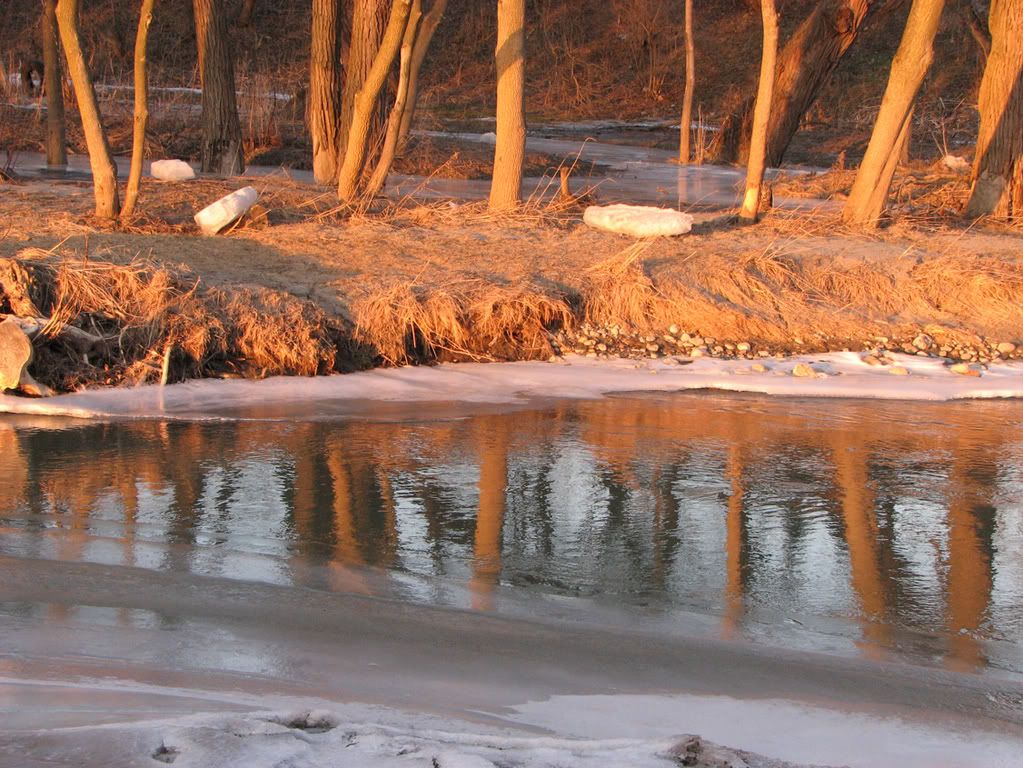 Along the shoreline, the golden tree trunks shimmer in the icy waters of the creek below.
(please click to enlarge)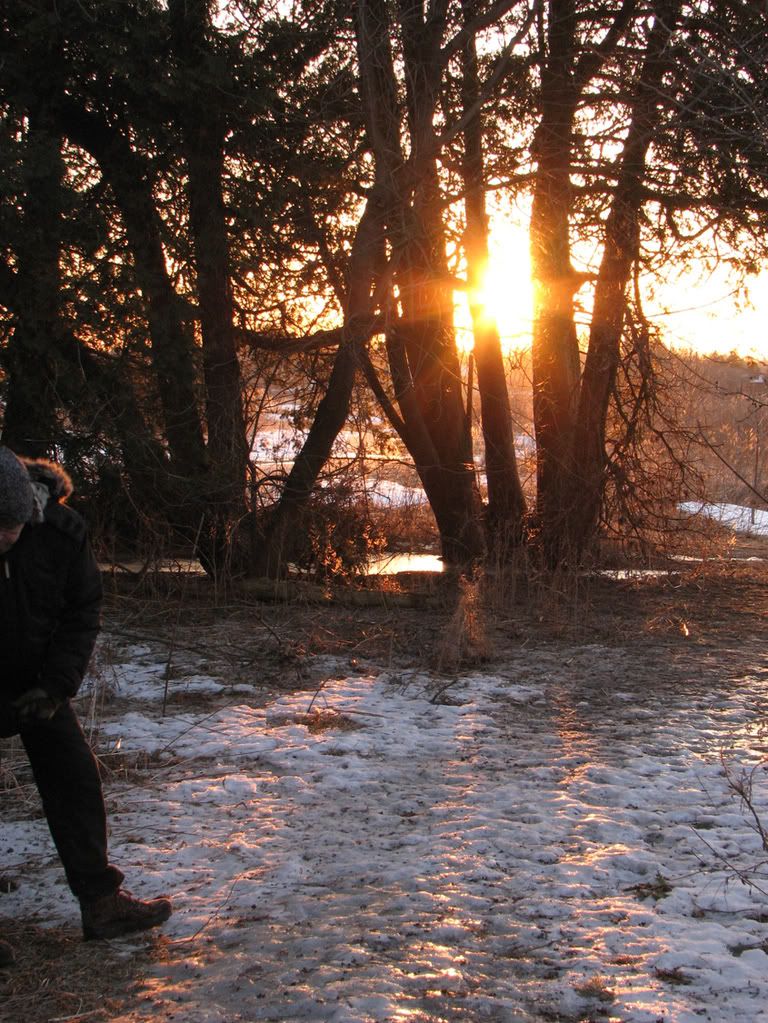 On our way back out of the grove, the sun glows from behind these kissing cedars.
(please click to enlarge)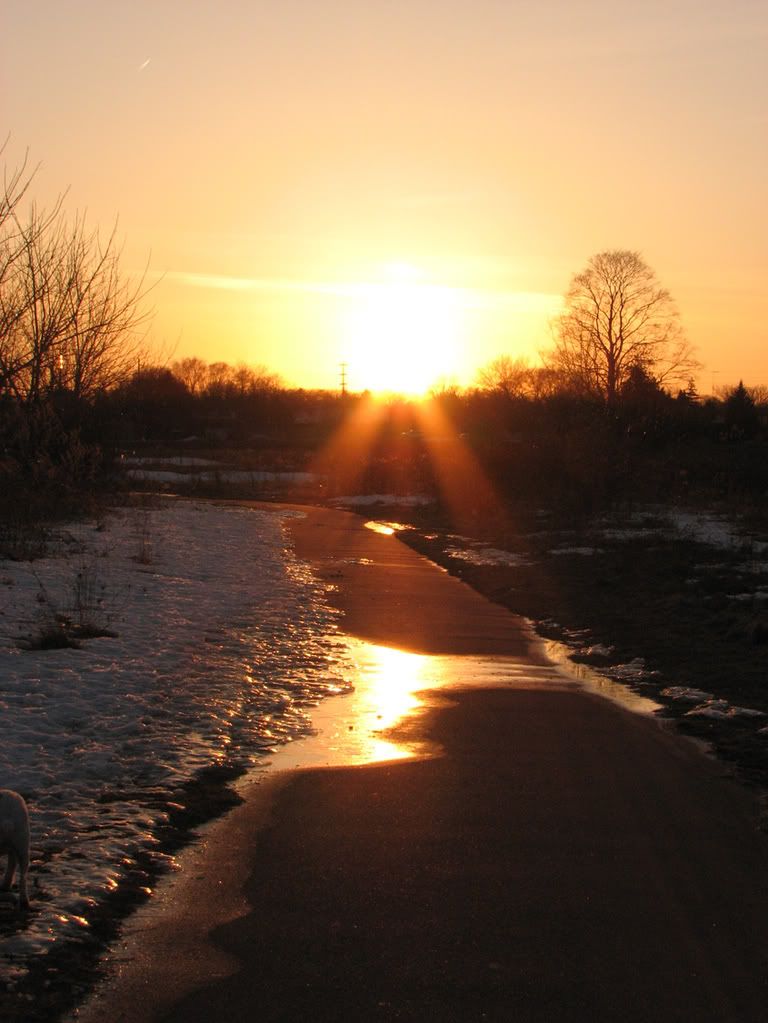 Just outside of the grove, the full setting sun brightens the path ahead of us, transforming icy patches into gold.
(please click to enlarge)
In a few days, I'll post some photos of the results of last month's flood which carried great chunks of ice out over the morning walking path.