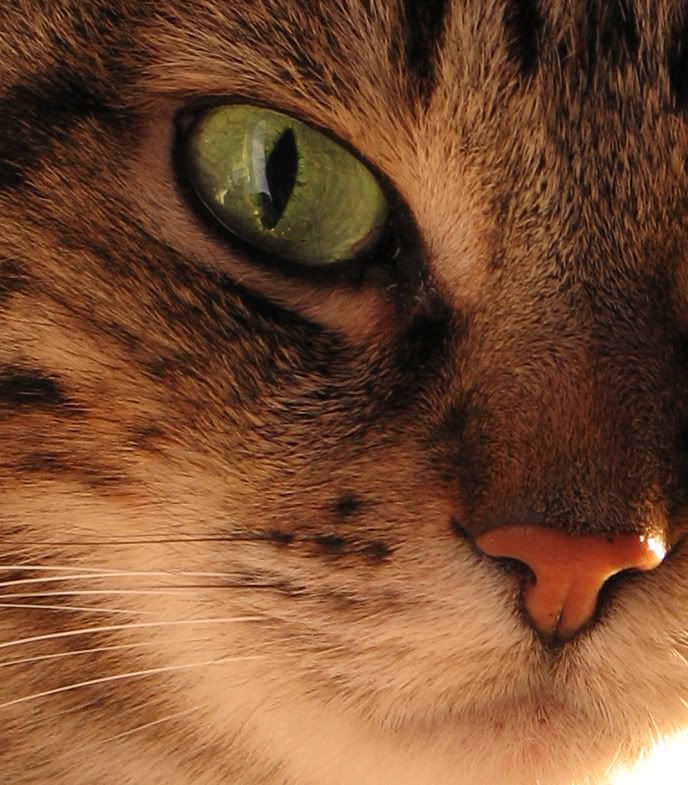 Well I guess that last post's "mystery images" were much too easy for this intelligent bunch. I'll have to find more obscure objects next time.

I did have fun photographing the watch and the energy-efficient light bulb, and cropping them in close. The watch in particular was challenging because I had a hard time trying to get the winder into focus.

The two full-image shots are below, followed by a few more photos which were all taken indoors under natural light.
My simple wristwatch which I wear (say that three times fast!) every day. I much prefer the face of an analog watch over digital. I only buy inexpensive watches because I tend to be hard on them - often forgetting that I'm wearing one until after I've done the dishes. The time may be a bit less accurate than that of a digital, but I tend to set it a few minutes ahead anyway, This way I can trick myself into being on time.

(please click to enlarge)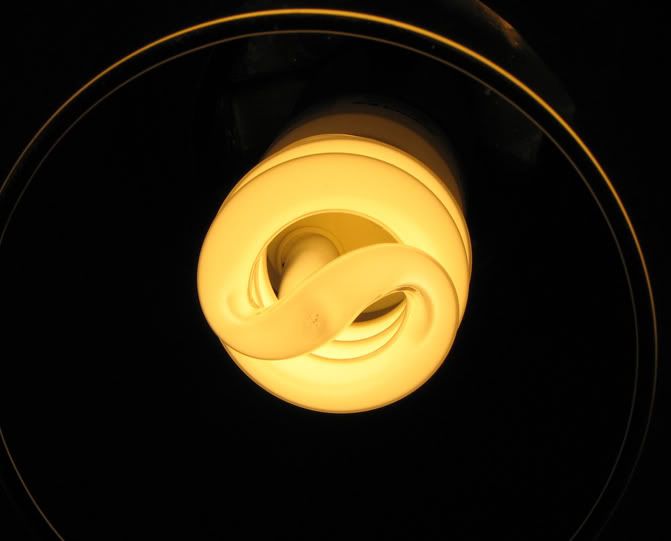 I took this shot from directly below an overhead light fixture. I'm not crazy about the appearance of these spiral-shaped light bulbs but I sure do appreciate their energy efficiency aspect. I find them more difficult on the eyes, and the split-second hesitation between light switch and power throws me almost every time. I figure they'll become more aesthetically pleasing over time as they've already begun to enclose some of them inside of a standard-shaped light bulb
.
(please click to enlarge)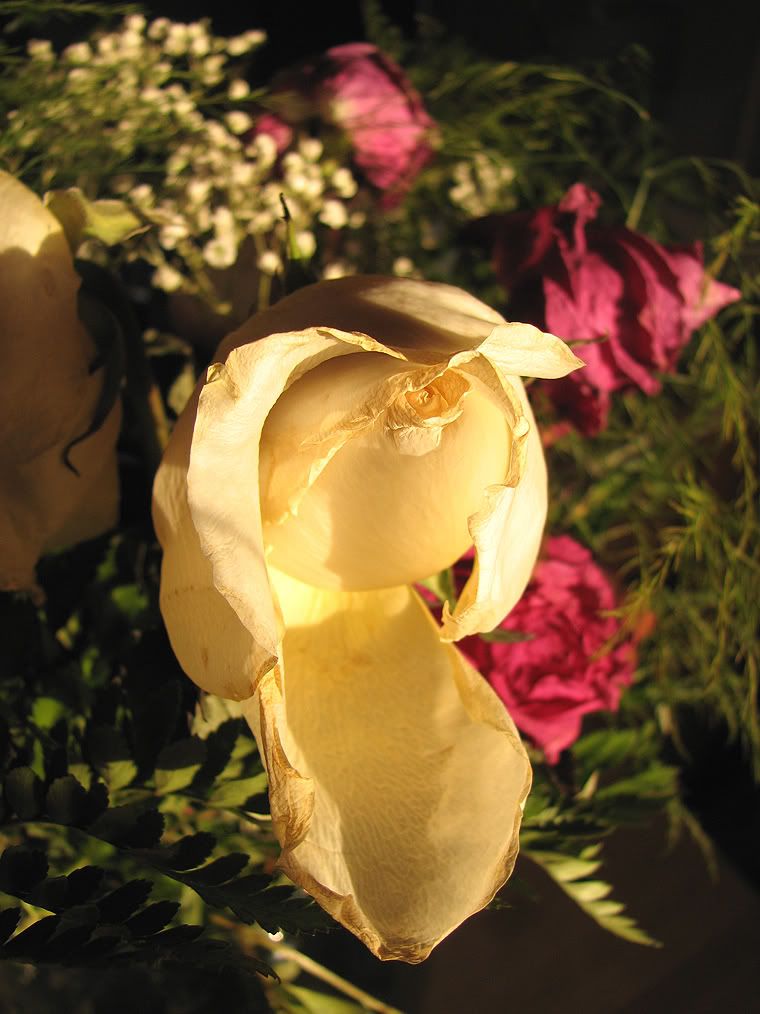 My Valentine's Day flowers were two weeks past their prime and ready for the green box. The soft yellow blooms seemed to outlast the other colours but even they have begun to wither. They were beautiful while they lasted. Thanks, Frank!
(please click to enlarge)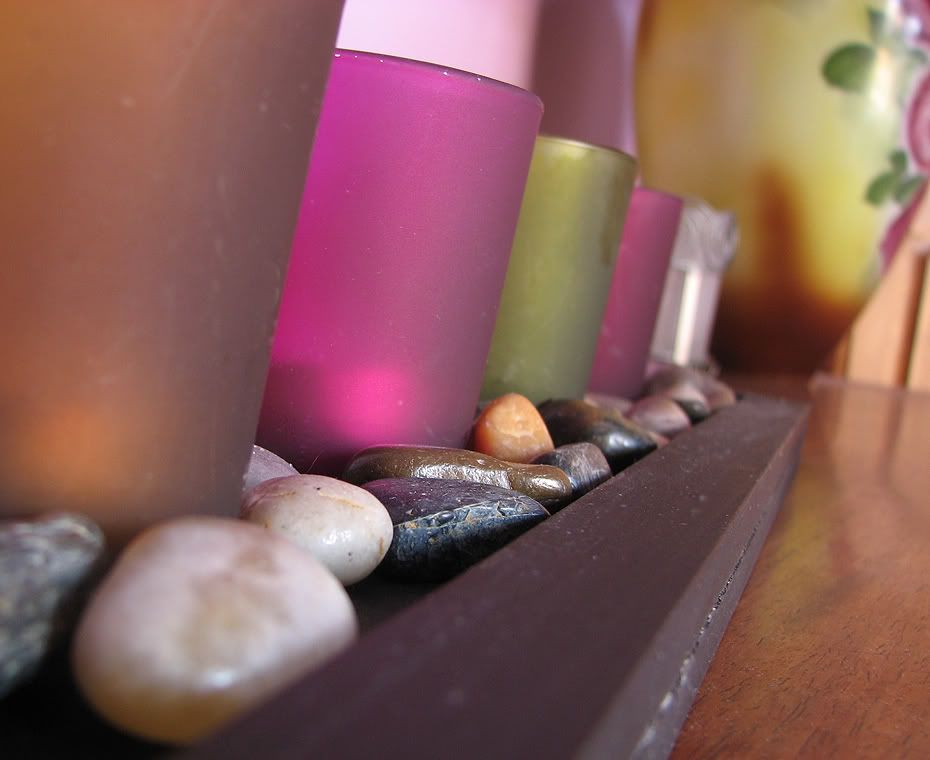 This set of tea candle holders adorns a wooden chest in my dining room. It turned out that its colours matched perfectly with a vase that has probably been in my family longer than I have. It can be seen in the background.
(please click to enlarge)
The flowers on this
Kalanchoe
(thank you Mental P Mama for identifying it for me) are less than a centimeter wide. It has just begun flowering after sitting dormant for the winter. Hopefully this is one of the sure signs of spring.
(please click to enlarge)
I love the colours of this teacup and saucer which I picked up at a yard sale a few summers ago. It was in this cup where I first found the mole, which began our little game. Frank, this should serve to remind you that it's your turn to find the little guy. And Suldog, this should also remind you that you were going to write about something similar.
(please click to enlarge)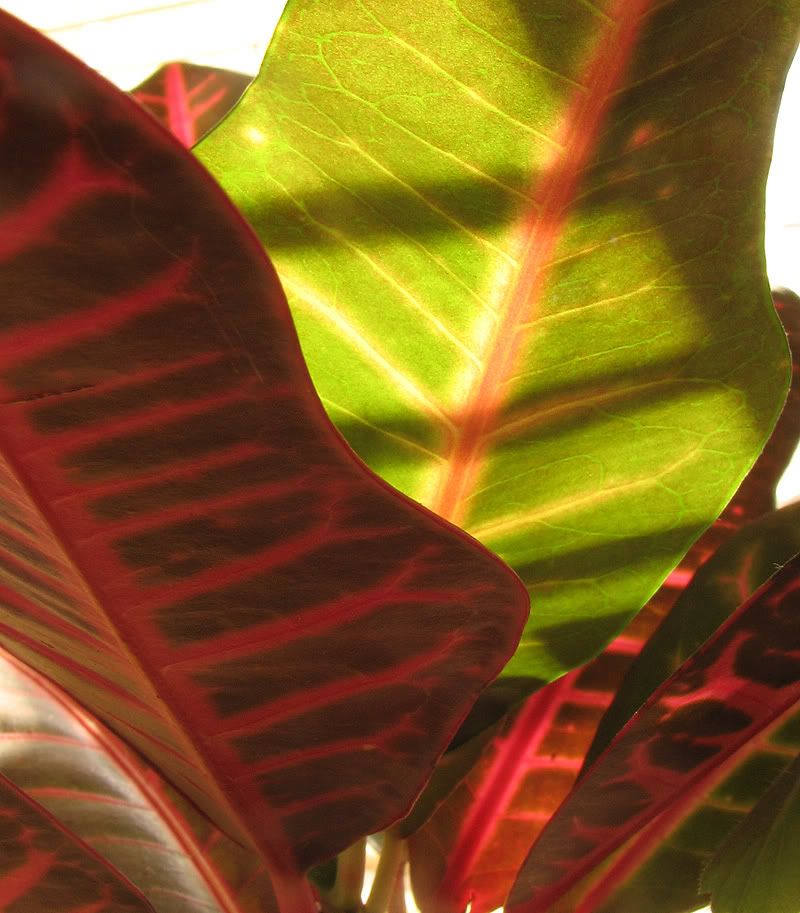 This Croton also sits in front of my kitchen window all winter, waiting for the day that it's warm enough to go outside for a few months. The diagonal stripes on the green leaf are shadows from the slats of my venetian blind.
(please click to enlarge)
A few wisps of fake flowers adorn this little brass watering can. It sits upon a small shelf in my front hallway.
(please click to enlarge)
Pink, freckled leaves grace this
Hypoestes*
plant which grows in a basket alongside the above flowering plant. The leaves have been growing more profuse the past few weeks. Another sign of spring? We can hope.
(please click to enlarge)
Skittles always has to be a part of whatever I'm doing. If I'm in the kitchen, he's even more vigilant of my every move, just in case I have a strong urge to pour out some cat food. What do you think he's looking at?
(please click to enlarge)
*

Daryl

, I thought I had included the name. I remembered Googling it, but I only put the name in the labels. It's a
Hypoestes. Thanks for pointing out the missing info. :)