If there was an Internet connection up at the cottage, I might not want to come home until close to winter. When Frank's out fishing for hours, I could entertain myself by reading about hard-working ranchers in Alberta from The Bag Lady, the colourful characters in Suldog's Boston and the exotic foods and interesting folks in Kappa No He's Japan. I could spend some time on Russel's Iowa farm or on the bustling city streets of Jo's Vancouver. If I wanted to find a few new blogs to read, I'd click over to Australia to read David's Post of the Day. And I could probably read Frank's wonderful posts before he ever hit the publish button.
But there's no computer there and truthfully, when we're at the cottage, I don't miss it one bit. In fact, if all has gone according to plan, that's where we are right now, and you're reading a scheduled post. So if I haven't been to your blog in a while, or I've not responded to your recent comments on mine, it's only because I'm enjoying the country air, fishing, hiking, building fires, roasting marshmallows, soaking up the scenery and hopefully taking lots of photos.
Below are a few pictures and a short video that I've shot over the past week. The winged creatures were all photographed around local parks. Wing nut Benny was goofing around in my back yard.
I'll be back to catch up with everyone next week. Until then, please try clicking on some of the blogs mentioned above. Most of these folks post frequently, and all of them are very entertaining.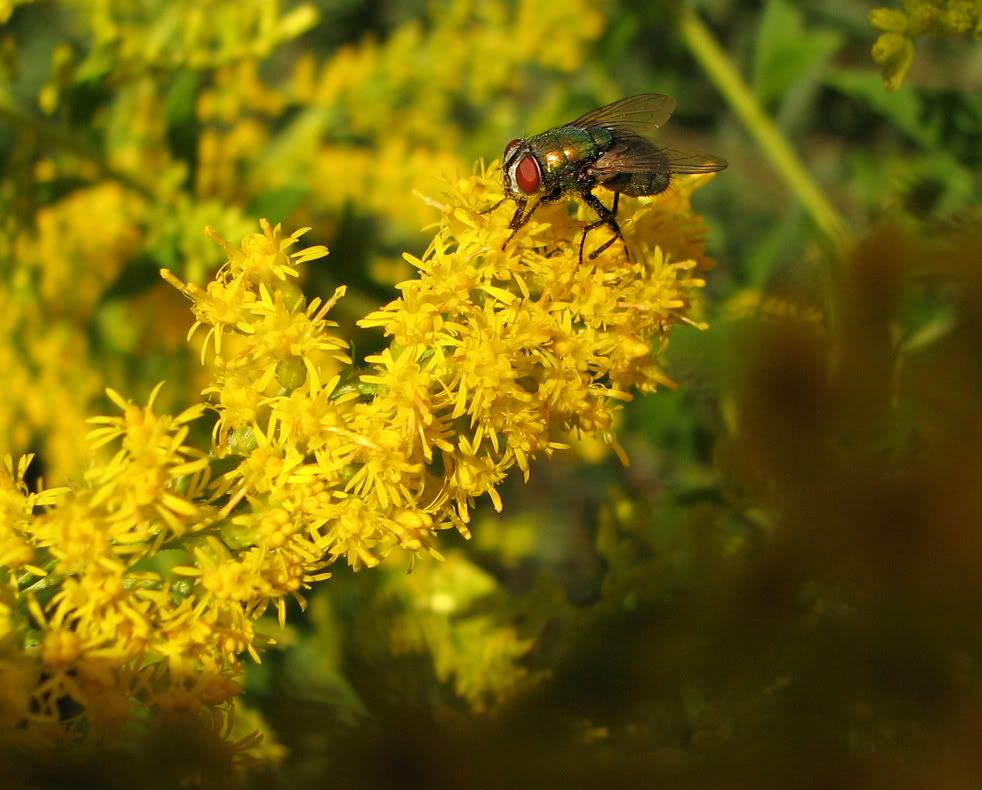 This tiny fly caught my eye because its colour kept changing in the sunlight. Originally its iridescent body gave off a light purple shine but by the time I was able to focus on it with my macro setting, it had a definite green hue. Both colours made it stand out among the petals of this golden rod. (Please click to enlarge)



The same brilliant yellow blooms that contrasted with the fly, now worked to camouflage this bee.
(Please click to enlarge)
But you can distinguish it's furry, yellow body quite easily against this purple aster.
(Please click to enlarge)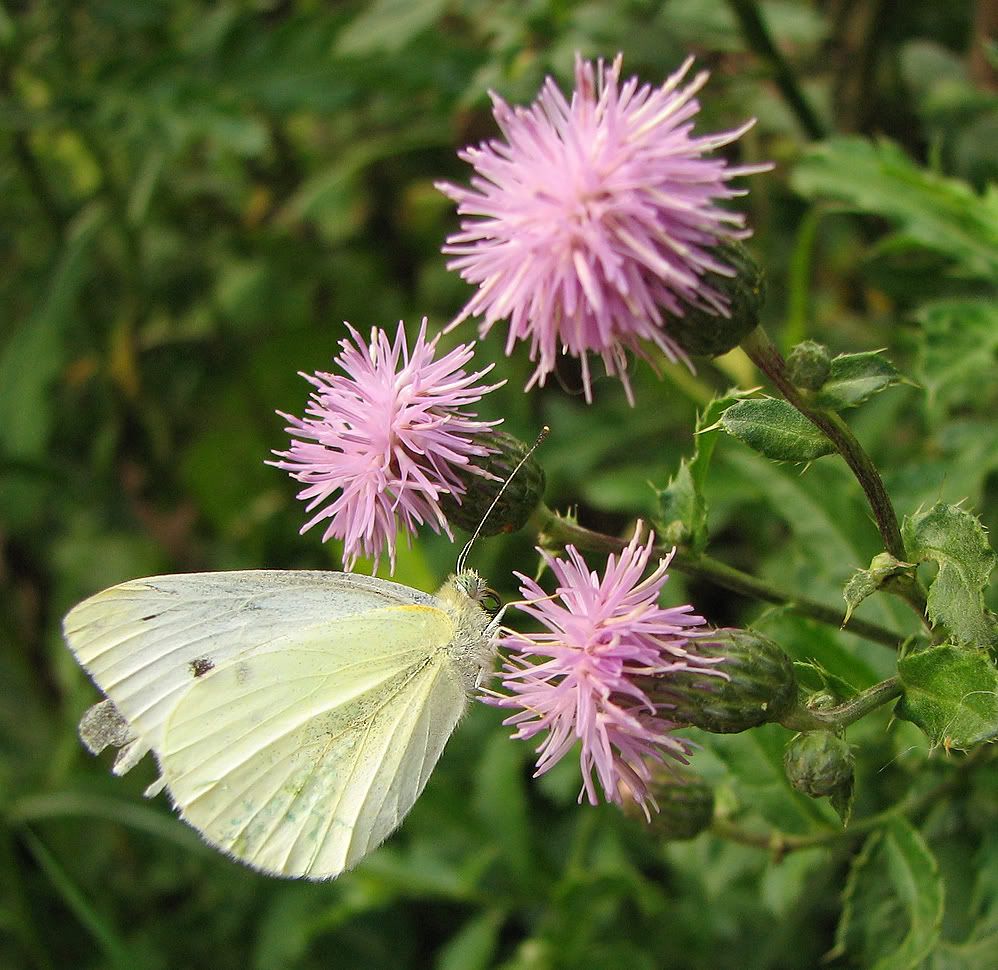 This little moth, resting on a thistle, appears to be weathered and worn.
(Please click to enlarge)





I like the way clouds appear in water. This small sparrow sits on the concrete barrier between land and lake. The lake water is behind him, but its body is reflected in a small rain puddle.
(Please click to enlarge)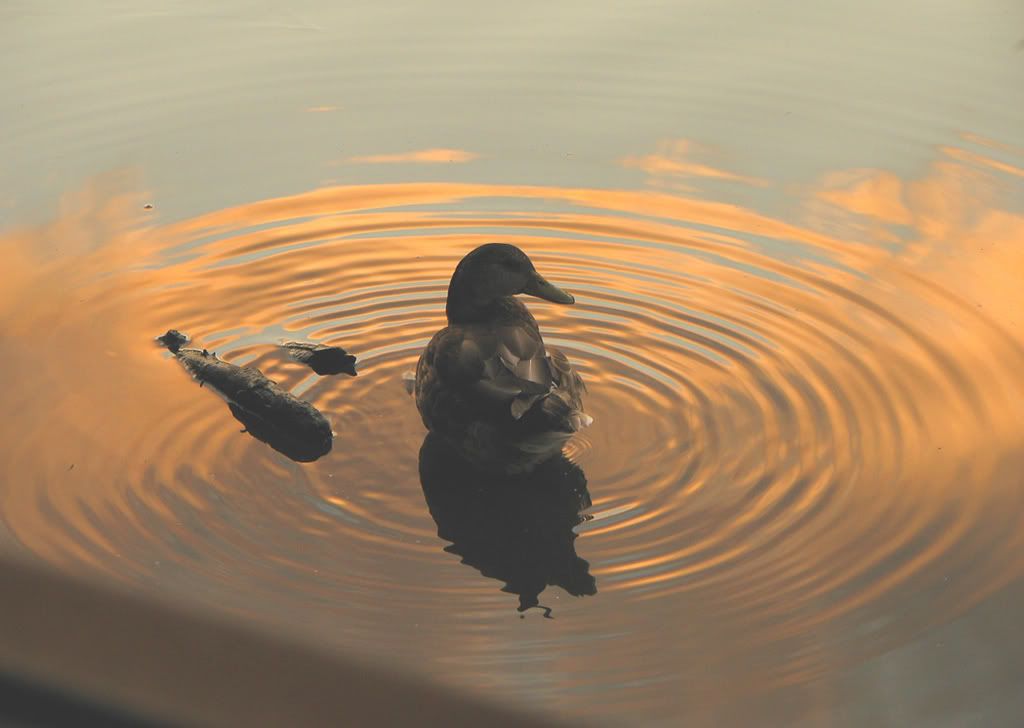 Late in the day, the setting sun painted the clouds a golden orange. A duck bathes in the warm glow of its reflection in the pond.
(Please click to enlarge)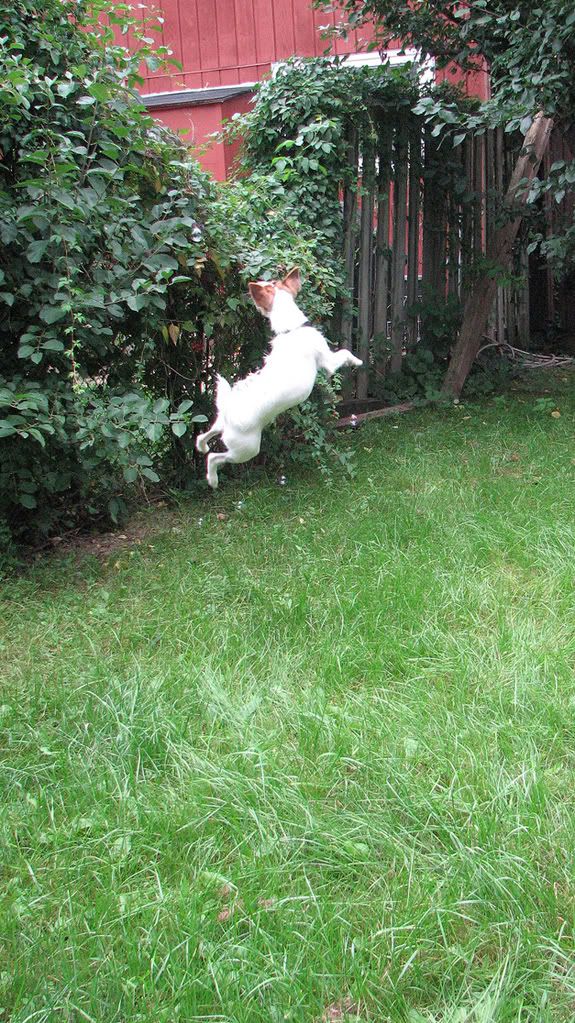 This summer, we discovered that Benny loves bubbles. They appeal to the manic (about 99.7%) portion of his brain. He will tirelessly run after, jump and bite every bubble within his reach, and keep searching for those that might have landed somewhere long after the last bubble has been blown.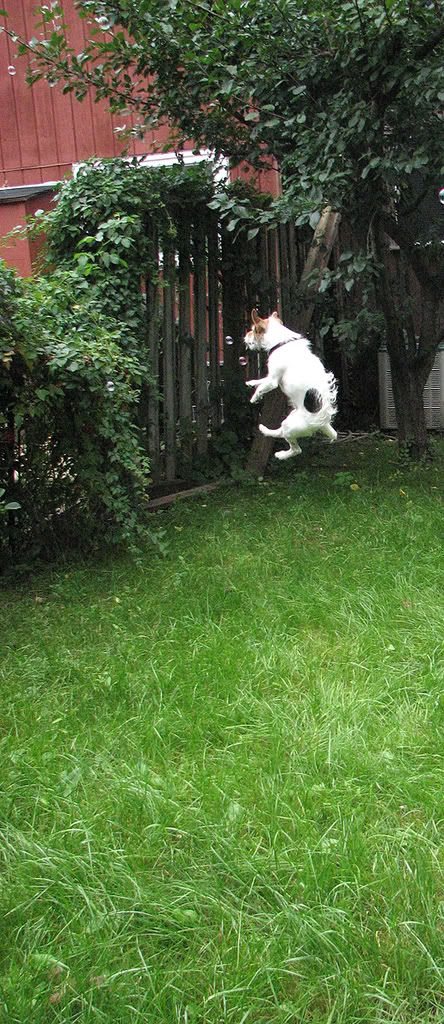 As you can see, he gets a fair bit of height into those jumps.






Here's a look at his goofy face while on a bubble mission.
(Please click to enlarge)



And last, but not least, Wing Nut Benny also enjoys a good game of Flip the Bucket.
Please be sure to watch the video of this crazy dog below.