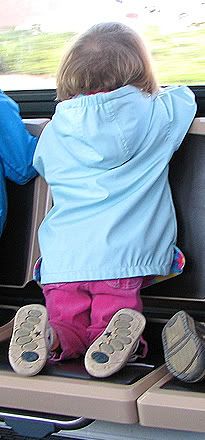 Last month I wrote about a
bus ride
that I took, during which an initially grumpy little girl and I exchanged funny faces and gestures, and became fast friends by the time her stop arrived. Despite the fun and the endearing connection that we made, the incident left me feeling sad because of the lack of interest her mother showed her. Last week I took that same bus ride at the precise time as the previous trip, and I half-hoped I'd see the little girl again. I didn't.
As I settled into my seat, someone rang the bell indicating their intention to disembark at the next bus stop. As a woman and her young son passed my seat, I could hear the boy enthusiastically singing "
The Wheels of the Bus
" It brought me back to a time when my own son was around four, and my cousin's ex husband taught him his version of the song. My son was the only kid at school who knew the verse "
The muggers on the bus say 'give me all your money' all day long
."
Shortly into the trip, a woman and four very young children climbed the steps into the bus and paid their fares. The youngest was in a stroller but the other three cautiously made their way down the aisle of the bus, as it angled its way outward from the sidewalk and back into the flow of traffic. This sudden acceleration caused the bus to lurch slightly, and one of the little ones stumbled backwards when he turned around to make sure that his Mom was still nearby. He was an easy catch as he staggered into my outstretched arm. I helped him to steady himself, and the woman glanced over to me and smiled her "thank you."
The three older children took their places on a long, side-facing seat at the front of the bus. They immediately scrambled up onto their knees so that they could look out the window. Their mother took the next seat which faced front where she could keep an eye on them, and a firm grasp on the stroller holding her youngest child.
Throughout the trip, the children chattered to each other and to their Mom. Each of their questions and comments were met with a thoughtful response from their mother. Her pride showed in her eyes as she caught my smile while watching them. The kids were oblivious to my presence, even when I snapped a couple of photos with Mom's permission.
The interaction between parent and offspring was heartwarming. The four pre-schoolers were well-behaved, curious and bright. Mom was warm, available and proud. I felt grateful for the reminder that most parents do their best, and love unconditionally. This young family may not have known it, but they made my day.
Like last time, this bus trip was the start of my journey eastward to visit Frank for a couple of days. As usual, the photos below are from walks around his place. Please remember to click on them to enlarge.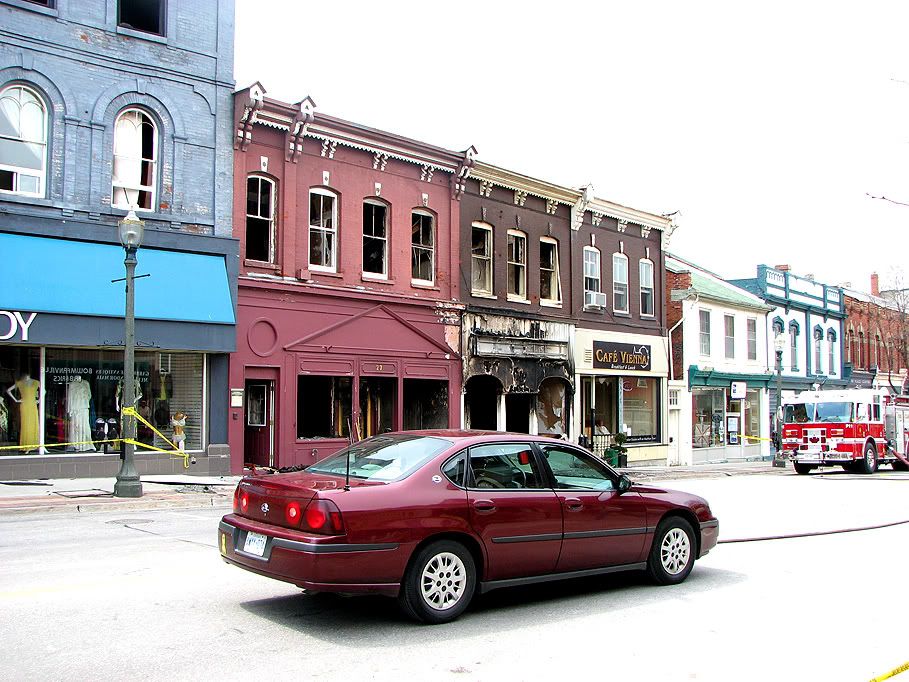 The day before I arrived, this lovely historic town suffered a bad fire. Two of these 100 year old buildings were completely gutted, a feeling which I'm sure was shared by store owners and customers alike as their town is preparing for its 150 year anniversary this summer. We wandered through a few of the quaint shops directly across the street, which were open for business as usual, but the sadness and sense of loss among onlookers and passersby was palpable. By Thursday afternoon, the building was fully demolished. Click
here
for a view of this same street, just a few doors down, as it appeared to me in December.
Further east along this same main street, there's a cozy little tea house which recently opened for business. One full wall is dedicated to dozens of varieties and flavours of loose tea, which you can purchase in several sized packages. Their entrance way displays this unusual table and chair set, made from the wood of coffee bean plants.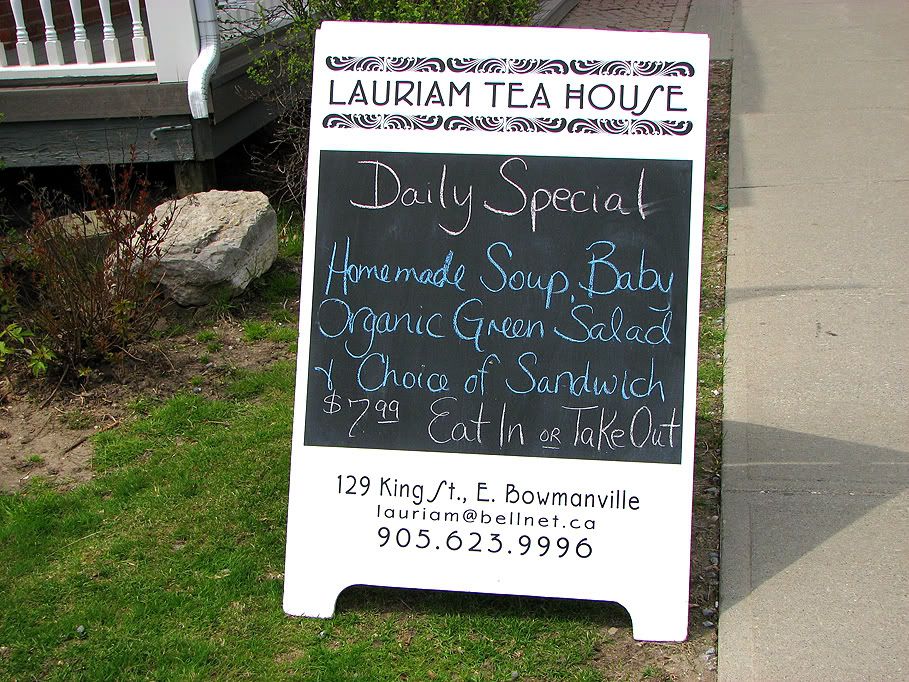 As you can see by the above photo, they offer much more than tea. Along with appealing lunch items, they also have delicious homemade sweets such as tasty pecan butter tarts and dunk-worthy biscotti. As I was leaving with a package of tarts for that night's dessert, this "Daily Special" sign caught my eye. I hadn't had lunch yet, and the opening line seemed particularly friendly. I read it as "Homemade soup, Baby!" in a George Costanza kind of voice. It took a moment for me to realize that the use of "baby" was referring to the salad greens, and not their customers.
Heading out of the downtown area, a set of steep steps leads back to the wooded paths along the creek. The area is beautiful in any season, but the changes are quite startling as the spring foliage emerges and the rich green colours return.
Frank picked a bunch of these delicious fiddleheads the week before. By the time I took this photo, most of them had unfurled into the lovely ferns that will last through the summer. We boiled them until almost cooked, then sautéed them in butter, minced garlic and freshly-ground pepper. Once drained, you can also toss them in a dusting of Parmesan cheese which will cling to the unopened fronds. This springtime treat goes great with almost any dish.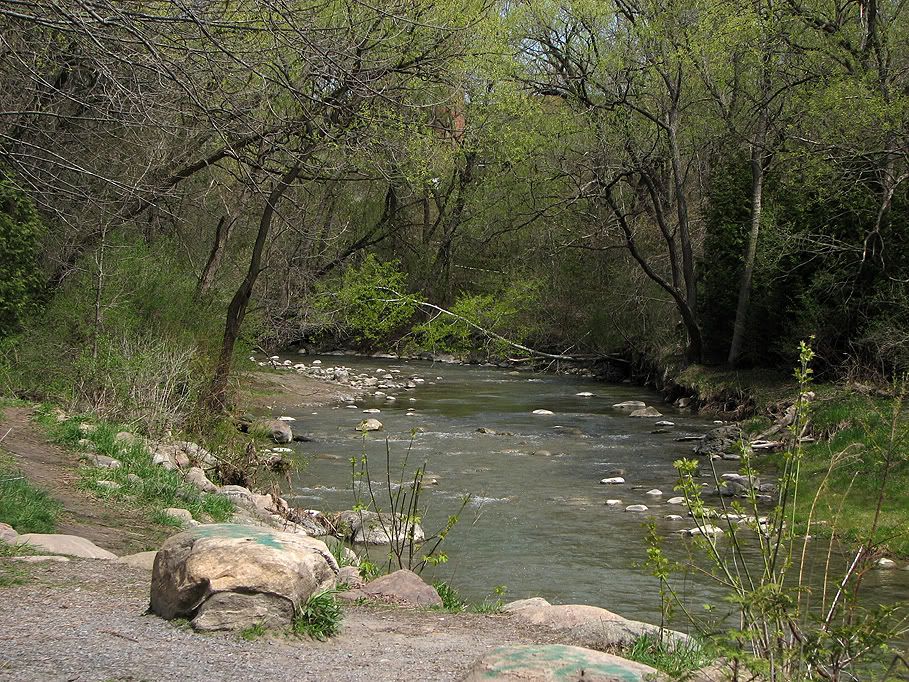 This view of the creek urged me to stop and snap a photo. The trees have sprouted leaves, but are nowhere near as lush as they'll be in a week or two.
As I glanced out over the creek, this tree caught my eye. If you click to enlarge it, you'll see something red and white hanging from its branches, just a little left of center.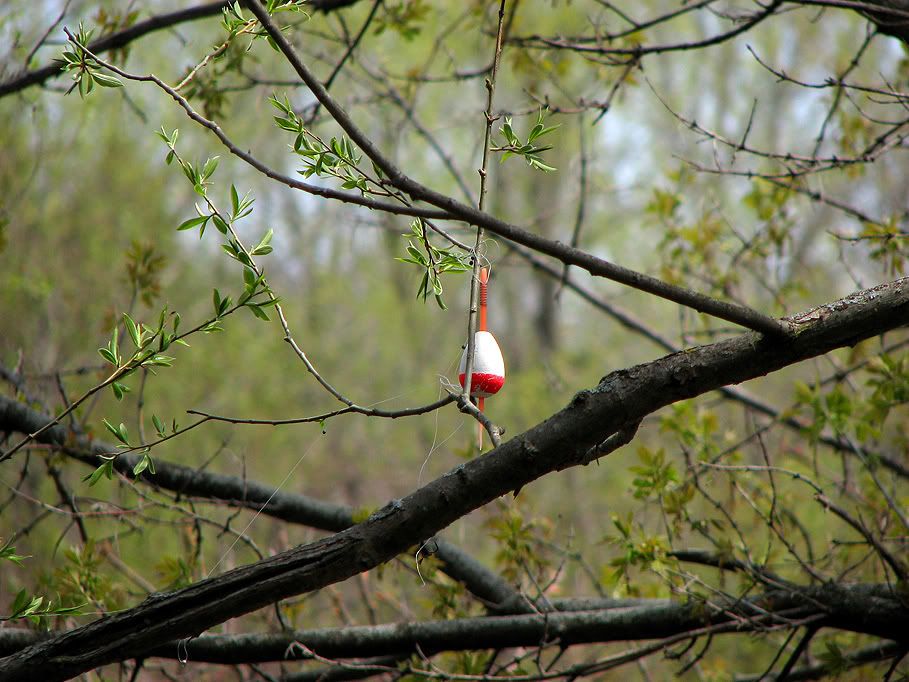 Zooming in, I could see that it was a wayward fishing float. I wonder if an avid angler will rescue it before it becomes completely hidden behind the growing foliage. I'm looking at you, Frank!
A walk in the woods is incomplete without the silly antics of a goofy JRT. Benny dares us to just
try
and take his stick. Don't even bother - you can't win. The puppy runs like the wind.
Back at Frank's place, he suggested that I take this shot as the late-day sun shone on this bare-boned chair. In a few weeks, it will be warm enough to grab a cushion and sit out there most any evening, while that night's dinner sizzles on the barbeque. He'd probably pop open a beer and I might pour a glass of wine as we both toast our appreciation to the return of warmer weather.
For amusing tales about walking with Benny, check out the most
recent post
(April 29) over at Frank's blog.