I had about three hours to kill last week - the time spent on the city bus and subsequent train ride traveling eastward to visit Frank. I usually pack a book to read and this time was no exception. Having recently returned one to the library, I looked around my own bookshelves for something to bring with me, and settled on the classic To Kill A Mockingbird. I had recently promised my son, Jeffrey that I'd reread it soon, so it was an easy choice. I'd have well-written entertainment for my trip and I'd fulfill a promise to my son. I settled into the first chapter when a little girl and her mother stepped up into the bus and took their seats near the front.
The child, no older than four, had a scowl on her
round, little face and when glancing up at her mom, I could see that it mirrored her own features and expression. The girl whined loudly, and demanded something from her mother. The parent outdid her child with volume, telling her that she could not have any chocolate until after the bus ride. Something in her tone and in her child's immediate growled response told me that the chocolate would be making an appearance soon. A few more growls, and half-hearted refusals on the mother's part and the little girl was presented with a large cream-filled chocolate egg. She continued to hold the angry expression on her face while unwrapping the candy, and it stayed with her well into eating it.
A few minutes into gobbling up her treat, the child caught my eye. Her angry expression never left her face as she watched me. I feigned a scowl in response, and her own scowl deepened. My eyes narrowed, and as I turned my face away from her slowly, I shot one more quick look at her and then smiled. She continued to frown as she watched closely for what I might do next. I dealt her a series of smiles and winks, and as her face began to soften, she returned the smile. Suddenly, she was quite lovely.
I continued making faces at her from across the aisle and several rows of seats, and she continued trying to return whichever expression I tossed her way. When I winked, she blinked and eventually resorted to holding one eye open with her fingers, allowing the other to blink a wink in return. I hid my face behind my hands and reappeared with a smile. She did likewise. I blew her a kiss and she obliged with one of her own. Occasionally she'd do something different, and I'd imitate her instead. We continued to interact like this off and on during the course of the trip. Her loud, raucous laughter was quite infectious and several passengers were watching and enjoying her amusement. Occasionally I'd get back to Jem and Scout who waited patiently for me within the pages of my book, but it wasn't long before I'd look up, and we'd continue our own little mockingbird game.
Eventually the mother nudged the little girl to let her know that their stop was coming up. The child continued to wave, make faces and blow kisses at me as she stood and waited for the bus to stop. She yelled a series of loud "good-byes" to me and she kept looking back at me as she descended the steps and exited the vehicle. The child left feeling cheerful - she skipped as she headed to their next destination.
I was pleased with the encounter which made the trip pass more quickly, but one nagging awareness disturbed me about the child's and my engagement. During the full hour trip, her mother never once looked over to see who was occupying her child's attention. Not once. She never looked at me while her child laughed out loud, blew kisses, waved and shouted her good byes. Unless the mother stole a sideways glance while I was catching snippets of my book, she had no idea who was holding her child's interest. As a mom, I found that troubling on a couple of levels.
Safety alone would dictate that a parent would want to see who is attracting her child's attention. Was I some potential child molester, or just an innocuous mother of long-grown children, out to acquire her child fix for the day? I would have expected to catch a glimpse of the smile that a mom can't usually hide, when her child delights in a silly game with a stranger. Mostly, I was concerned about why this mother would not show the sense of pride that most of us tend to feel when someone is clearly enjoying one of our offspring. Why didn't she show her little one that she took delight in her playfulness, her improved mood and her interest with some unknown stranger on the bus? I tried not to speculate about the relationship between mother and daughter. I hoped that perhaps the mom was just having a rough day, and therefore lost in her own thoughts. I tried not to entertain conjecture about the kind of mother she might be to her daughter, or what kind of person the girl might be twenty years from now. I do know that despite the smile on the child's face, I felt sad after they left.
Over the next several chapters of my book, I began to think of this little mimic along with Harper Lee's symbolic mockingbird. I hope that her songs generally evoke pride and affection in her mother. I hope that she feels cherished, and her innocence protected. And I hope she grows up to remember her childhood joyfully.



"Mockingbirds don't do one thing but make music for us to enjoy. They don't eat up people's gardens, don't nest in corncribs, they don't do one thing but sing their hearts out for us. That's why it's a sin to kill a mockingbird."




These photos were all taken in the wooded area just a few steps away from Frank's place. Please remember to click on them to enlarge.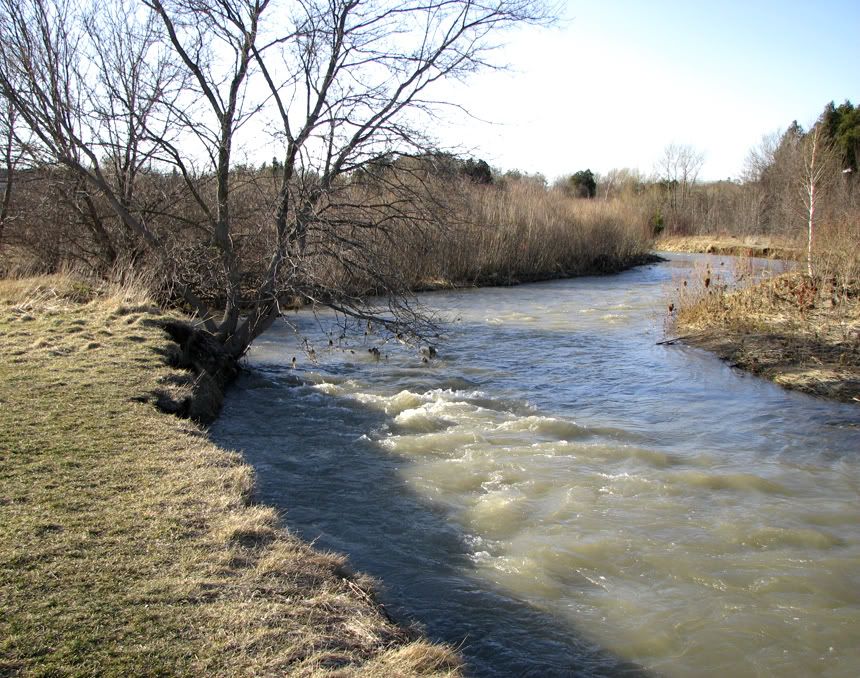 When we go walking in the evening, we ease our way along the banks of this creek. The ice and snow that covered the land just days before, yielded to the warm spring sunshine causing the water to rush by rapidly.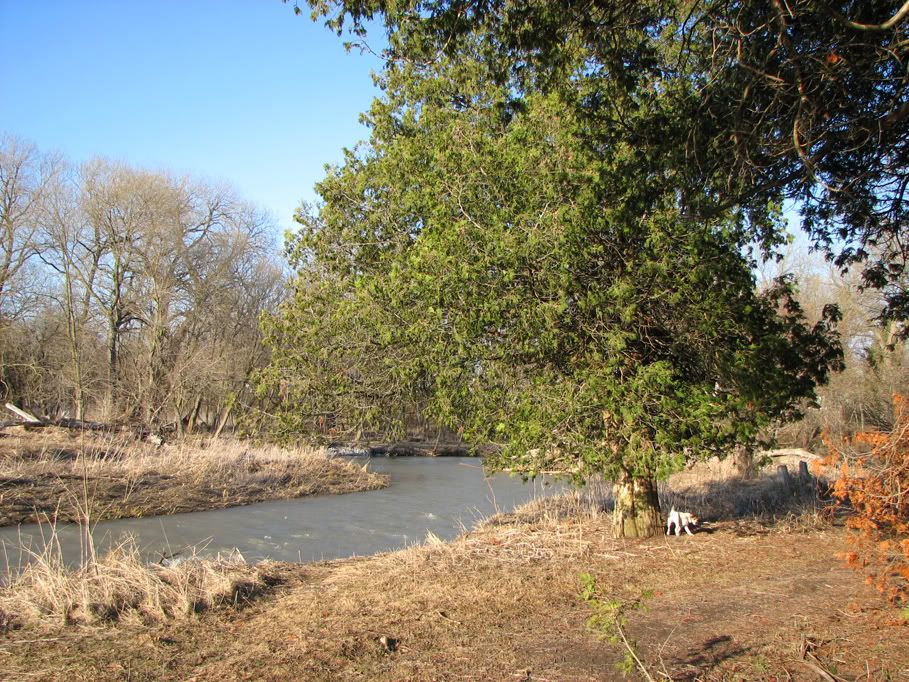 Further along the creek, we enter the area that leads to the cedar grove. The area is beautiful and its approach always feels to me, to be the edge of enchantment.
Early the next day, our morning walk brings us to a calmer part of the creek, every bit as beautiful.
We soon arrived at the dam and fish ladder, where we paused to see if the trout were jumping their way upstream. Every now and then we'd see a quick flash of movement as one of them made its approach. I focused the camera where I had already seen a couple of fish splashing about. Frank warned me that it would take a lot of luck and patience to catch one of them. He then launched into a story about how he had spent many hours with his own camera over the years, in hopes of getting a shot at a jumping trout without ever having had any luck. "It takes luck and a lot more time than we have right now, Hil. Let's keep going. Benny is getting impatient" His voice droned on in the background...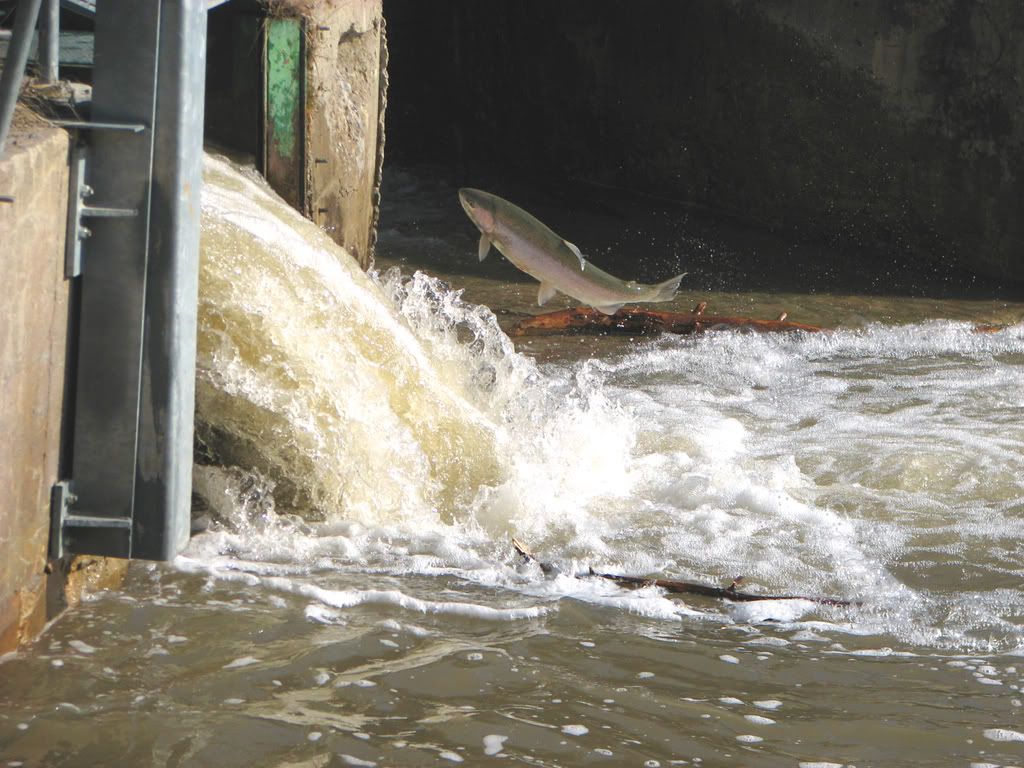 By the time he finished his first sentence, I had already snapped this one. I suppose I had the luck. I didn't need much time. ;)
Here it is up close.




Moving along, the spring melt revealed some of last year's growth. Here's some Queen Anne's Lace, long gone to seed.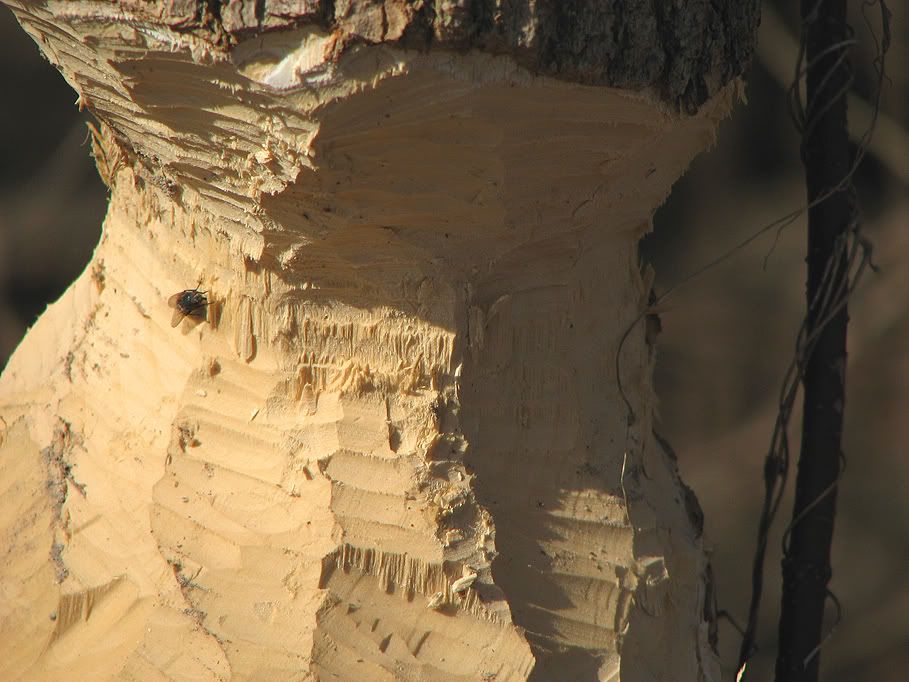 Close to the water's edge, we happened upon this natural wooden sculpture, being examined closely by one of the season's first flies.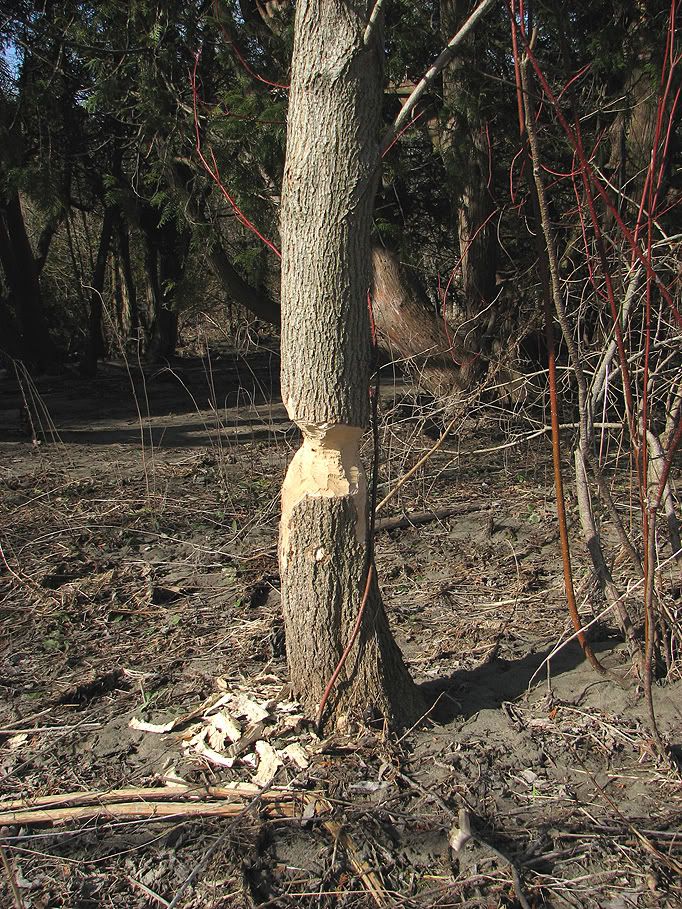 Clearly beavers had been hard at work.
I'll post some more photos in a few days.