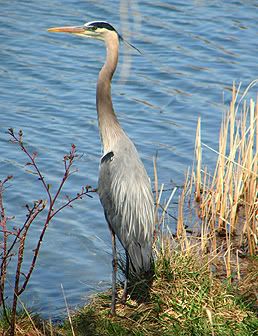 Today I walked to the same area where I saw my romantic seagull pair last week. The park and its lake usually attracts a number of people to the area. Some sit and watch as I did, some like to fish and others just walk with their children, holding their hands tightly, lest they wander too close to the edge of the dock. Today was no different.

I stopped at the dock for a few minutes to take in the surrounding activities. Two women walked together, one not more than ten years older than the other. The younger of the two spoke to her with the gentle, patient tone of voice one might use to address a young child. She held her hand and led the smiling woman to a bench. She then took her own seat at the edge of the dock and opened a small plastic container filled with what I later learned were nuts and grapes. I wondered if she had prepared a snack for the older woman and herself, but I soon discovered that she brought the treat for a creature she had seen at the lake the day before. No sooner had she removed the lid and shook its contents, causing it to make a slight rattling noise, when this lovely swan rounded the corner and swam into view.

The older woman seemed disinterested at the sight of this tagged creature, but continued to smile contentedly at nothing in particular. The swan seemed fairly tame and it swam toward the younger woman in order to partake in its snack. It was quite curious when it saw my camera.
I chatted with the woman about the swan for a few minutes. Out of the corner of my eye I noticed another bird in flight, and watched as it landed on an adjacent shore. It was a large bird and I suspected that it might have been a blue heron. I decided to search for it. I said my good-byes to the two women and began making my way around the lake.


When I got to the point where I believed the bird might have landed, I veered away from the paved path, working my way closer to the actual shoreline. I climbed over bushes and ducked under branches, winding my way along the water's edge. It saw me first, and before I knew it, the heron took off and flew over to the opposite shore. The lake's circumference is only 1.5 km or about nine tenths of a mile, so my decision to continue following it would mean only a few more minutes until I could catch up with it again. I had a vague awareness of where I might find it, so I continued my way around the lake to that area.

Along the way, I saw a couple of lovely birds posing quite boldly for me, and I obliged by snapping a few shots.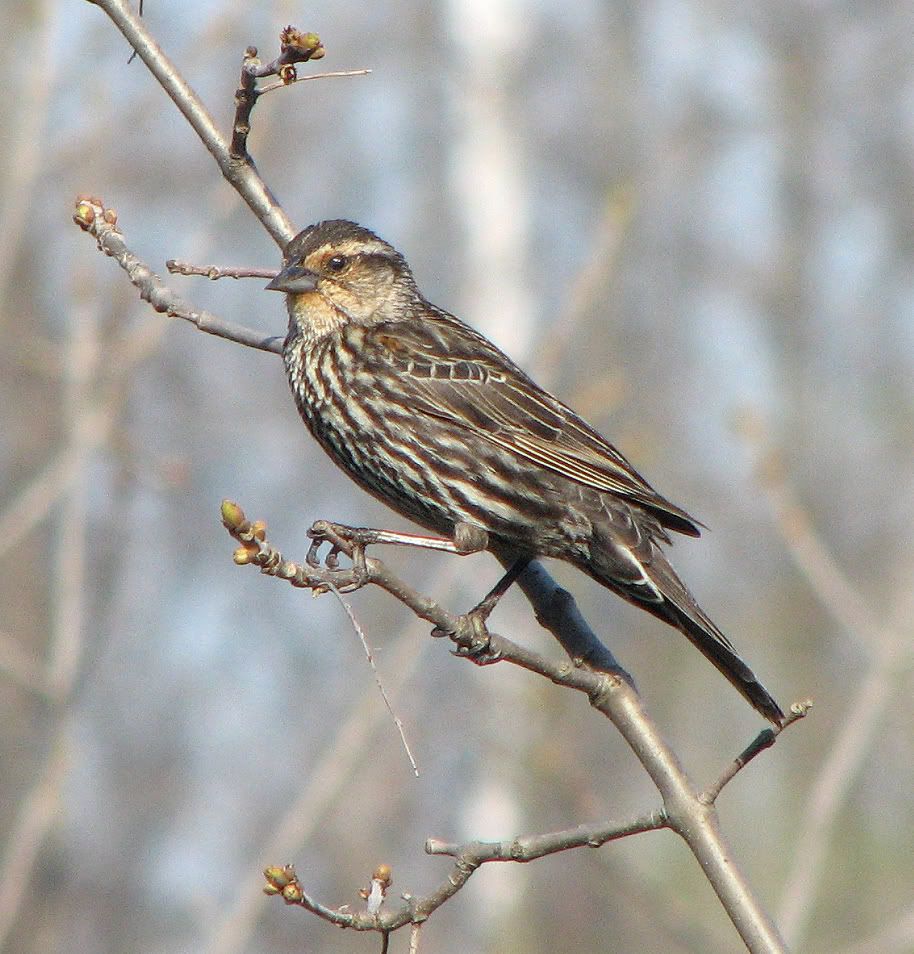 Trees, bushes and bull rushes made it difficult to maintain my visual connection with the general area, but I soon arrived where I thought I might have a good chance of seeing the heron. As I did, a man noticed my camera and told me that I had just missed a blue heron by a matter of a minute or two. He pointed to the direction where he saw it fly, which was of course where I had just left. I could see the heron across the lake and snapped a few distant photos.

It seemed ill at ease with each person that passed it by along the path a few meters away, and it wasn't long before it decided to return to the shoreline closer to where I was standing quietly, camera to my eye. I inched my way closer to where it stood and cursed my decision just one hour earlier to leave my second set of batteries behind, as the low-battery warning shot across my view-finder. Past experience told me that I had very little time between that alert and the one that says "change your batteries now," which would promptly be followed by a complete shutdown of the camera.


With each step that brought me closer to this beautiful blue heron, I snapped another shot. Step, snap, step, snap. The warning was flashing faster, keeping rhythm with my heart. I wanted to get a decent shot, and didn't dare risk the extra power it would take to review the ones I had already taken. Step, snap, step, snap, click, whirrrrr. Silence. As my camera shut itself off, the heron took its cue and flew away. I headed home with a promise to myself never to assume I wouldn't need backup batteries again.
However, luck was with me after all. When I got home, I found that one of the "step, snap" sequences produced this image.



I'm in awe of its beauty and hope that I'll get to see the heron again soon. When I do, I'll have an extra set of batteries in my pocket.