He's one of our favourite visitors around here.
Rufus the Red Squirrel.
Well, we assumed there was just one of him, until one day, Frank went outside to scoop up some seed to scatter for the birds, and he noticed him working away at creating this hole in the container which housed food for the birds and deer.
He shooed him off and was about to bring the container indoors when out popped another little red head and he scurried off like the first one.
So, there are at least two of these cuties around but we tend to call them both Rufus since they've never been seen together since.
Hopefully though, one of them is a Rufette. It would be kind of nice to see some wee ones skittering about.
And now, without further delay, here are the
Posts of the Week
. The icon below is yours for the taking if your blog post is named as a POTW.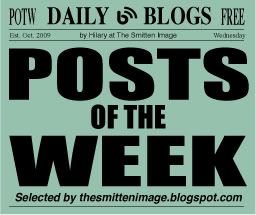 ***
A GOOD READ
Touching


by Tabor
at One Day at a Time



I Found This Bunny For You


by Chicken
at The Chicken's Consiglier



Taking Time to Pay Respect


by Jim
at Suldog



Will Searches for Cursive Documents Top Lady Gaga?


by Slamdunk
at Slam Dunks



Re-Take


by Pauline
at Writing Down the Words
***
PHINE PHOTOGRAPHY
Puffin


by Bob
at Birds and Nature in the Forest of Dean



My New Neighbour


by Dianne
at Do You See What I See?



The Stealthy Fishing Bird


by Daniel
at The Pixel Collective



An Assortment


by Keith
at Holdingmoments



Childhood Revisited


by Karen and her husband
at Spokalulu



Celebrate a Brand New Day


by Nortehanon
at Daydream Believer



Lunar Eclipse


by Karen
at What Karen Sees
***
JUST PLAIN ALL AROUND GOOD
Buddy No More...


by Jackie
at Teacher's Pet



Today is Autism Awareness Day


by Linda
at Ye Olde Crones Gazette



Blissfully Unaware


by Slamdunk
at Slam Dunks



White Pelicans


by Steve
at Out on the Prairie

***
YOU'LL SAY "AWWWW"
I Hope She Said Yes
by Daryl
at Through My Eyes
***
Please drop by their blogs for a visit and leave a kind comment if you have the time. Also, please feel free to add your own choices (for any blog except this one) for a specific blog post in the comments section below, where others can see them.

Thank you