I've been hearing a few concerns about how long it's taking for my photos to load lately. I apologize for that. I have recently begun to save them in a larger format. Too large, evidently. The problem is, spending a lot of time away from home, I've set up about a dozen blog posts in advance when I was at home last, and these will play out over the course of this month and into January. Any posts after that will be with new images (since November) and when working on them, I'll be sure to save them at my previously smaller resolution. If you keep my page open and surf on another tab, I'm hoping my photos will have loaded by the time you peek back. If not, I understand your frustration and hope you remember to try back when my images are back to normal resolution.
"So dull and dark are the November days.
The lazy mist high up the evening curled,
And now the morn quite hides in smoke and haze;
The place we occupy seems all the world."
How long has it been since you've accompanied me on a walk? Well, yes, that's true.. we walk together all the time. Let me rephrase that. How long has it been since I've offered you a spiked coffee or tea before heading out the door, into the cold autumn air? Aha! I thought that would perk you up. Name your drink and I'll make it quite palatable for you. Grab one on your way out, put on your gloves and come walk with me on this hazy morning.
Sometimes the fog just needs to be seen in black and white.
Other times, it needs a splash of colour to remind us that it's there.
The fog brings water droplets with it. They sparkle and shine despite the lack of sunlight and turn even the dying plant life into magic.
A complex string of pearls created by the morning dew. This web was shot through a chain link fence. You can see the criss-cross of the links in the foreground, though through the magic of photography they appear to be background.
One of the few trees still holding onto its flamboyant foliage at least it was in late November.
Up close and personal with tiny fungus on a birch tree.
An even closer look at this miniature, intricate world.
I hope you enjoyed your walk and your beverage. You're welcome to a refill before you go. But if you're driving, you'd best give me your keys and stay for a meal.
All photos were taken in November. More to come in a few days.
And now, without further delay, here are the
Posts of the Week
. The icon below is yours for the taking if if your blog post is named as a POTW.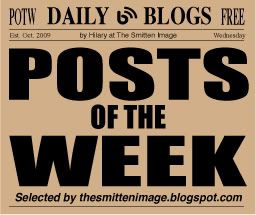 CUTENESS
Apres le D

éluge
by Daryl
at Out & About in New York City
A GOOD READ
A Short Poem


by Sage
at Musings
PHOTOGRAPHY
On Thanksgiving Eve Morning
by Barbara
at Confessions of a Photography Addict



Skywatch Friday


by Sue
at Photowannabe



Going Home


by Scott
at Just Used Pixels



Short on Sunlight


by Daniel
at The Pixel Collective



Jay
by Bob
at Birds and Nature in the Forest of Dean
A FUN POST
My Homage to Carnac the Magnificent!
by Michael
at Michael Manning.tv
In Sync

by Gail
at Louisiana Belle
INSPIRING
The Pink Scarf Project


by Yaya
at Whispering Pines


FUNNY
Open Letter to My Cats
by Dianne
at Forks Off the Moment
READERS' CHOICE

Recommended by:

Laura
Overheard
by Friko
at Friko's World
Please drop by their blogs for a visit and leave a kind comment if you have the time. Also, please feel free to add your own choices (for any blog except
this
one) for a specific blog post in the comments section below, where others can see them.
Thank you