The POTW has become a toddler.

I feel like a neglectful mother having missed its second birthday, early last month but better late than never, I suppose.


It has been two full years since David McMahon from Authorblog passed me the Post of the Week (formerly known as the Post of the Day) torch, and I'd like to acknowledge my two years of POTW (not to be confused with my four plus years of blogging), as I did last year, with a new award icon - appearing below.
Today, I'd like to thank David, once again for trusting me with his beloved Posts of the Day.
It's a lot of work to do this just once a week.
How he found ten posts each and every single day along with all of his other posts, book-writing and other projects, I'll never know. However, I'm glad that he did because it was through his caring efforts that I met many of you fine folks whose blogs I still enjoy today.


So thank you, David and thanks to all of you who support my blog and the blogs of those to whom I link. You folks are terrific!
Speaking of twos, below are a pair of photos taken of an oak leaf a couple of days apart.



It caught my eye as I was walking past the fence because of how it had fallen into the links - stem first. From my perspective the sun was behind the leaf causing it to appear ablaze with colour.



A couple of days later, the leaf was still there but my perspective changed somewhat. The sun was now pouring through from behind the fence, creating chain link shadows across the brilliant face of the leaf. Of course I had to snap another shot, from a different angle to share with you.


And now, without further delay, here are the Posts of the Week. The icon below is yours for the taking if if your blog post is named as a POTW.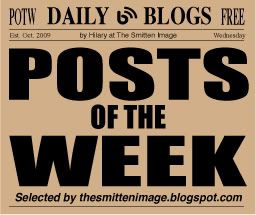 SUPPORT NEEDED
Our lovely Moannie of
The View From This End
is struggling with health issues and is currently in the hospital. Her daughter Saz is working hard to keep us updated by transcribing her mother's posts on her blog and by providing further updates on her own blog,
Alice in Wonderland
. The comments we leave on beautiful
Moannie's blog
are being printed and brought to her by Saz. Please drop by their blogs and leave them an encouraging comment or two. Moannie's blog is one of those that David/Authorblog introduced me to years ago with his Posts of the Day. I've been reading her wonderful posts ever since and she has been incredibly supportive of mine. Hurry back to us, Moannie. We'll be misisng you terribly until then.
A GOOD READ
Dona Nobis Pacem
by Lime
at House of Lime
Black & White, and Re(a)d All Over
by Brian
at WayStationOne
A GOOD LAUGH
I See...
by Dianne
at Forks Off the Moment
Vagina, Vagina
by Fragrant Liar
at Fragrant Liar
GOOD PHOTOGRAPHY
Delicious Autumn
by Fiona
at Lady Fi
Baby, It's Cold Outside
by Sandy
at Writing in Faith.
What is a Quince?
by Beth
at Be Yourself..
JUST PLAIN GOOD
We Love a Good Fairy Tale
by Rosaria
at SixtyFiveWhatNow
Transformations
by Betty
at Cut and Dry
Please drop by their blogs for a visit and leave a kind comment if you have the time. Also, please feel free to add your own choices (for any blog except
this
one) for a specific blog post in the comments section below, where others can see them.
Friday, November 11 is Remembrance Day, here in Canada. I'll have my Honouring Our Heroes post up tomorrow.