Who's to say what's a flower and what's a weed? When I take a good look at how simple and sweet a dandelion flower is, I have no idea why people don't like them.




Oh yeah. Never mind.



And now, without further delay, here are the Posts of the Week.


The icon below is yours for the taking if if your blog post is named as a Post of the Week - either as top post or as a runner up.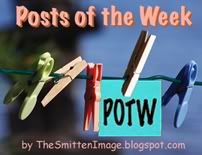 This week's Post of the Week goes to this amusing and unusual sight:



Other wonderful posts are categorized below (they may well fit into more than one category but I'm only selecting one for each):
A Turkey in Limbo
by Daryl's Ray
at Out and About in New York City
Endure
by Sandy
at Writing in Faith



Closeted


by Mage
at Postcards

Hey Man
by Brian
at WayStationOne




Mantis Molt


by Kerri
at A Little Piece of Me




A Little Bit of Hope
by Mami
at Unknown Mami




Hawaiian Wedding Day


by Cloudia
at Comfort Spiral



Play Date


by Ellen
at Stuff From Ellen's Head


Scared Straight

by Betty
at Bossy Betty
Recommended by:

Linda
All You Need is Love
by Janie
at That Janie Girl
Recommended by: Di
Sunday Prayer

by Cupcake Murphy
at Odd, Good, True

Recommended by: Hilary
Please drop by their blogs for a visit and leave a kind comment if you have the time. Also, please feel free to add your own choices (for any blog except
this
one) for a specific blog post in the comments section below, where others can see them.