Canada is a member of the Commonwealth of Nations and on May 24th (or the nearest preceding Monday), we celebrate Queen Victoria Day - usually with fireworks. Benny is afraid of the noise they emit and though he's getting better with each May 24th and July 1 (Canada Day), he'd still rather be somewhere that they're not.



I found several of these during a walk in the park the next day. I'm sure Benny was glad to be home, hiding in the basement. But don't tell him I blogged about that. He'd be so embarrassed.

And now, without further delay, here are the Posts of the Week.


The icon below is yours for the taking if if your blog post is named as a Post of the Week - either as top post or as a runner up.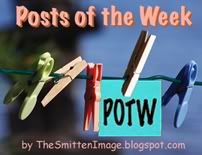 This week, it's a tie between two wonderful posts:

The Bride Wore Orange
by David
at Authorblog
(David is the original creator/keeper of the Posts of the Day which promptly became Post of the Week when it reached my hands)

and
Memorare
by Cricket
at Cricket and Porcupine
Other wonderful posts are categorized below (they may well fit into more than one category but I'm only selecting one for each):
Media Whores Meet
by Dianne
at Forks Off the Moment
For JP Lovers Everywhere
by Moannie
at The View From This End
Eyes Opened Wide
by Julie
at Midlife Jobhunter
The Expert
by Elizabeth
at One Magical Moment Per Day
Searching for Earl
by Betty
at Bossy Betty


Viva Sweet Love
by Kathleen
at Easy for Me to Say




A Piece of Art
by Di
at The Blue Ridge Gal
Priceless Lilacs
by Stacey Dawn
at Dawning Inspirations
Applying for Non-Missionary Positions
by Brian
at WayStationOne

Mersangers
by E G Wow
at East Gwillimbury WOW!
Recommended by

: Dianne
Please drop by their blogs for a visit and leave a kind comment if you have the time. Also, please feel free to add your own choices (for any blog except
this
one) for a specific blog post in the comments section below, where others can see them.