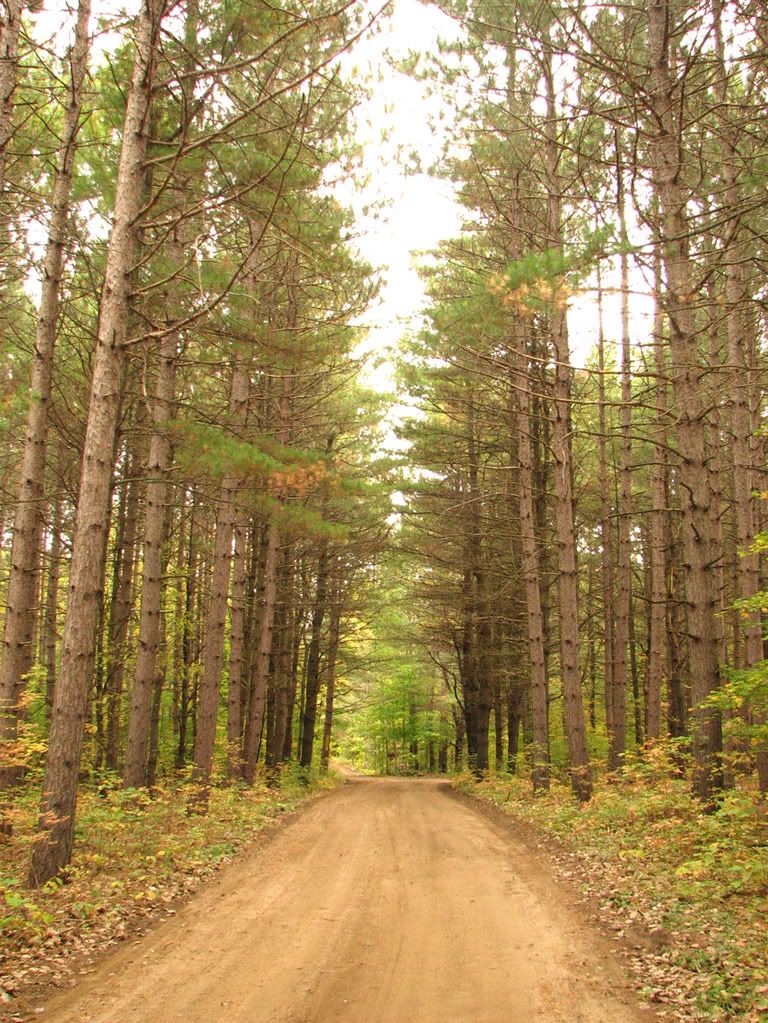 Earlier this month, we spent a few days up at the cottage. As would be expected from a Canadian October, the nights were cool and so were most of the days. Add clouds to that scenario and you'll understand that it wasn't exactly reminiscent of the summer days spent lounging comfortably in a rocking boat, waiting for the next fish to nibble the line. In fact, there were no boats readily available, so any fishing would have to be done from the dock. We had lines, bait, lures and a net ready for the hapless walleye who might sacrifice itself for dinner on any given night, but alas, there were none that ventured toward our hooks.
Yes, the summer was clearly over but the autumn air beckoned to share in its own adventure, and how could we refuse? The cooler, crisp air lent itself to other activities such as long walks, playing cribbage, building campfires, playing fetch with Benny and trying to keep warm - all of which we did semi-frequently.
Each morning, I found myself reluctant to leave a warm, cozy bed but Benny would awaken raring to go, testing the silent air with the sounds of his occasional whines. Since I was the only other conscious being in the cottage, I decided that it wouldn't hurt the two of us to take an hour-long hike along the hilly country roads. I left Frank a note, and with camera over my shoulder, we headed up the cottage path.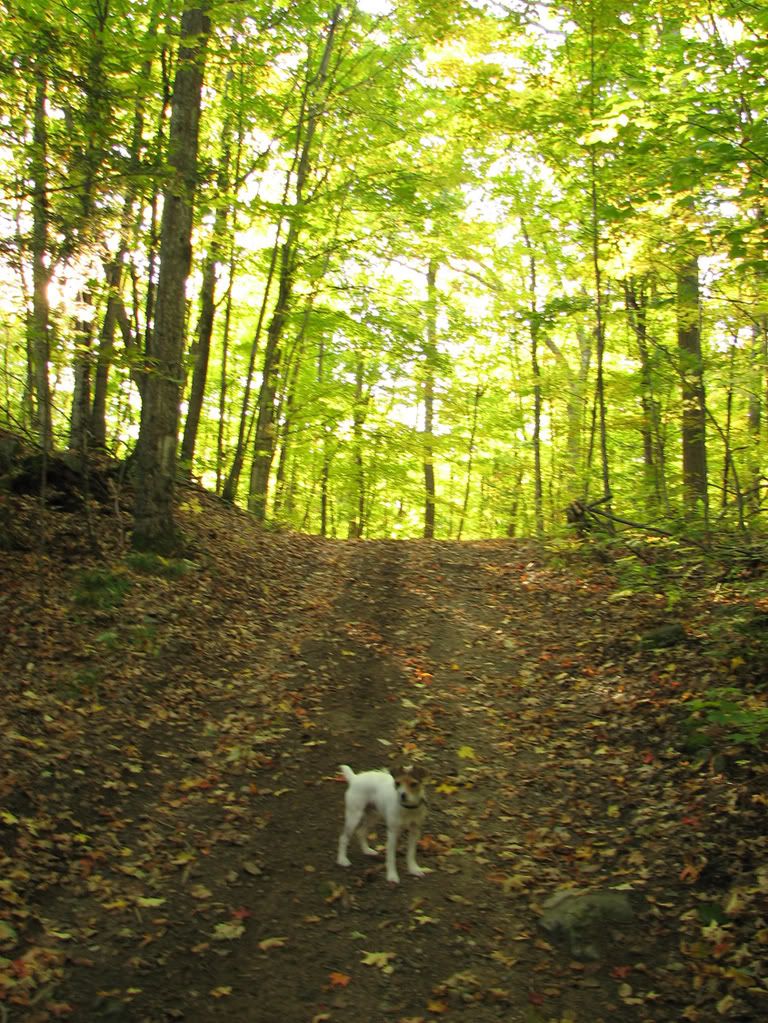 I kept Benny off leash just until we got close to the main road. Traffic was minimal (two cars an hour), but Benny doesn't always come when called and I wasn't willing to take any chances with him.
(please click to enlarge)
On some mornings, sunlight filtered its way through the trees, rewarding us with occasional patches of warmth.
(please click to enlarge)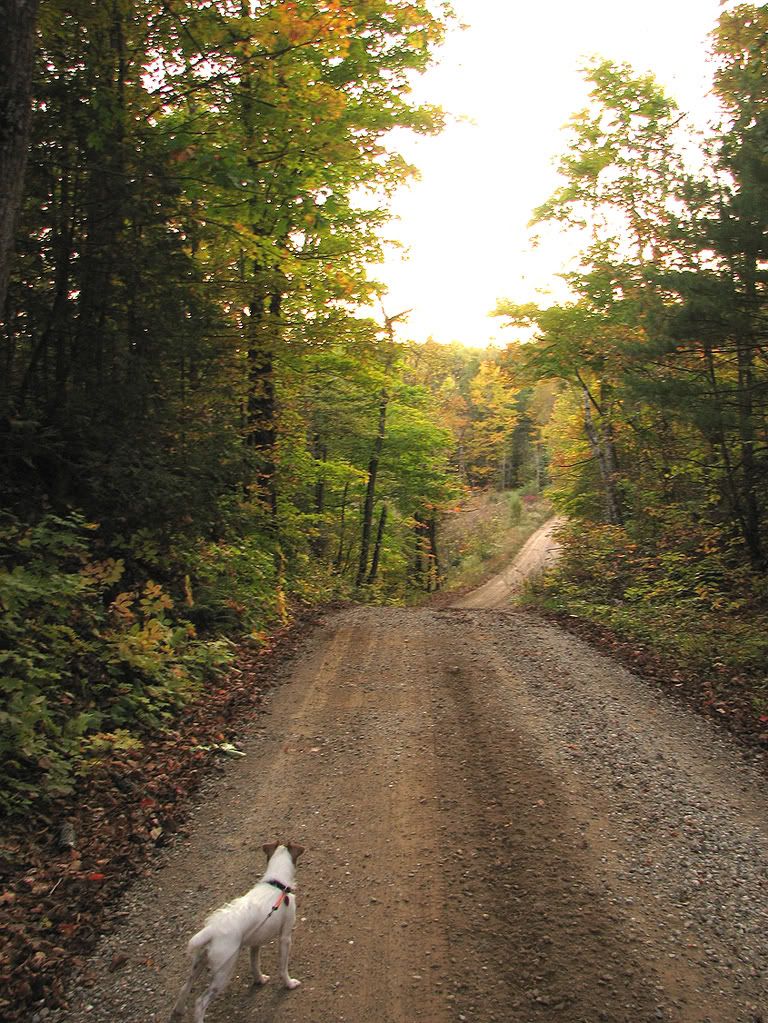 If the sunlight hadn't warmed us, maneuvering the frequent rises and dips in the road saw to the task. Benny looks back at the hill we just climbed. There were many more just like it up ahead.
(please click to enlarge)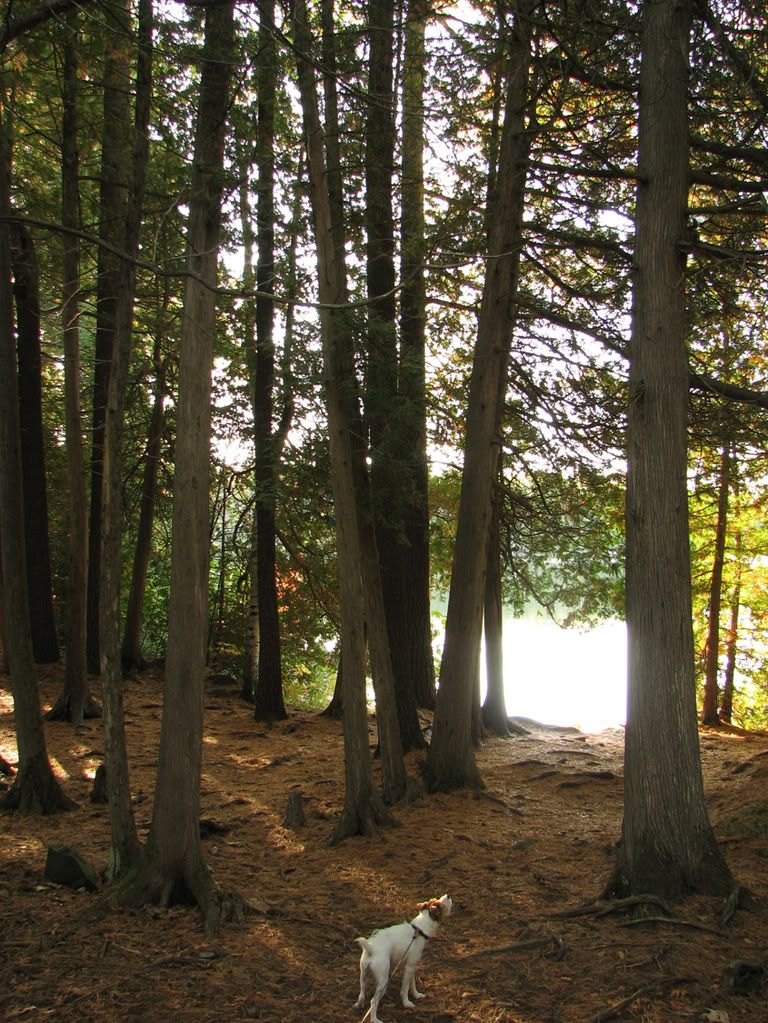 One of our walks brought us to a lake about a mile or so up the road. Somewhere in the tree above, a squirrel scolds Benny for trying to chase after it. I was glad that I hadn't unleashed him.
(please click to enlarge)
A view from the water's edge. The shoreline was sheltered from wind, and the temperature suddenly rose to that of an early summer's day. I peeled off a layer and sat for a few minutes, soaking up the beauty of this gem of a lake. Benny thankfully showed considerable patience - my reward for allowing him to stop and sniff at will along the way.
(please click to enlarge)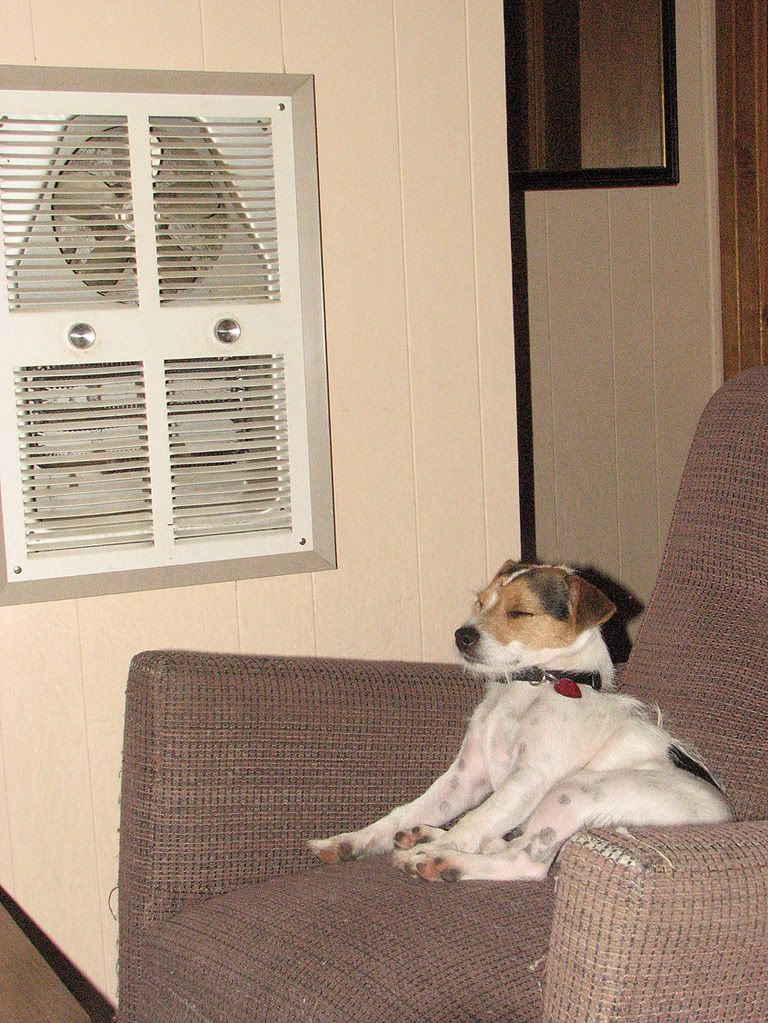 Back at the cottage, Frank had awakened during our absence, and had a steaming hot cup of tea waiting for me. Benny had the Magic Wall waiting for him. Every time he heard the heater click on, he hopped up in this chair to bask in its warmth.
(please click to enlarge)
Occasionally he'd straddle the chair and table so that he could warm his back end.
(please click to enlarge)
The long walk and the relaxing heat made for one tired hotdog.
(please click to enlarge)
Over at the dock we made a few half-hearted attempts to lure some unsuspecting fish. Mostly we just sat and enjoyed the morning while the worm did the work.
(please click to enlarge)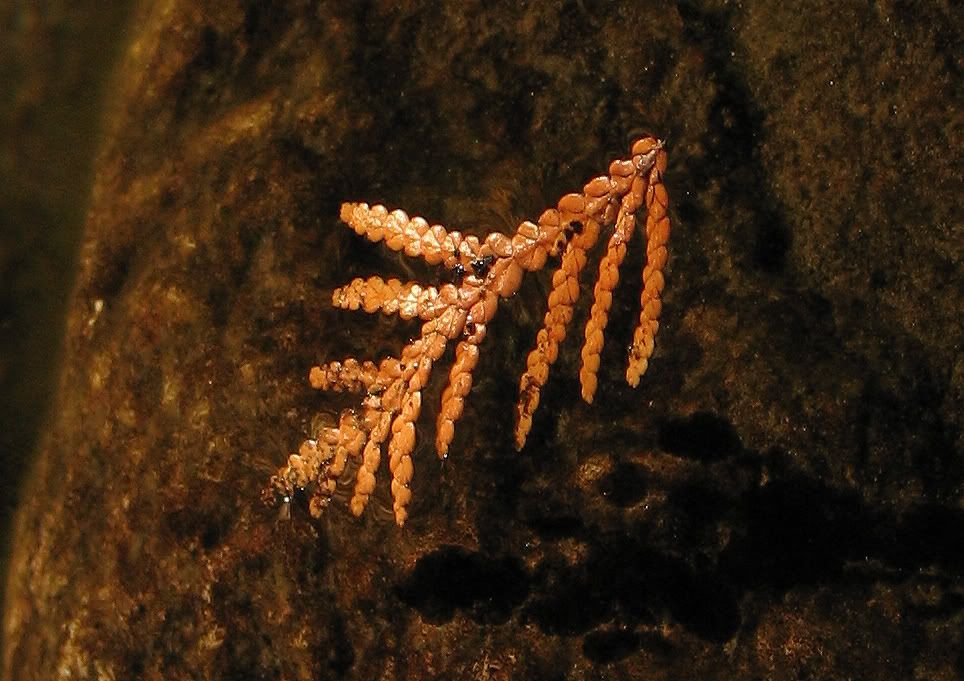 In the water, a browned cedar frond floated in with the waves and washed up on the rocks.
(please click to enlarge)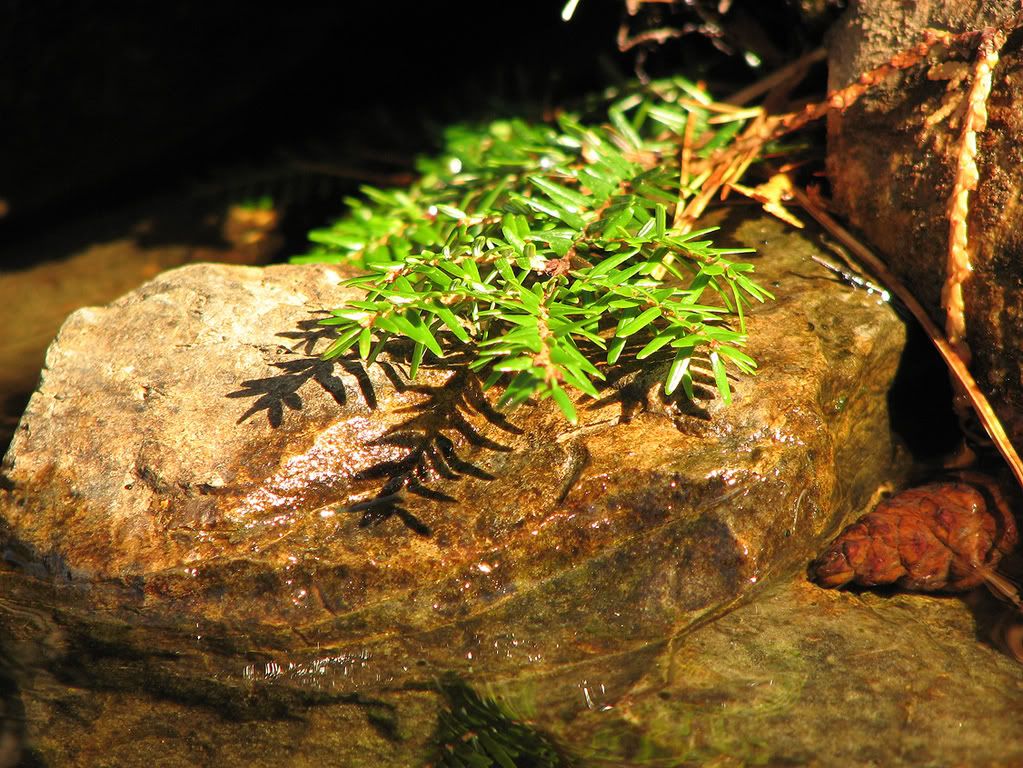 Nearby, a fresh growth of green foliage creates a vivid contrast against the wet rock below it.
(please click to enlarge)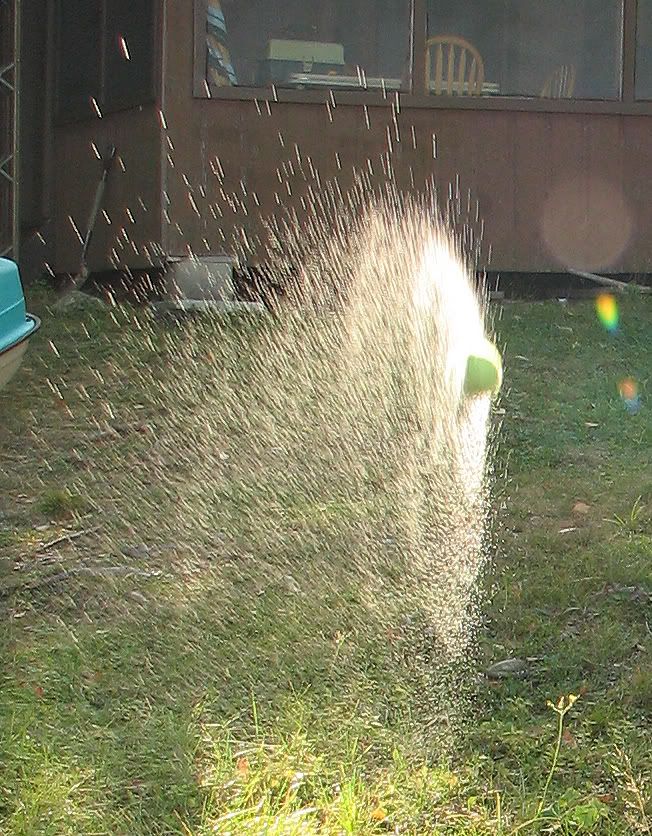 What is this strange spiraling object? It's not Benny furiously chasing his tail - he refuses to wear chartreuse. It's not a hummingbird going berserk or a dragonfly whirling out of control. Any guesses?
(please click to enlarge)
It's a wet, spinning tennis ball after it's been bounced off of the dock.
(please click to enlarge)
As the sun descends, its golden reflection is mirrored in the lake below.
(please click to enlarge)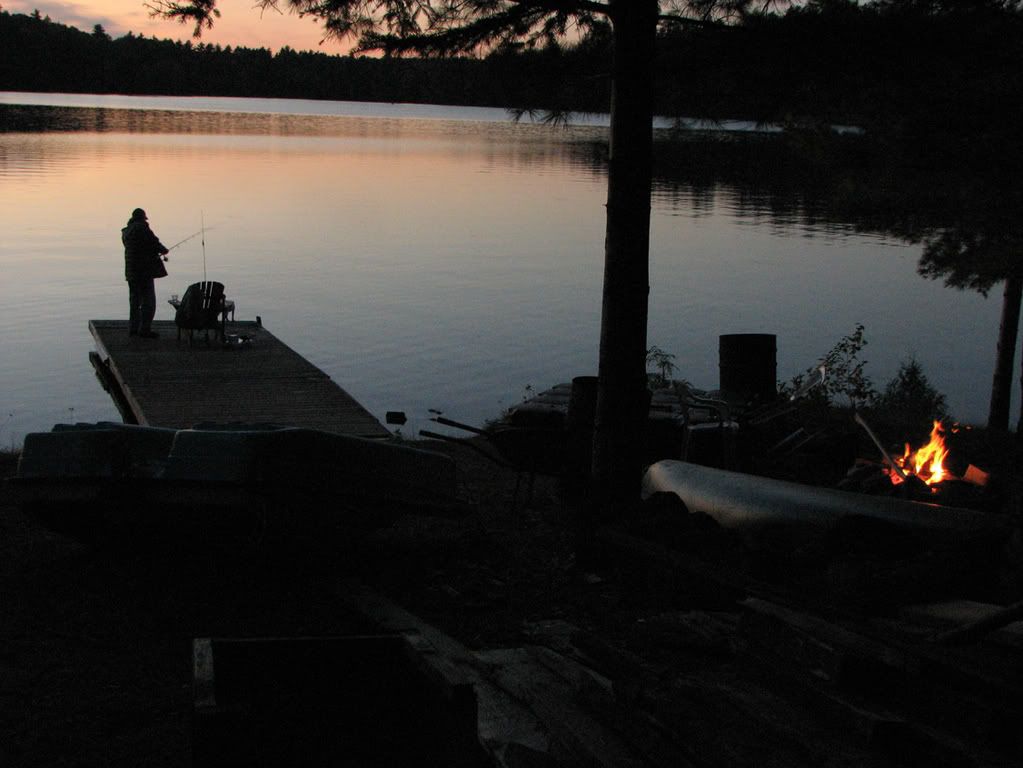 Time to bring in the rods for the night, and just sit back and enjoy the fire.
(please click to enlarge)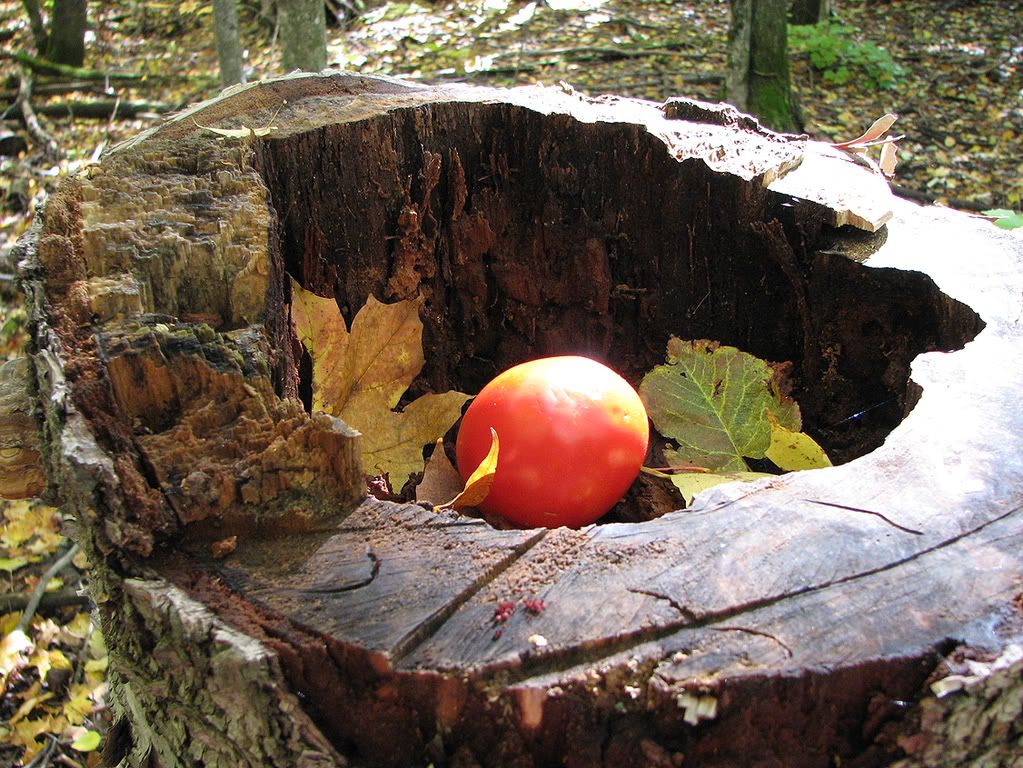 On our last day, after locking up to head home, we discovered that we'd forgotten to add an overripe tomato to the already-sealed trash bag. As we left another fine time at the cottage behind, we stopped along the path to deposit the tomato in this tree stump where we'd left a partial watermelon the previous month. Our offering to the woodland creatures.
(please click to enlarge)
Goodbye cottage. We'll see you again next year. (I'll bet you'd look beautiful in winter...)