When my sons were born, we decided to commemorate each event by planting a tree.

When Alex came along, we planted a pine tree so small that every time I caught sight of it out of the corner of my eye, I thought someone had left a half-filled, green trash bag on my front lawn. In almost eighteen short years, it has grown taller than our two-story house.
Our back yard was in need of some foliage when Jeffrey first made me a Mom, so we actually planted two fruit trees. The cherry tree never did thrive, and though it produces sour cherries each year, it remains small enough that it resembles a bonsai tree. This year it has about as few leaves as it does flowers. The plum tree did much better, and in twenty-one years, the branches have grown tall enough to reach an upstairs window. Of course that's too tall for a fruit tree, but I know nothin' about prunin' no fruit trees. Besides, it has produced wonderfully sweet plums every year and why mess with that?
Well Frank and my kids' dad, Don both decided that they should mess with it. Last year, Don talked me into letting him
hack away at
strategically trim the excess branches of the tree. I agreed and watched much of its growth disappear before my very eyes. It was actually rather shocking to see what was left. The tree was also in shock, and protested by not producing a single blossom last year. It was the first time in twenty years that we didn't have plums.

Over the summer it still sent out those pesky suckers which are supposed to be cut back, so Frank took the clippers this time, and trimmed them last month. When only the cherry tree began to sprout blossoms a week ago, I figured that the barren plum tree would spend another fruitless summer. A few days later, its partner cherry tree was in full bloom and I took a closer look at its own branches. Lo and behold, I could see the tiniest blossoms beginning to form. By yesterday, they looked like this - all over the tree.


It looks like we'll have plums this year after all. Thanks Don and Frank!


Here are a few photos taken over this past week at home, and while walking and biking around the local parks.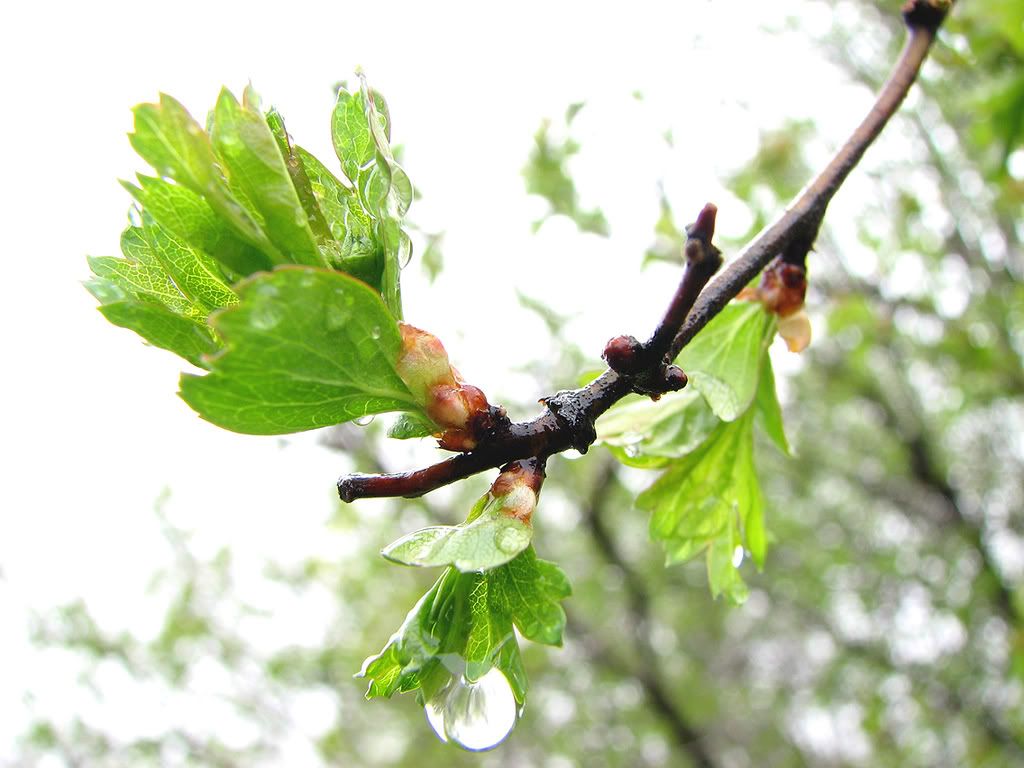 After a rain, water droplets cling to the the leaves. You can see them more clearly if you click to enlarge.
A daffodil - up close and personal.
A grape hyacinth grows along a neighbour's fence on the walkway leading into the park. The flower stands about 5 centimeters (2 inches) tall.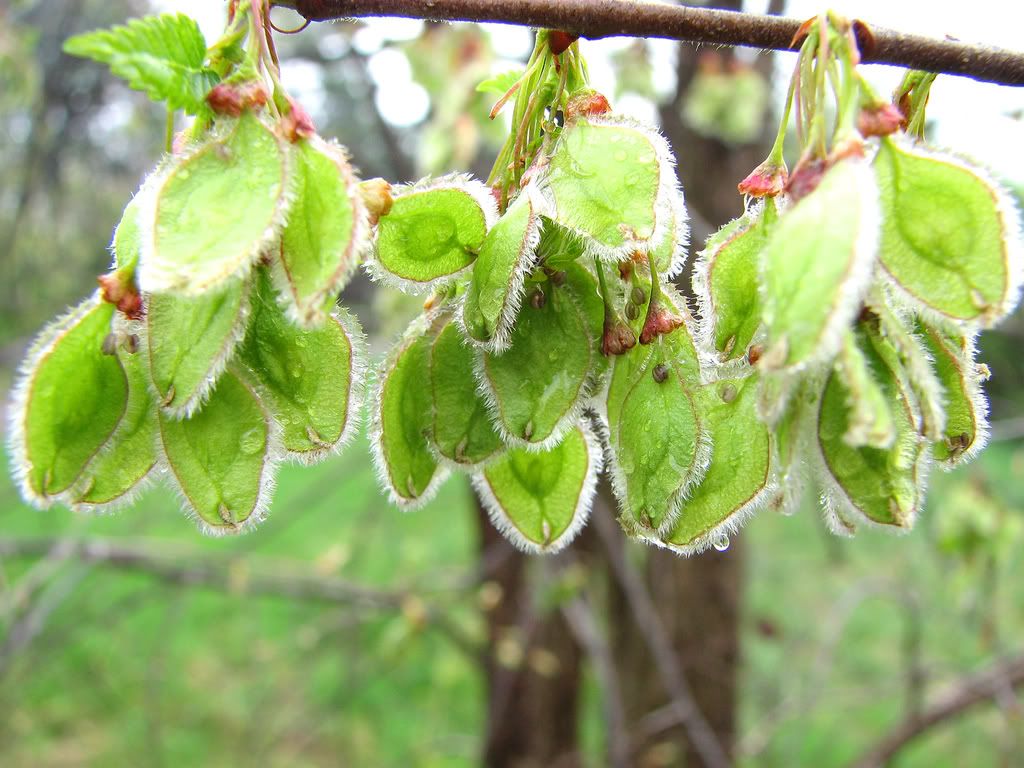 Also after the rain, droplets cling to these fuzzy seeds. Remember to click to enlarge
.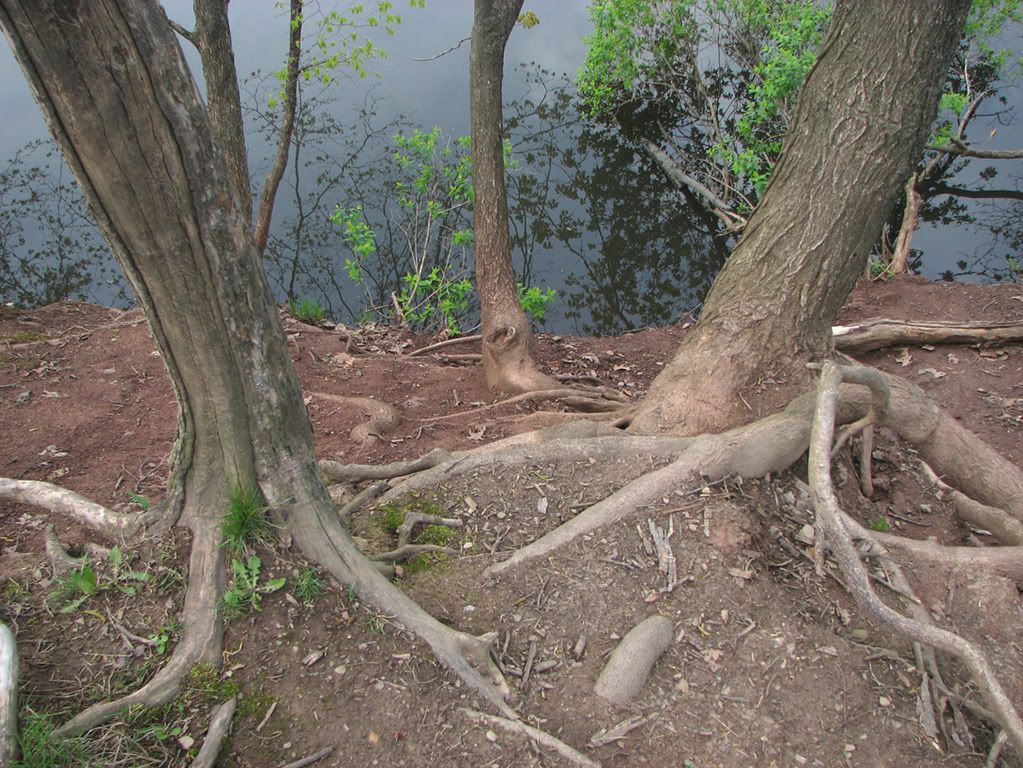 Gnarled roots secure these trees which grow outward from the edge of a small bluff.
The rain ended but the skies remained cloudy - except for one small patch of blue. When the late-day sun shone through that space, it made the colours of the wet surfaces and foliage come alive. The sunlit branches of the weeping willow drape themselves over the dock.
And here's that same willow from a distance.
Just around the bend, you'll find this picnic table where we like to stop from time to time, to just sit and enjoy the sites. In cooler weather, we'll often have a sip of something intoxicating. And in autumn - spring - summer...
A hastily-plucked and discarded tulip lies withering on the pavement of the pathway.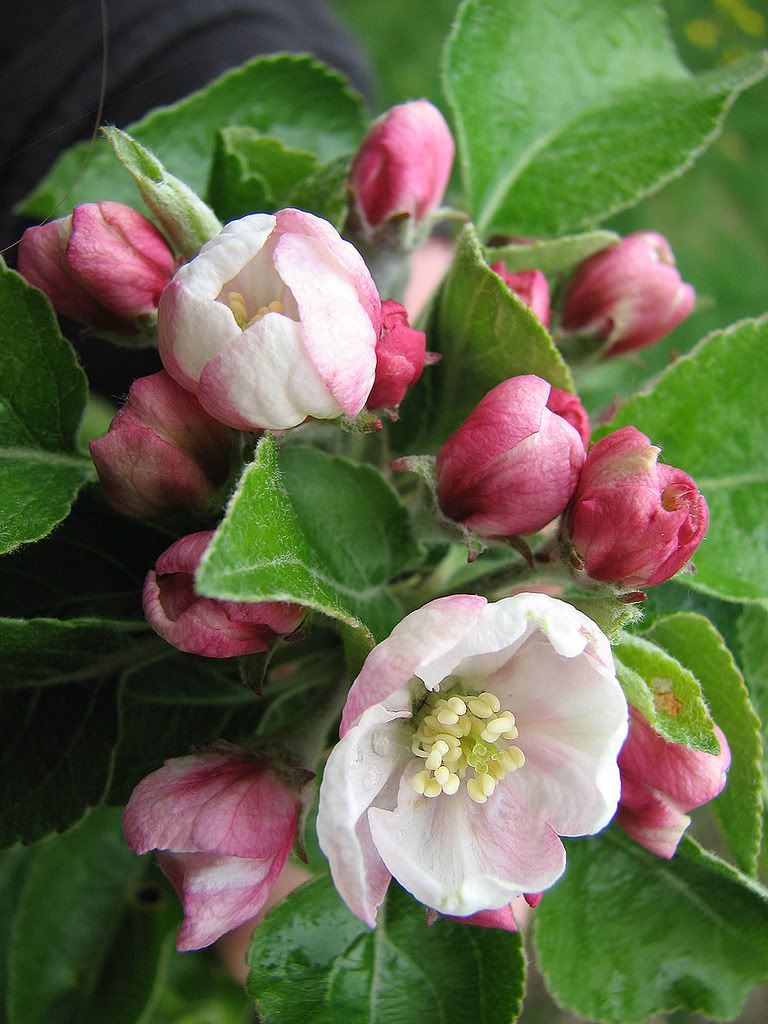 There are numerous blossoms emerging on plants all around the lake and throughout the park.
And where there are flowers, there are bees. I love that macro setting. Click to enlarge for more detail.
Wishing a Happy Mother's Day to all you Moms out there this Sunday!