One grey morning, while doing a few dishes at the sink, I glanced out the window to the hills beyond the road. Above the trees, in the charcoal sky, a couple of juvenile bald eagles were practicing their soaring skills.
They fly. And when they fly, oh, how they fly, so free, so graceful. They see from the sky what we never see. ~ Unknown
Eagles, soaring in the clouds, fly with silent, peaceful poise. ~ William Arthur Ward
The day is done,
and the darkness,
Falls from the wings of Night,
As a feather is wafted downward,
From an eagle in his flight.
~ Henry Wadsworth Longfellow
I am the eagle, I live in high country, in rocky cathedrals that reach to the sky. ~ John Denver
Eagles fly but weasels aren't sucked into jet engines. ~ Steven Wright
We're so lucky to share space with such wonderful creatures.
And now, without further delay, here are the
Posts of the Week
. The icon below is yours for the taking if your blog post is named as a POTW.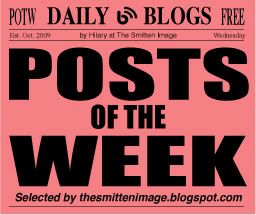 ***
A GOOD READ
No Thinking Allowed


by Joeh
at The Cranky Old Man



When the Smell was New


by Linda
at Olde Baggs 'n Stuft Shirts



Eternal Baseball


by Cloudia
at Comfort Spiral
***
PHINE PHOTOGRAPHY
Some Sun, Some Patience, and a Lot of Luck


by Keith
at HoldingMoments



My Big Week


by Gail
at Louisiana Belle
***
JUST PLAIN ALL AROUND GOOD
Law of Mother Earth's Rights


by Cloudia (She's on a roll!)
at Comfort Spiral
B-Sides
by Kerry
at Ed and Reub
***
YOU'LL LAUGH
Hookers


by Stephen
at The Chubby Chatterbox
***
READERS' CHOICE
Recommended by:
Joeh
And Now, the Curtain Rises... to Reveal Fanny Hugg
by Val
at Unbagging the Cats
Recommended by:

Eddie




Love Story


by Betsy
at My Five Men
***
Please drop by their blogs for a visit and leave a kind comment if you have the time. Also, please feel free to add your own choices (for any blog except this one) for a specific blog post in the comments section below, where others can see them.

Thank you