With this post, I'm taking one of my steps back in time to this past autumn. I have a few photos which I took back at my old place and I have yet to share them. I've been incredibly inconsistent blog-wise these past several months and generally less organized than usual. The southern hemisphere is heading into autumn soon so just like a broken clock which tells the right time twice a day, my post is current somewhere.
It was, as I have said, a fine autumnal day; the sky was clear and serene, and nature wore that rich and golden livery which we always associate with the idea of abundance. The forests had put on their sober brown and yellow, while some trees of the tenderer kind had been nipped by the frosts into brilliant dyes of orange, purple, and scarlet.
The leaves that I saw, this past autumn didn't appear to be quite as vivid as years gone by. They were still lovely though - especially when reflected in the pond water. Most of these photos were taken in Mississauga during October, while I was preparing to move.
Getting up close and personal with a sunflower.
Here's the one exception to the location of these images. This was snapped when I was out walking with Benny at Frank's old place. We were in town for a family wedding. It's salmon roe which had leaked out of a recently caught female.
A pumpkin bravely faces its fate. Hallowe'en was just around the corner.
What's autumn without the lovely hues of potted mums? Beautiful in shades of yellow...
Orange...
and purple.
The leaves may have been more subtle this year, but the colours in general were beautiful.
And now, without further delay, here are the
Posts of the Week
. The icon below is yours for the taking if your blog post is named as a POTW.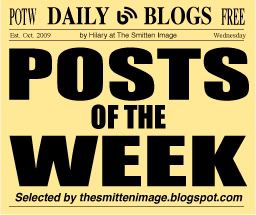 ***
A GOOD READ
Ice Fishing in America
by Betsy
at What Makes You Think I Have Cats?
The Biggest Surprise


by Michael
at Michael Manning.TV
***
PHINE PHOTOGRAPHY



Evidence of Love


by Lisa
at Lisa Gordon Photography



Mesa Arch


by Scott
at Just Used Pixels
***
JUST PLAIN ALL AROUND GOOD



A Thailand Beach Surprise


by Reena
at Missing Moments



Favourite Things


by Marianne
at Under Wide Suffolk Skies



The Scale of Things


by Bimbimbie
at Bimbimbie Plus

***
YOU'LL LAUGH
I Am Claiming My Divine Rights


by Anvilcloud (with Sue's permission)
at The AC is On

***
READERS' CHOICE

Recommended by:

TexWisGirl
Betty and the Super Bowl


by Kathy
at Kathy Goes A Ramblin'
Recommended by:

Linda
I Hear the Train A-Comin'


by Montanagirl
at Montanagirl
Please drop by their blogs for a visit and leave a kind comment if you have the time. Also, please feel free to add your own choices (for any blog except this one) for a specific blog post in the comments section below, where others can see them.

Thank you