Surprise is the greatest gift which life can grant us. ~ Boris Pasternak
Every photographer has had this experience. You snap an image of a flower or plant and only when processing the photos on your monitor, do you notice that there is a distinct little bug walking or flitting across your subject, making for a more interesting picture than you first envisioned. The images below are mostly like that. I hope you enjoy them.
I was trying to get the tiny yellow buds of this plant into focus with the setting sunlight shining from behind it. Later when I enlarged the image, I saw the back end of a bee exploring the flower.
Maybe someone more experienced with aquatic life than I am can tell me what I'm seeing here - aside from the dark tadpoles, that is. Look near the top, just left of center. What is that green eye looking back at me? Is it a more advanced tadpole-near-frog or a small water snake? Or is it just some debris and my overactive imagination?
A still-unopened daisy with an ant crawling along its base.
A little red spider hurries along the petals of a tiny weed flower reminiscent of a small morning glory.
A wild looking spiky looking blossom sports an unusual little green bug.
This bee actually came into view while I was snapping a photo of the tiny pink blossoms. It was a surprise at the time but not later, when processing.
And now - another surprise - the Posts of the Week. I had collected more of them than I thought so I figured I'd better share them sooner rather than later. Some of them go back a fair way since I haven't posted any since the end of May. There are twice as many as usual so take your time, but do visit and leave a kind comment so that they know their posts were enjoyed.
And now, without further delay, here are the
Posts of the Week
. The icon below is yours for the taking if if your blog post is named as a POTW.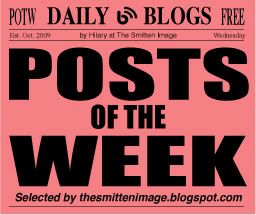 TOUGH STUFF
Thursday, June 20, 2013


by Charlie
at Floods, Sweat and Tears
***
PHINE PHOTOGRAPHY
Provins


by Daryl
at Through My Eyes
Dragon Boat Training


by Andy
at Eye Candy
Red-necked Grebe Nest


by Red
at HiawathaHouse

***
A GOOD READ
Gay Marriage and Your Health


by Crabby
at Cranky Fitness
A Regular Guy From Jersey


by Dianne
at Forks off the Moment
The Life I Love is Making Music With My Friends


by Chariskalee
at How My Song Goes
In My Day


by Joeh
at Cranky Old Man



Tips From My Mom


by Gary
at Follow Your Bliss

Fathers or Something Like That


by Brian
at Waystationone



In My Father's Footsteps


by Pauline
at Writing Down the Words



Urban Diary


by A Cuban in London
at Un Cubano en Londres

***
JUST PLAIN ENJOYABLE
My Parallel Rope Walk Experience


by Indrani
at I Share
Super Moon Walk


by Leave it to Davis
at Leave it to Davis
On the Day You Were Born


by Lauren
at Mental Pause Mama



Rural Toy


by Indrani
at I Share



How to Do Summer


by Sandy
at Writing in Faith
***
GOOD IDEA
Camping Clean!


by Bag Lady
at Bag Lady's Blather
***
Please drop by their blogs for a visit and leave a kind comment if you have the time. Also, please feel free to add your own choices (for any blog except this one) for a specific blog post in the comments section below, where others can see them.

Thank you