I'm spending a fair bit of time away from blog visiting and photo uploading, these days. As a result, the POTW suffers some. And I fall farther and farther behind in my photo postings.
I have dozens of photos waiting to be organized into posts, dozens more that have been uploaded but have not even been looked at yet and hundreds which are still sitting in my camera.
And I'm not even at home to do anything about it.I've been at Frank's for the past week and we're heading out of town for a few days, tomorrow.
In the meantime, I'm adding photos to the collection in the camera every day. I'm sure you'll see them all eventually - even if I have to show you summer photos in mid-winter.
For now, I have a few photos that were viewed on my computer a fair while after they were snapped. They were unusual perspectives and they even made me ask "what is THAT?" I eventually remembered (or the next image reminded me) and now I'd like to present them to you.
A colourful, round prism. I'm surprised that my camera picked it up as it was a minute little sparkle. Below is where I found it.
This sap droplet sparkled and glimmered and caught my eye in the late day sunlight.
Not nearly as pretty, I would see this sight in the same spot on the park pathway every morning. By afternoon, nothing remained of it but it was back the very next morning and it continued this pattern over the course of about ten days.Let's have a closer look, shall we?
Tiny ants busy doing something. The same something every morning in the same spot. I never did figure out what drew them to that small area of pavement but a couple of weeks later, there was a mysterious square patch of tar laid in that precise spot. Anyone have any idea what that might have been about?
This one is simply a pattern made from water on the wood deck after a rainfall. It formed what I thought looked like a wild animal's profile. Perhaps a weasel of some sort. The knot in the wood effectively gave it an eye.
And now, without further delay, here are the
Posts of the Week
. The icon below is yours for the taking if if your blog post is named as a POTW.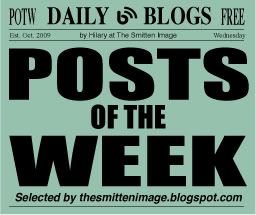 JUST PLAIN GOOD
Scintillant
by Cloudia
at Comfort Spiral
PHINE PHOTOGRAPHY
Please drop by their blogs for a visit and leave a kind comment if you have the time. Also, please feel free to add your own choices (for any blog except
this
one) for a specific blog post in the comments section below, where others can see them.
Thank you