A couple of weeks ago, while taking Benny for a walk, we happened upon something which was lying on the nearby creek shore.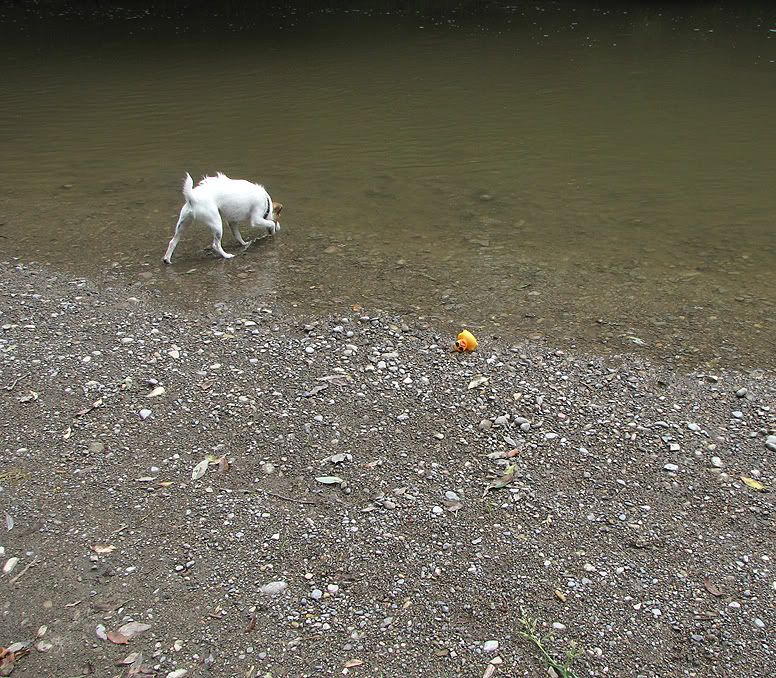 It was one of those rare occasions when Frank actually spotted it before Benny, who was preoccupied with drinking water or watching a fish wind its way down the creek.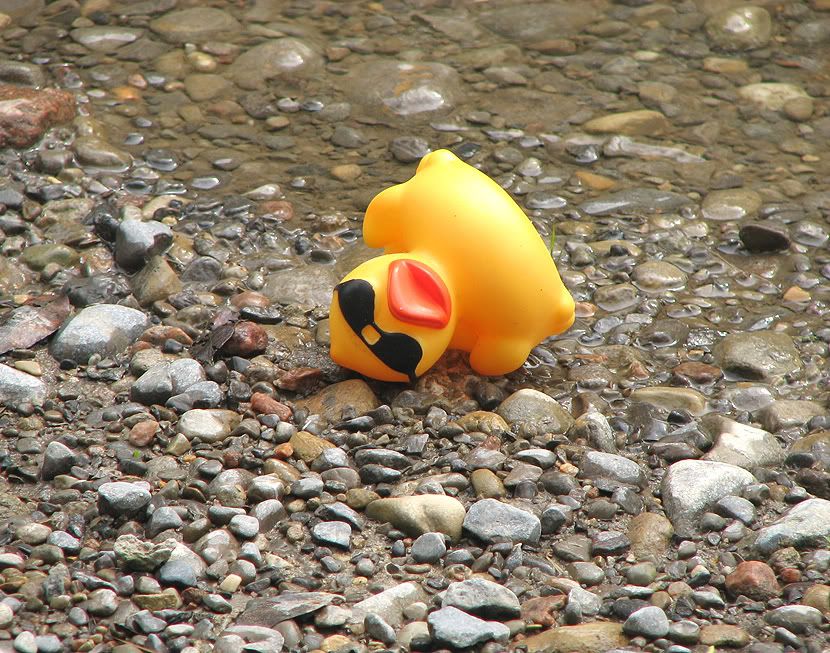 The town had recently celebrated its 150th anniversary and one of their events was a rubber duck race. Numbers were assigned ticket-buyers, and if it matched the number on the bottom of the winning ducks, the participants could claim their prizes.



Clearly, this was one of those ducks which had never made its way to the finish line. Frank picked it up.
He considered keeping it and adding it to the growing collection of unusual items he finds while walking with Benny. After a bit of thought, he decided that the duck was meant to have a chance to find its way out to nearby Lake Ontario. He leaned back while raising the duck in his hand and pitched it toward the creek, releasing it back into the water. The duck landed with a splash...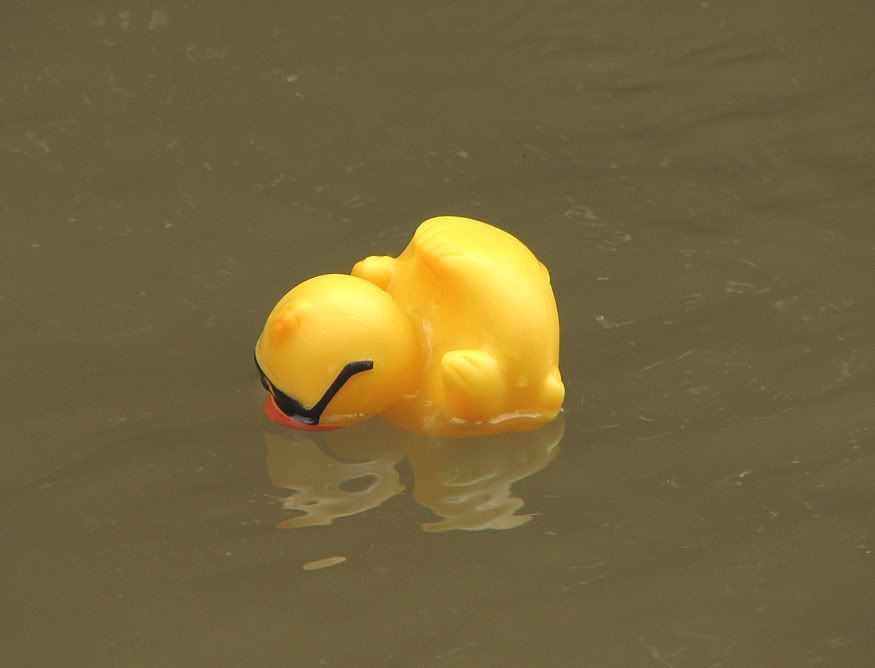 .. right on its face.
OK so not only was it not going to proudly float its way down to the lake, eventually finding its way to and along the St. Lawrence River and the Atlantic, to find fortune and fame, it wasn't going to get any further than where it landed because..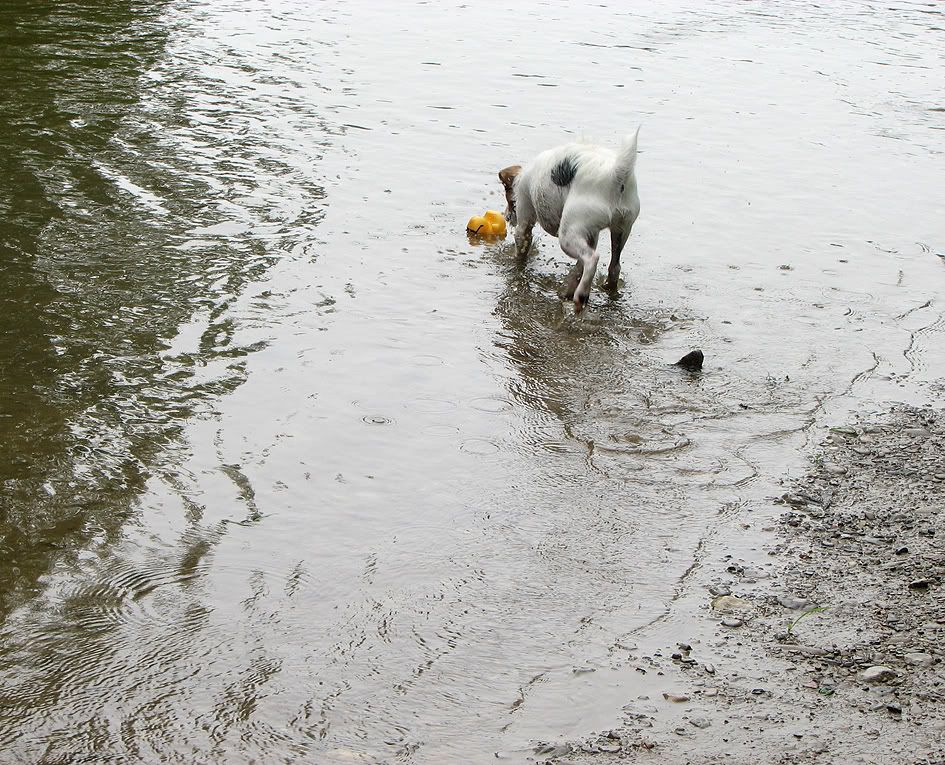 Benny heard it touch down and was quickly on his way to retrieve it.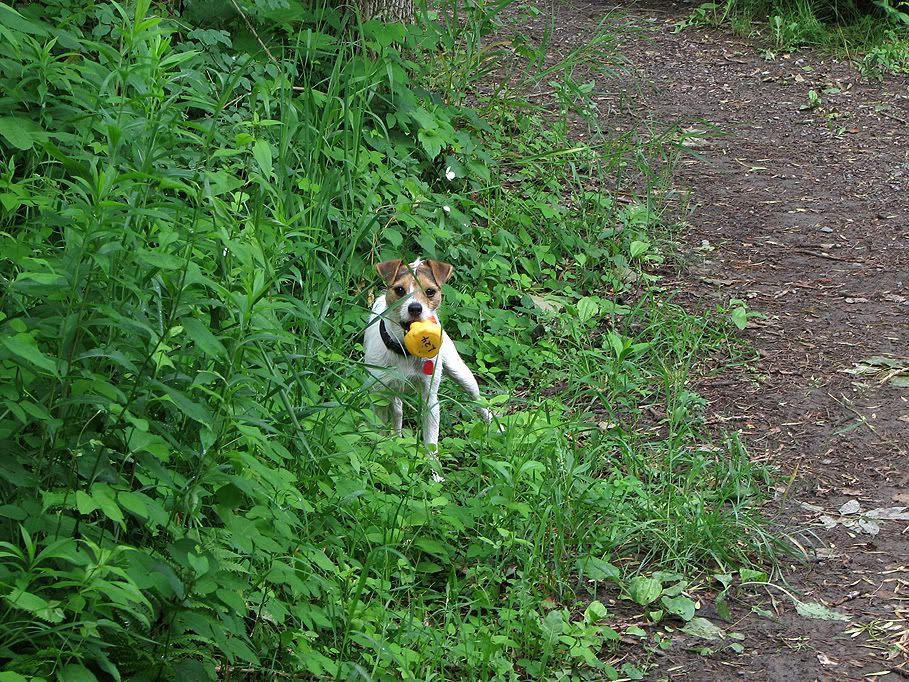 Benny walked most of the way back home holding his prize in his mouth, pretty much the same way that you see it here.
As we neared home, we met up with a man who commented on the duck, indicating that the group responsible for the duck derby loses a number of them each year, and would appreciate having found ducks returned to them. His relative worked for that particular committee, so he offered to return the duck to him for us. Frank and I agreed, but if you've ever tried to persuade a Jack Russell Terrier to give you what he has in his mouth, you'll understand that it took some time and distraction.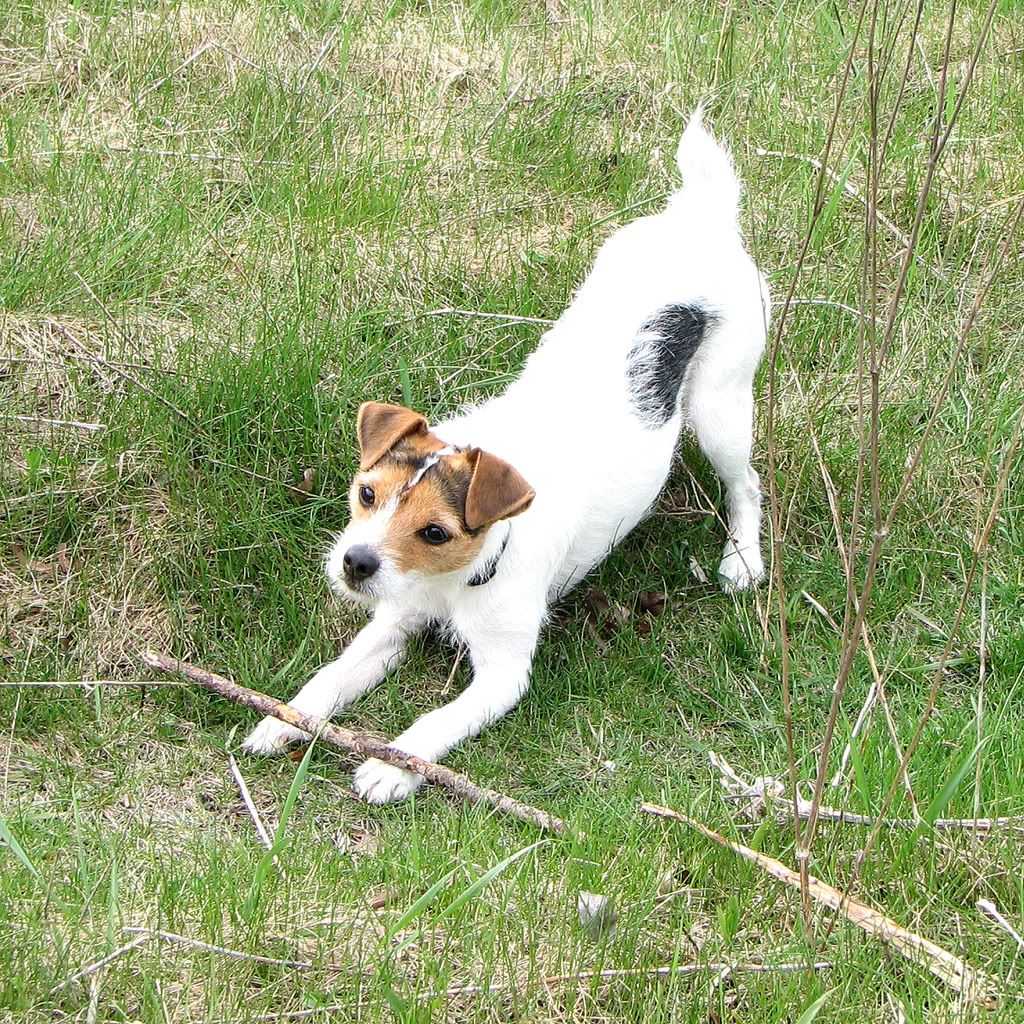 A good stick usually does the trick. This photo was taken another time but it's typical of Benny's ADD nature to drop whatever he's doing for the next adventure.
Later that day, we drove to a different part of town, down by the shores of Lake Ontario - without Benny this time.
We stopped to look out over the water for a few minutes.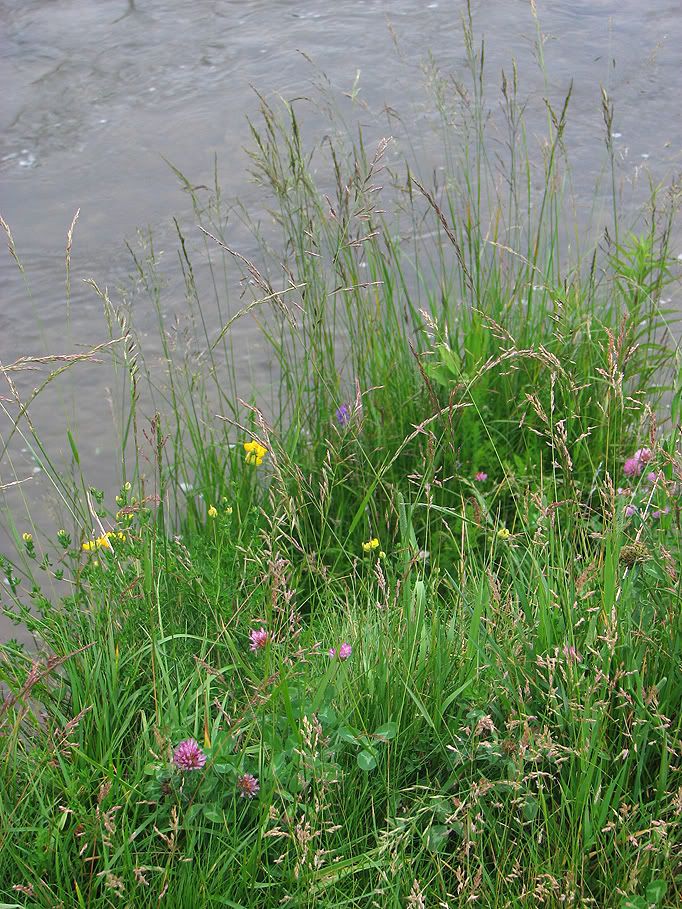 Wild flowers grow along the shore.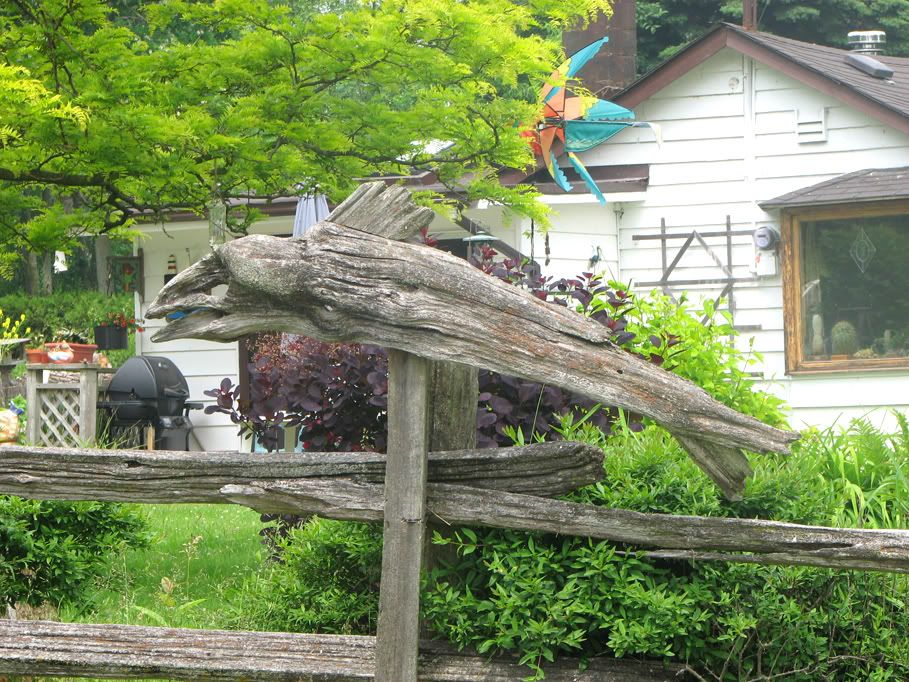 One of the homes had an interesting driftwood ornament adorning their fence.
While driving back home, Frank noticed several of these cages which appeared close to the road in a few spots. We wondered what they were about, so we stopped to investigate.
The signs told the story. They were meant to protect turtle nests from being dug up by raccoons or skunks.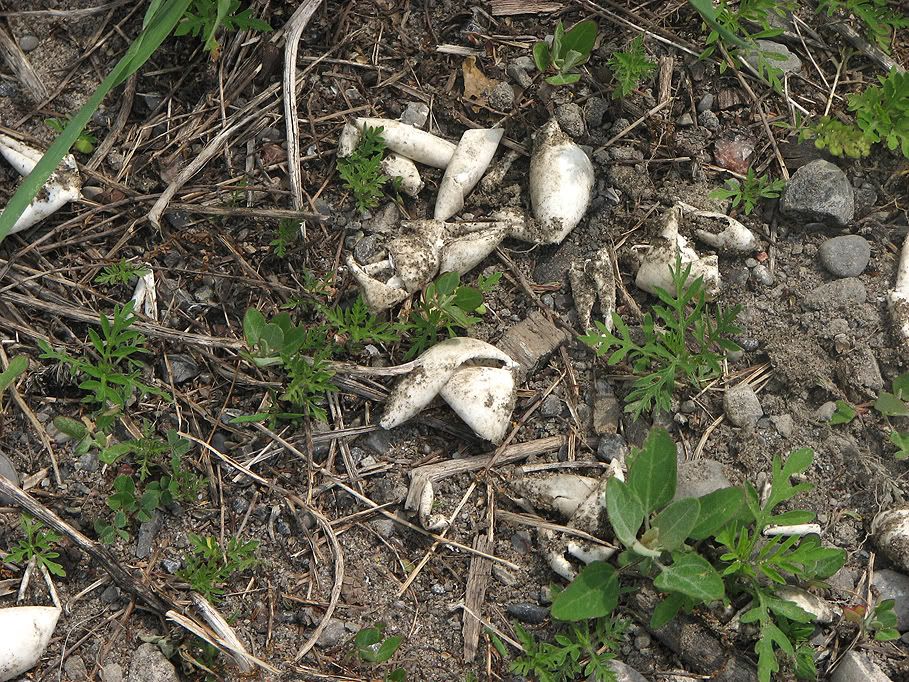 Some were successful but some were not. Here you can see the remains of turtle eggs which had been broken by a predator. Hopefully the rest will remain intact.
Back home in the evening, the sun set beautifully at the end of a lovely day.